Trucks hauling California produce likely would have passed unnoticed by Tim Rosengren if not for the large images of bees painted on their sides. He wondered why trucks would be decorated that way, and after some investigating, he discovered how instrumental bees are to the growing process as well as the environment.
That sparked an interest in a new company for Rosengren. He had a long history of running scrap metal and concrete businesses, but suddenly he found himself in uncharted territory — looking to raise bees and make honey in Arizona.
When he made his decision in 2015, he lived in Minneapolis, Minnesota, and needed someone in Arizona to help set things up and manage sales. After buying $1 million worth of bees, Rosengren reached out to his friend, Martin Rittman, whom he knew through his days in the scrap metal business.
Rittman laughed remembering the conversation. Rosengren called and said, "Hey Marty, I bought these bees and this building. Do you want to sell honey?" Rittman replied, "I'm a Jewish scrap dealer, and I'm allergic to bees."
But Rittman came around to the idea when Rosengren explained that the real focus of the business, Rango Honey, was to help his son, Sam, who is autistic. Wanting Sam to gain a measure of independence inspired Rosengren, and his wife Sarah, to open the honey facility. After some time, Rittman said, they realized that they would never be the best ones to handle the bees themselves. They hired another company to help with that, and concentrated on making the honey and training people to work in the facility.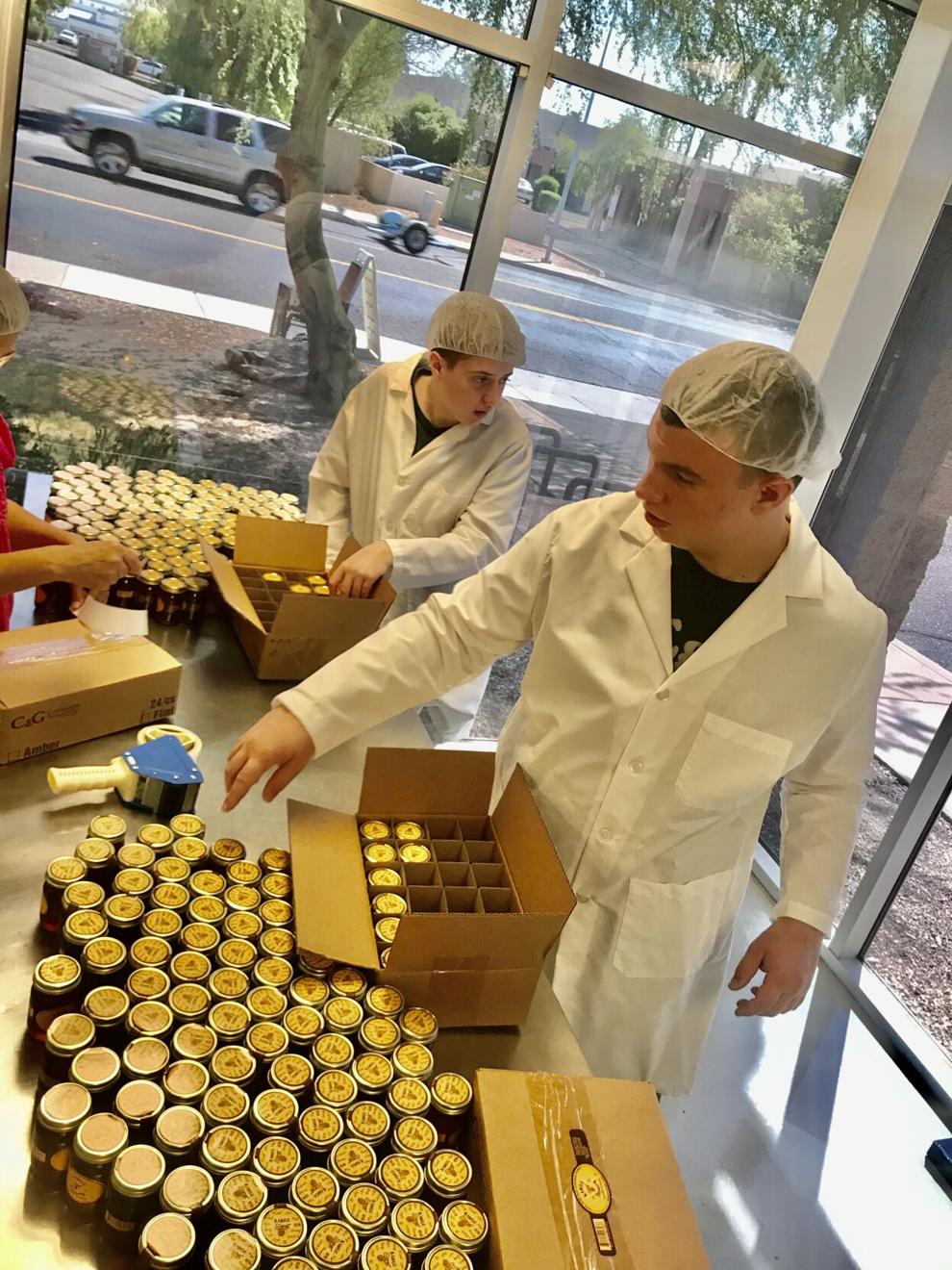 Based in Tempe, the company won an award for its honey at Arizona's state fair the first year, but Neshama is the prize it values most.
Neshama, the Hebrew word for "soul," is the assisted living community the Rosengrens built for Sam and other students and young adults with autism.
Sam is the only resident thus far, but once the state licenses the facility, other young adults will be allowed to move in. The three young men on the waiting list spend time there with Sam enjoying the living space in the interim.
The other part of the company's mission is job training for those with autism. All the job skills are tailored to each individual's abilities.
"We can find a purposeful role for anyone that comes through our door, welcoming all ability levels to our facility," said Laura Jandl, Rango Honey's job training coordinator, via email. "They accomplish so much work and feel very proud about it when they leave. What stands out most is watching their growth as their skills get stronger each day."
The company partnered with Scottsdale Unified School District to transport students in a lifeskills class three to four days a week. The students' job training helps them fulfill credits for graduation.
Before the pandemic, there were as many as 12 young adults working in the facility at any one time. Now due to health concerns, there are two young adults working in the honey pour room along with job coaches.
"We promote independence here, and they shine brightest when given these types of real-life job training opportunities so they can learn skills in a hands-on environment," said Jandl.
"We teach them to pack the tabs on the high end and to put stickers on them, put them in boxes and stack them and stuff like that for job training," Rittman said. "And each one has an aid helping them."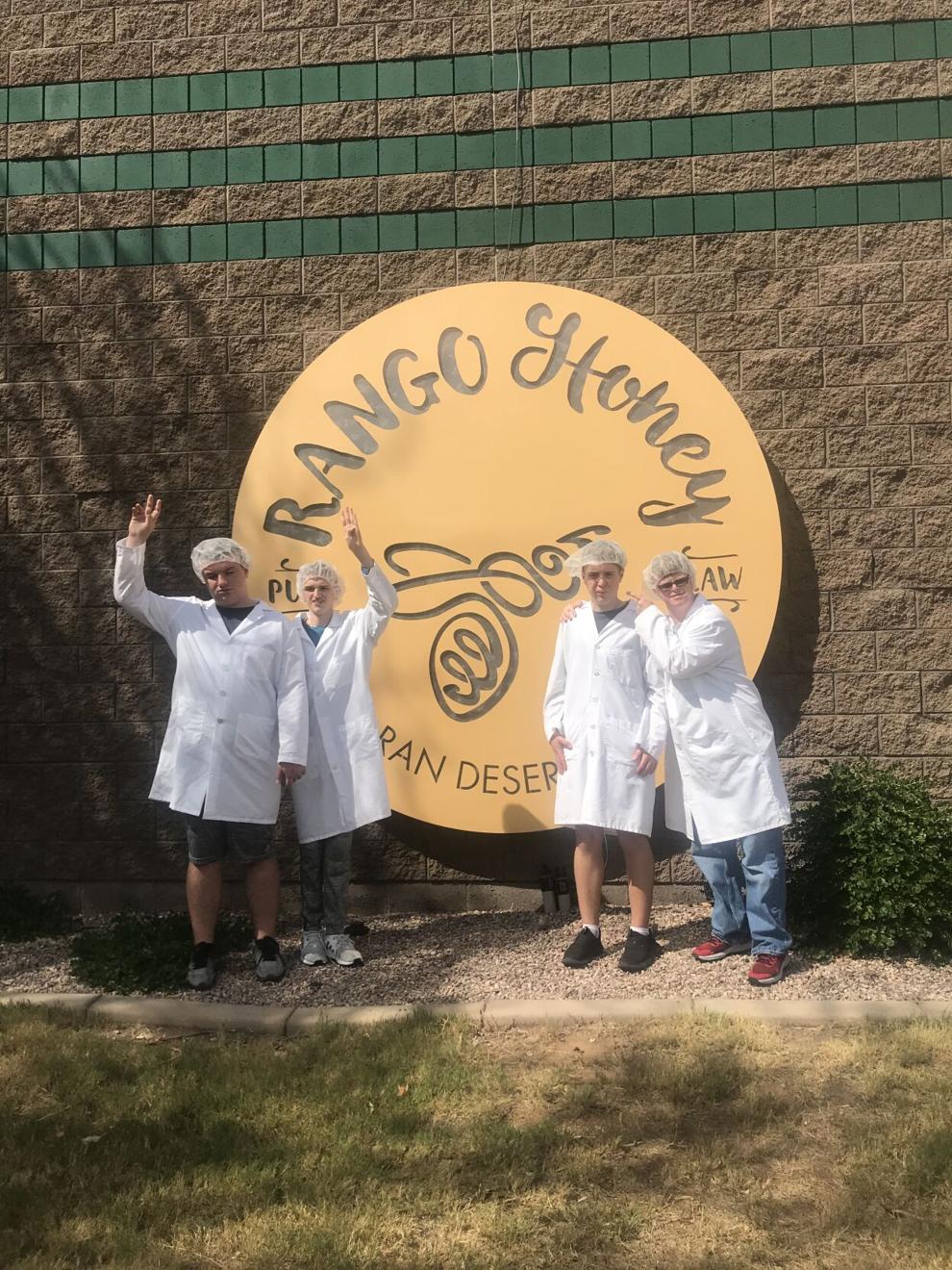 The state pays for the aids, but Rittman said Rango Honey contributes to their salaries as well. He reiterated the overwhelming expense parents of autistic children face. That's why the company highlights that all of its profits — not just a portion — go to pay for these related costs as well as for Neshama.
Rittman, the sales manager, takes the honey to synagogues across Greater Phoenix every Rosh Hashanah, because of its significance in the Jewish holiday for bringing a sweet year. "Because we're all Jews," he said, "it makes a great gift for the New Year." He also touts that it's all natural and "great for your immune system."
Bees do well in the Sonoran Desert. "The thing about Arizona is it's really dry," he said. "But honey's really dry, and we have two seasons, so it makes for a lot of really good and delicious honey."
Rittman doesn't stop with distribution at synagogues, though. He takes the honey everywhere. He even went to Ace Hardware, and said, "Hey, you sell pickles here, why not our honey?" So they did.
Rango Honey is now available at grocery chains in Arizona and 26 other states. Since the pandemic, lots of sales have gone online.
"COVID makes it a little harder, so it's a lot more of an online business," Rittman said, "so we've had to learn every step of the way."
One of Rango Honey's products is the honeycomb itself. Lorrie Innes, a regional salesperson for the company, said the first time she ever tasted honeycomb was when she interviewed for the job. Now, she said, she's addicted. "It's like crack — but good for you," she joked.
Rittman agreed, and said he even gives one of the products, K9 honey, to his dog as a treat. Yet, as big a fan as Rittman is of the honey, he is relieved he never had to wrangle any bees. JN