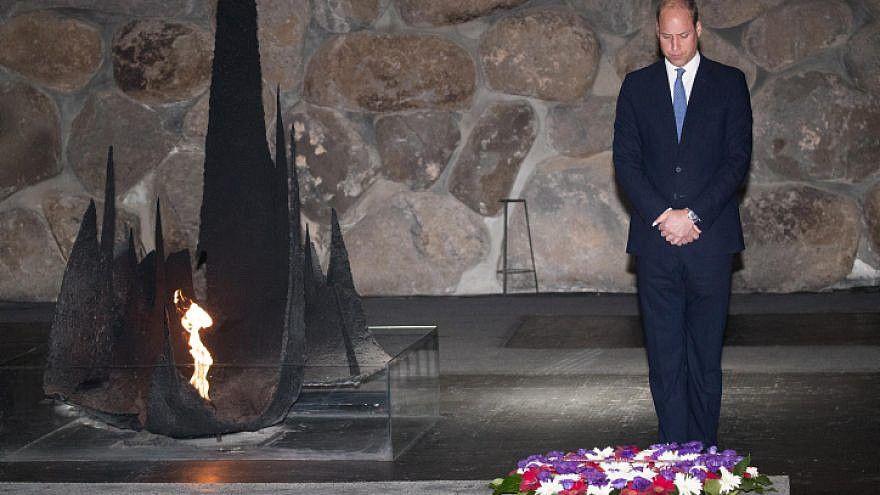 The United Kingdom's Prince William laid a wreath at the Yad Vashem Hall of Remembrance on Tuesday, signing the guestbook during his first official tour of the state of Israel.
"It has been a profoundly moving experience to visit Yad Vashem today," William wrote in immaculate penmanship. "It is almost impossible to comprehend this appalling event in history. Every name, photograph and memory recorded here is a tragic reminder of the loss suffered by the Jewish people. The story of the Holocaust is one of darkness and despair, questioning humanity itself."
"We must never forget the Holocaust — the murder of 6 million men, women and children, simply because they were Jewish," he continued. "We all have a responsibility to remember and to teach future generations about the horrors of the past so that they can never reoccur. May the millions of Jewish people remembered by Yad Vashem never be forgotten."
He also mentioned his great-grandmother, Princess Alice of Battenger, the mother of his grandfather, Prince Philip, who has been officially recognized by Yad Vashem as Righteous Among the Nations for helping save a Jewish family in Greece during the Holocaust.
"The actions of those few, who took great risks to help others, are a reminder of the human capacity for love and hope," William wrote. "I am honoured that my own great grandmother is one of these Righteous Among the Nations."
Princess Alice hid Rachel, Tilda and Michelle Cohen in her palace in Athens during the Nazi occupation of Greece, according to Yad Vashem. She passed away in 1969 at the age of 84. In 1988, her remains were interred in Jerusalem's ancient Mount of Olives cemetery, in accordance with her wishes. William is expected to visit her grave on Thursday.
Her son, Prince Philip, planted a tree at Yad Vashem in her honor during a private visit in 1994. Philip's son and heir to the British throne, Prince Charles, visited her grave in 2016 when he arrived to attend the funeral of former Israeli President Shimon Peres.
During his visit to the memorial museum, William asked many questions and met with two survivors of the Kindertransport, a rescue effort that brought nearly 10,000 European Jewish children to Great Britain in the lead-up to World War II.
William was accompanied on his visit to the Holocaust memorial by Yad Vashem chairman Avner Shalev, as well Britain's Chief Rabbi Ephraim Mirvis. JN