Births
Michael David Saks
Michael David Saks was born March 19, 2020, to Lauren Zaslow Saks and Samuel Saks in Scottsdale.
Grandparents are Anne and Normal Zaslow of Scottsdale, Judy Saks of Los Angeles and the late
Hershey Saks.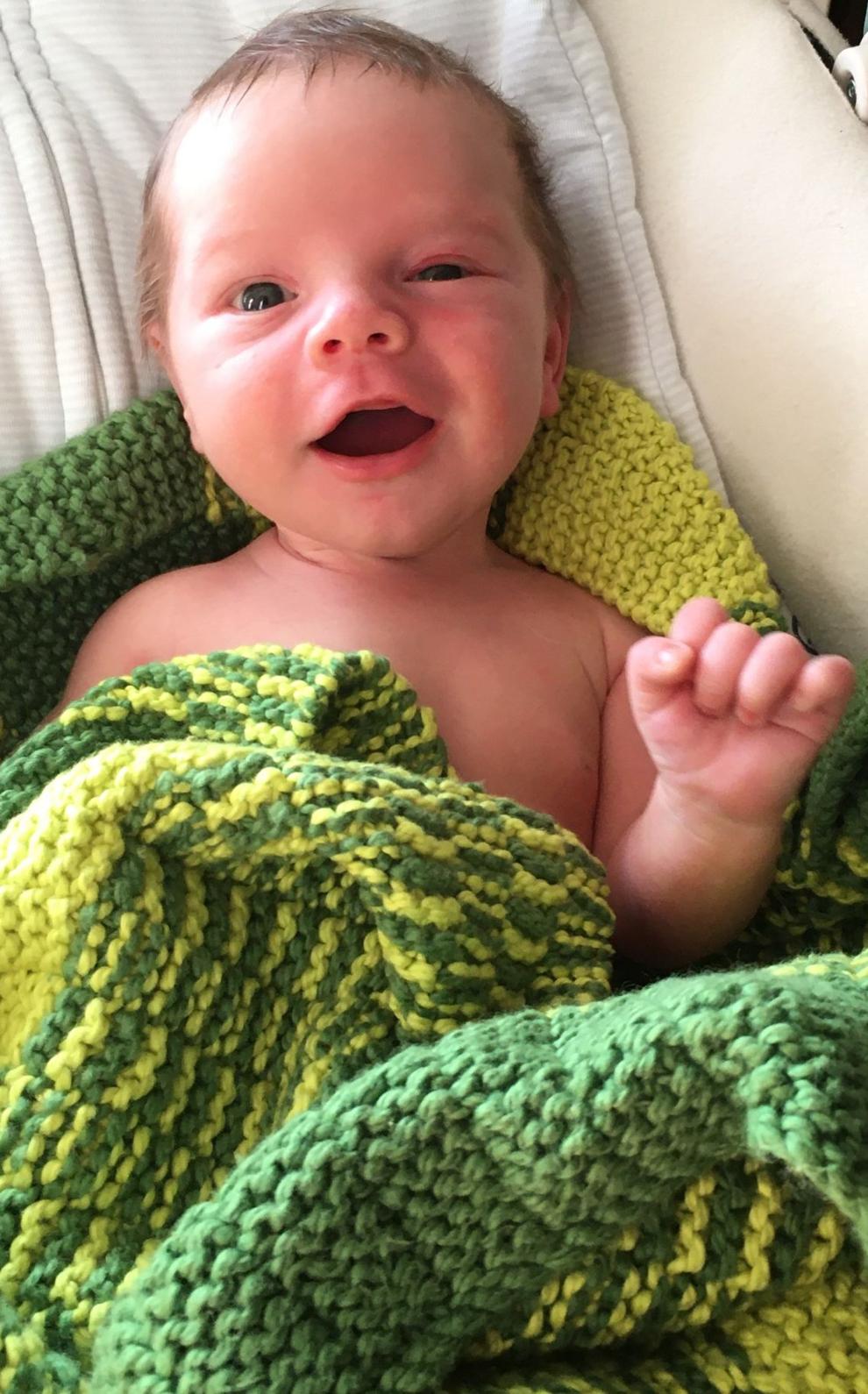 Amitov Simcha Funke
Amitov Simcha Funke was born March 17, 2020, to Rabbi Aviva Shira and Yosef Funke, at Cedars-Sinai Hospital in Los Angeles.
Amitov has one brother, Elijah Benya'akov, age 6. His grandparents are Stephanie and Frank Jacobson of Scottsdale and Carl Funke of Stockholm, Sweden. His grandmother, Christina Funke, is deceased.
Weddings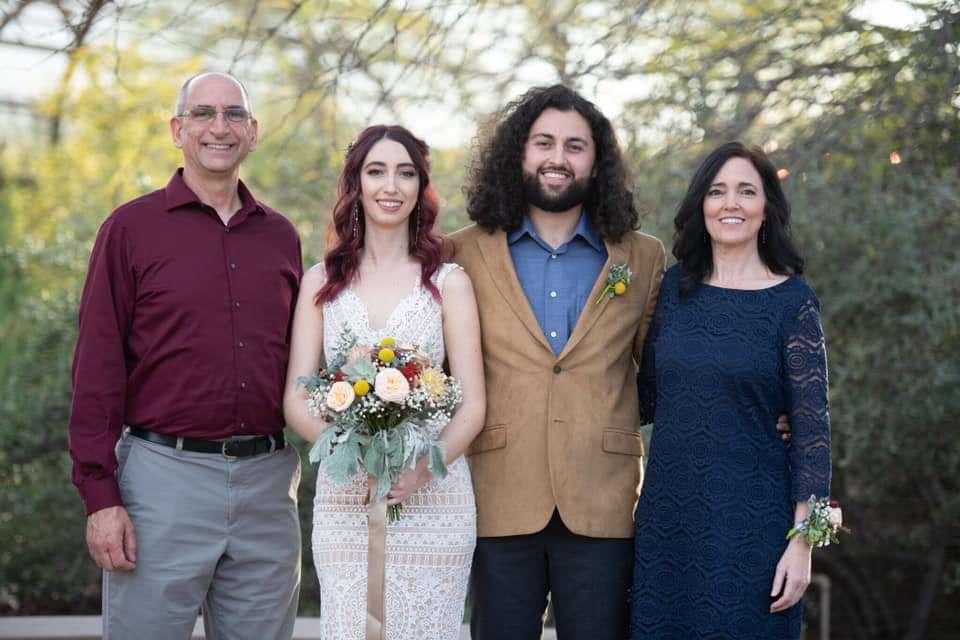 Melanie Kollman and Alexander Toschi
Melanie Kollman and Alexander Toschi were married on March 8, 2020 at Desert Botanical Garden in Phoenix.
The bride's parents are Kelly Kollman of Phoenix and Chip Kollman of Mesa. The groom's parents are Debbie and Alex Toschi of Cave Creek and Michelle and Jason Farrell of Cave Creek.
The bride obtained her Bachelor's degree from Northern Arizona University and is a first grade teacher.
The groom received his Bachelor's degree from Arizona State University and is a bartender at First Draft in Phoenix and will soon be starting a graduate degree program in library science.
After a honeymoon in California, the couple will make their home in Phoenix. 
Elaine Esther Gilberg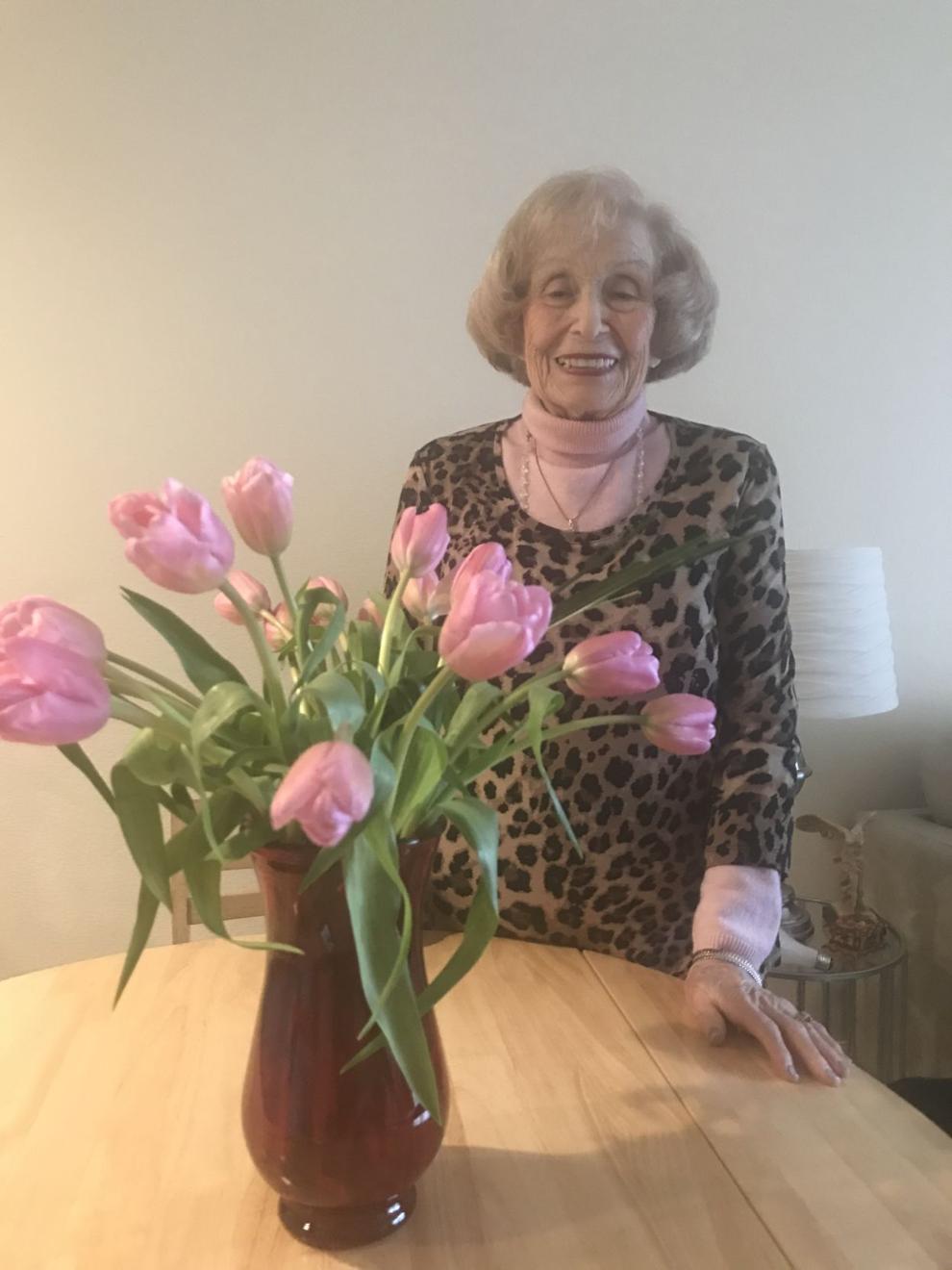 Elaine Esther Gilberg passed away peacefully on the afternoon of March 30th in Novato, California. Elaine had just celebrated her 91st birthday on March 13th and was vibrant until the end when she became another innocent victim of COVID-19.
Elaine was born in Salem, Ohio in 1929, to Jack and Margaret Sarbin. After graduating high school at Highland Manor in Long Branch, New Jersey, Elaine attended Ohio State University where she met the love of her life Robert "Bob" Gilberg. She and Bob formed a partnership that lasted almost 67 years. 
After two years in Alexandria, Virginia, where she worked first as a receptionist in a law office and then as a clerk in a civil service job while Bob was in the Army, Elaine and Bob moved back to Fremont, Ohio in 1953. Bob joined his family business, Joseph's Department Store. Elaine got involved in the community during her years there with leadership roles in League of Women Voters and American Association of University Women and as president of the sisterhood of Temple Beth Israel. Elaine also worked at Joseph's doing fashion shows and various events as well as some buying.
When the recession hit Ohio in the '80s and Joseph's was closed, she and Bob embarked on another phase in their lives together as manufacturer sales reps in a company they founded: The Bay Marketing Company in San Francisco. She was an expert salesperson of her ares - mostly embellished sweatshirts. Her magnetic personality acquired quite a following. During that time in California, not only did she travel throughout the state, but she and Bob began to travel the world. She loved it, but was always happy to get home.
Her next journey was to Peoria, Arizona in the late '90s where she and Bob retired to become fixtures at Temple Beth Sholom - enjoying the company of many friends and a large and extended family. She also became quite involved with the Women's Division of the Jewish Community Federation where she received a special award for her efforts on behalf of the community.
After Bob's death, she landed back in San Rafael at Drakes Terrace for two years where she once again got involved in everything from the food and program committees to chairing the welcome committee.
The underlying theme of her life was her family and involvement. She leaves behind a legacy of love, caring, compassion, friendship, feistiness, spunk, independence and hospitality all rolled into one package. Judy (Steve)
Zimmerman and Art Gilberg will sorely miss their mother. Joy (Jason) Walker, Jacob (Aimee) Zimmerman, Josh Zimmerman and Max Gilberg will miss their Grandma Laine and Mia Walker, Julia Walker, Ava Walker, Zach Zimmerman and Zoe Zimmerman will miss their Lainey.
A graveside service was held at Kol Shalom. Contributions may be made to Congregation Kol Shofar or Hebrew Free Loan. A celebration of her life will be held when the times are more fitting.
Jeanne Riva Fisher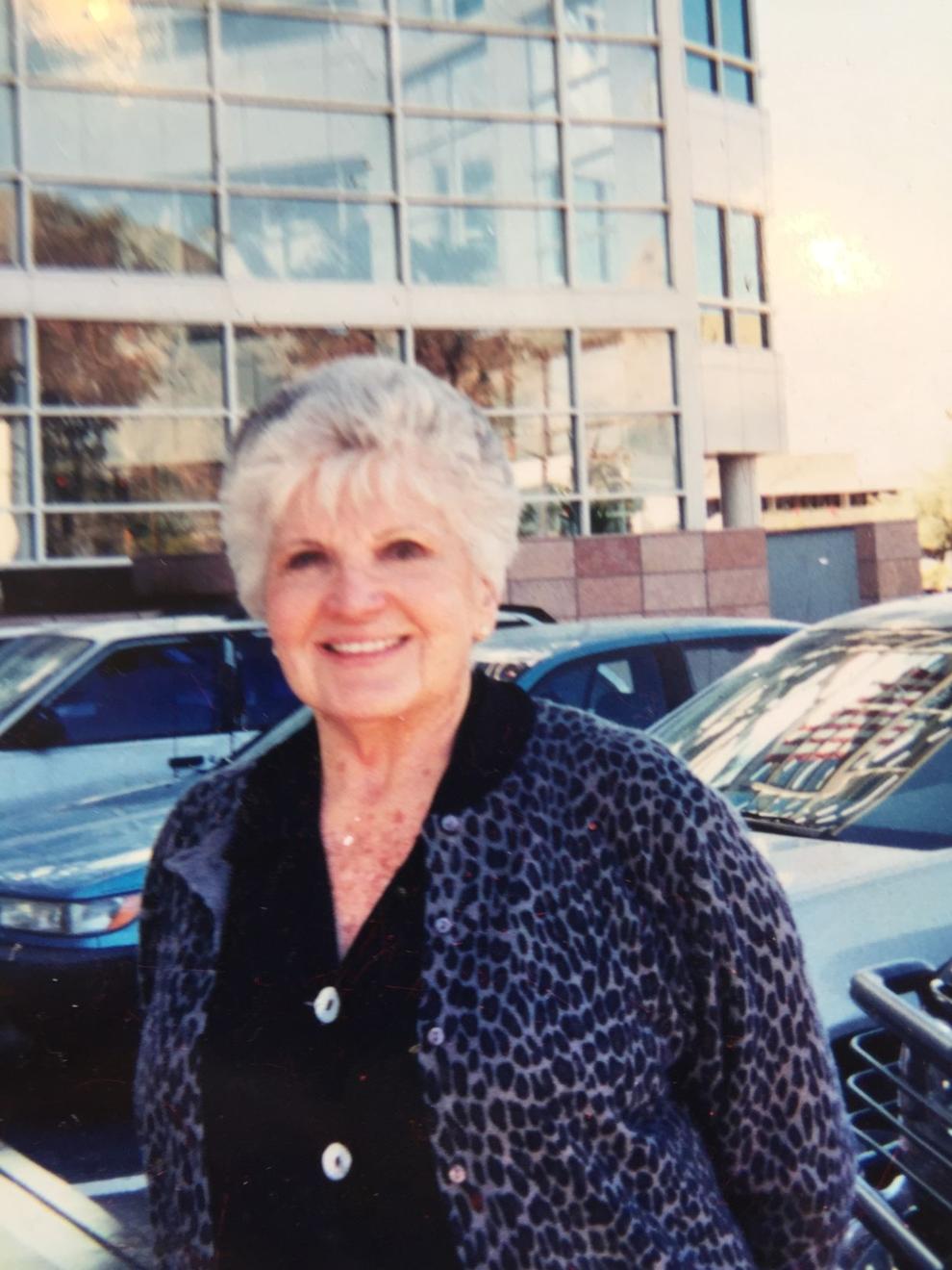 Jeanne Riva Fisher, a longtime Phoenix resident, passed away gently in her sleep, at 95 years old, in Tucson, Arizona.
Born in Cleveland Ohio in 1924 to Ruth and Fred Bickart, Jeanne was very beautiful with a kind and forgiving soul, blessed with a whimsical personality, but very private.
She was a Medical Transcriber at Maricopa County Medical Hospital for over 30 years, staying on after retirement, as they could not replace her dedication and expertise.
Jeanne traveled extensively, to Israel, Europe and many times to the Far East, with companion Jack Garber.
She is survived by four adored children, Jill Seaman (Keith), Michael Fisher (Carole), Laurel Fisher, and James Fisher, along with beloved grandchildren, Max and Perry Seaman, Sam and Joe Fisher. 
Also left to mourn are sister Adelle Abrahams, brother Allen Bickart, and good friend Al Tamm. 
Due to the Corona Virus, we will postpone Memorial to a later date.
MAY HER MEMORY BE A BLESSING TO ALL WHO LOVED HER.
Morton Jay Maiden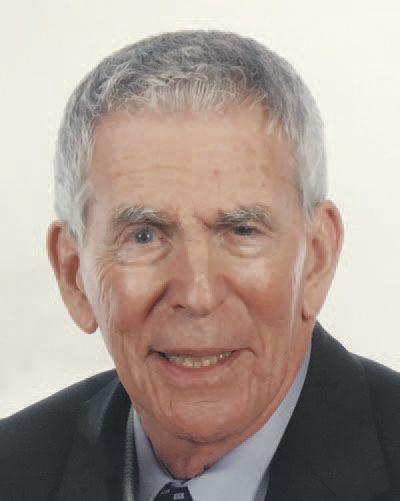 Morton Jay Maiden, 90, passed away March 25th, 2020 at the Terraces of Phoenix.
Born in Minneapolis, Minnesota on July 18, 1929, to Mack and Sarah Maiden, Morton had two siblings, Radee Marks and Burt Maiden. Jay was a proud father to Barry (Sheila) and Leslie Maiden (Kristy), doting grandfather to Jared, Annie (Josh), and Lisa Maiden and great-grandfather to Ari and Evan Hope.
Jay graduated from the University of Arizona, where he met his wife of 50 years, Marilyn Fedder. Jay operated a 45-year legacy of three T&S furniture stores in Phoenix. A man of character, he treated all his customers with the utmost respect. He became a top-producing furniture manufacturer's representative for twenty years before retiring at 83.
"Do you know where I can find the fountain of youth?" Jay would ask strangers flirtatiously. Jay's reach was never-ending, from his 15-year love, Harriet Kolber, to the charities to which he quietly donated, including his last wish to plant a tree in Israel for every family member.
A funeral service officiated by Rabbi Sadie Becker was held on March 30th at Greenwood/Memory Lawn Cemetery in Phoenix to honor Jay, the family historian and patriarch. He was the beloved, stubborn gentleman with the yellow Cardigan, cane and tipped Fedora, who carried handkerchiefs, didn't have patience for Smartphones and was determined to walk by himself even after breaking his hip. "So long, Toots," he would say with a wink.
Ronald H. Rosenson
Ronald H. Rosenson, a dedicated family man, Army veteran, philanthropist and community leader, and friend to many, died on April 6, 2020, at age 90 in Scottsdale.
Born and raised in Chicago on March 19, 1930, and a former resident of Rockford, Illinois, Ronald (Ron) was preceded in death by his soulmate and beloved wife of 55 years, Arlene (2008). Devoted father of Dr. Robert Rosenson and Glori Rosenson; cherished brother of Irwin Rosenson; loving brother-in-law, uncle and cousin.
Ron was a longtime member and past president of Temple Beth El and Mauh-Nah-Tee-See Country Club in Rockford, and board member of the Rockford Boys and Girls Club. His successful professional career included serving in numerous positions in the National Association Recycling Industries, including as a national vice president, and a course director and lecturer on precious metals recycling for the Bureau of Mines. Ron was a Korean War veteran, serving his country from 1953-1955.
Contributions in his memory may be made to the Jewish United Fund (juf.org), World Jewish Congress (worldjewishcongress.org), Anti-Defamation League (adl.org), Lawrence Hall (lawrencehall.org) or to your favorite charity. Due to current events, private services were held.
Selma Sardinoff
Selma Sardinoff, 86, died April 5. She was born in Brooklyn, NY and lived in Phoenix.
Services were held at Phoenix Memorial Park. JN