When I was growing up, I never loved the dessert options during Passover. Between the canned macaroons and boxed cake mixes that used potato starch, the options really weren't very impressive. Nothing ever tasted quite as good as desserts during the rest of the year.
There were a few exceptions, of course. My grandmother's cookies — meringues — and cheese pie were always wonderful.
Luckily, over the past few years, new and delicious kosher-for-Passover recipes have been devised.
The best thing about the three recipes I offer below, is that they don't take very long to make and have very few ingredients. These are recipes that even the least experienced baker can make. In fact, I let my kids help out when making the coconut macaroons and chocolate toffee matzah, because they are fun to make and require very little effort or measuring of ingredients.
I hope these dessert options help make your Passover an especially sweet one this year. And next year, may we all be together
in person!
Coconut Macaroons
I don't know very many people who are huge fans of the kosher-for-Passover coconut macaroons that are found on grocery store shelves this time of year. They may come in a variety of flavors, but they are still uninspiring. However, homemade macaroons are one of my favorite treats during Passover. They are so simple and easy to make, and that makes them even easier to enjoy.
You can also add a variety of items to change up the flavor, including mini chocolate chips, chopped nuts or even sprinkles. The kids love helping me make these, and we all love the sweet, chewy texture of these macaroons.
Ingredients:
12 ounces shredded, unsweetened coconut
1 14-ounce can of sweetened condensed milk
¼ cup almond flour
Additional add-in options: mini chocolate
chips, chopped nuts, sprinkles
Preheat oven to 350 F and line a baking sheet with parchment paper.
In a large bowl, toss the shredded coconut with the almond flour to coat evenly.
Pour in the can of sweetened condensed milk and mix by hand to fully combine ingredients.
If using additional add-ins, mix these in at this point.
Form the mixture into round balls and evenly place them about an inch apart on the lined baking sheet. They will spread out a bit when baking.
Cook the macaroons for about 15 minutes until they begin to brown. Let cool completely before removing from the tray.
Store in an airtight container at room temperature.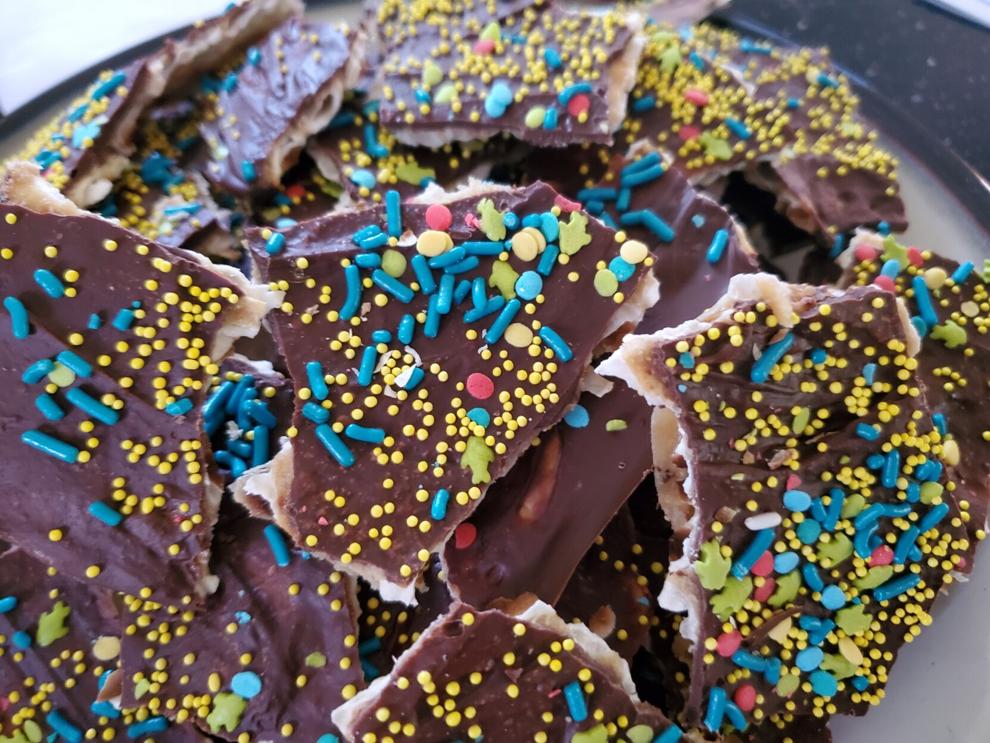 Chocolate Toffee Matzah
Matzah can seem boring and bland, but cover it in caramelized sugar and coat it in chocolate and no one can resist. This recipe is always requested in our family, and the kids have fun helping cover their portions in extra sprinkles, while I enjoy crushed nuts and sea salt.
They can be made in advance and frozen until ready to eat, although I have a feeling you'll have to hide them or end up making a second or third batch.
Ingredients:
About 4 sheets of matzah
(enough to fit on one cookie sheet)
½ cup (1 stick) butter or margarine
½ cup brown sugar
12 ounces chocolate chips
Additional add-in options: chopped nuts,
sprinkles, sea salt, dried fruit
Preheat oven to 350 F and line a baking sheet with parchment paper. Evenly lay out the sheets of matzah so the entire baking sheet is covered.
In a small sauce pan, melt the butter or margarine until completely melted.
Stir in the brown sugar and whisk consistently until thoroughly combined and mixture begins to bubble. Let the mixture continue to heat for about 3 minutes, whisking frequently.
Once caramelized, pour the mixture over the matzah and spread to cover all of the pieces evenly. Place the pan in the oven to cook for 5 minutes.
After 5 minutes, carefully sprinkle on the chocolate chips and tent the tray with aluminum foil to allow the chocolate to begin melting. After about 2 minutes, the chocolate should be heated enough to spread evenly.
Once chocolate is spread, you can add any additional toppings or leave plain. Cool the tray in the refrigerator overnight or in the freezer for about an hour.
Once cool, you can break the chocolate toffee matzah into pieces and serve.
Store in an airtight container or Ziploc bag in the refrigerator
or freezer.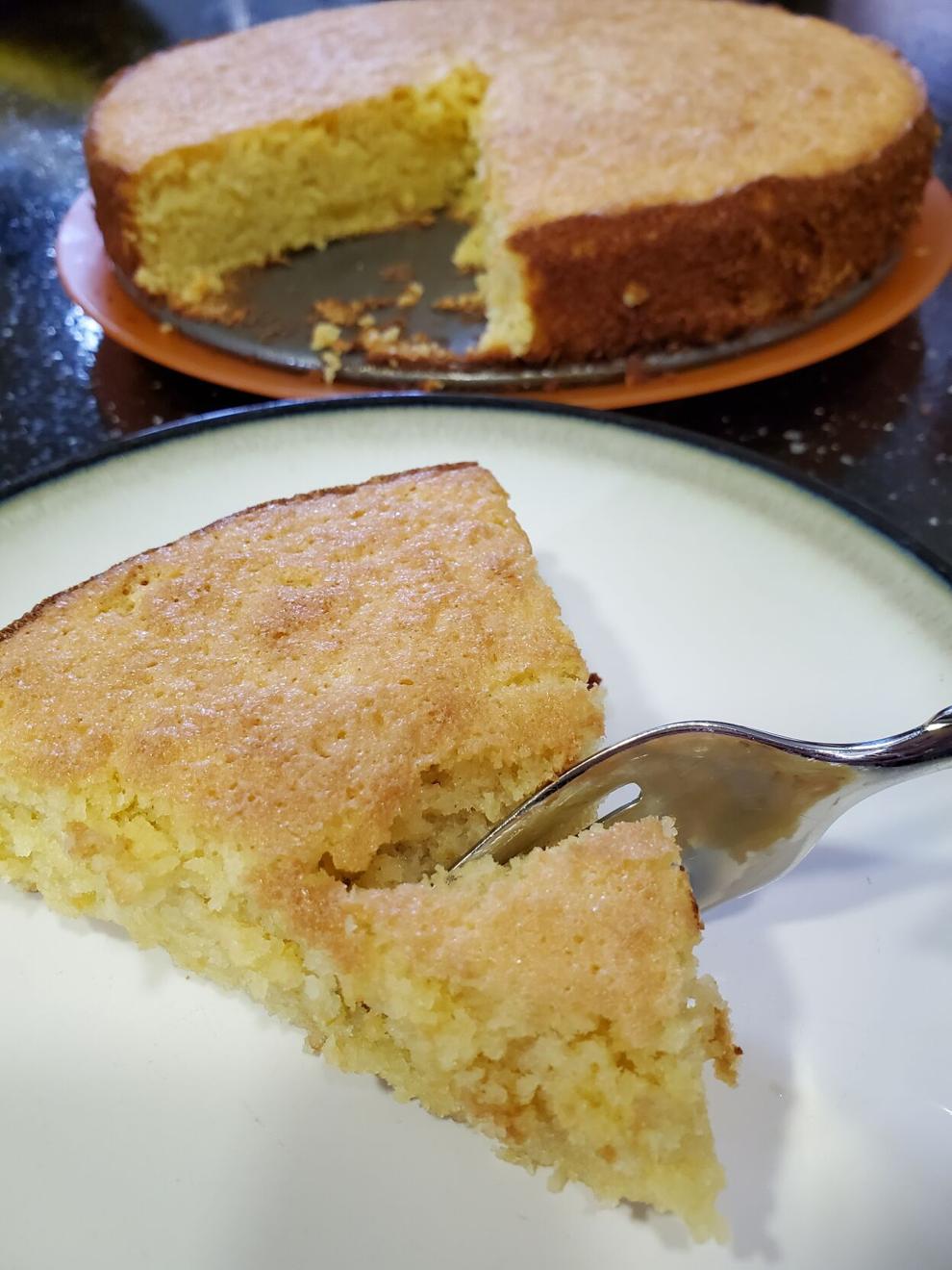 Citrus Almond Cake
I love the way orange and lemon pair with almond, so when it came to planning my Passover menu this year, I knew I wanted to come up with a light citrus almond cake for dessert. This cake is very easy to make and comes together easily, allowing for less time in the kitchen and more time spent with family during the holiday.
The citrus adds a refreshing taste and sweetness, and the almond and citrus come together to form a perfectly balanced dessert.
Ingredients:
5 eggs, separated
¾ cup and 2 tablespoons white sugar
½ teaspoon salt
1 teaspoon lemon extract
¼ cup orange juice
1½ tablespoons orange zest
2 cups almond flour
Preheat oven to 350 F and coat a 9-inch spring form pan with cooking spray.
Separate the egg whites and yolks into two separate bowls. Add the 2 tablespoons of sugar to the egg whites and beat for about 2 minutes using a stand or hand mixer until thick and white peaks have formed.
In the bowl with egg yolks, add the remaining sugar, salt, lemon extract and orange juice and beat using a stand or hand mixer until completely combined. Mix in the almond flour, one cup at a time until combined and batter is smooth.
Slowly fold in the egg whites to the cake batter. Be sure not to overmix so that the batter remains light and airy.
Once fully combined, pour the batter into the pan and place in the oven. Cook for 30 minutes until a toothpick comes out clean.
Let cool completely before removing pan and serving. JN
Jennifer Starrett is an events and marketing consultant. Visit jewphx.com, for more of her recipes and blogs.