While we're going through the Days of Awe, here are some delicious recipes to enjoy. They include ingredients with significant meaning this time of year. Happily, they're also easy to prepare for smaller gatherings, since it looks as if our tables might still be on the small side this year.
Apricot and Date Chicken
Dried fruit like apricots and dates are traditionally enjoyed during Rosh Hashanah to symbolize a sweet new year. One of the things that I love about this dish is that it can be made very easily and quickly, so definitely no suffering in the kitchen is involved. The thick sauce, which is created by dried fruit pairs perfectly with a couscous or rice side. You are going to love the sweetness and richness from this dish.
Ingredients
1 ½ pounds of chicken thighs, cut into 1-inch pieces
½ red onion, chopped
4 tablespoons olive oil, divided into half
2 garlic cloves, minced
1 teaspoon turmeric
1 teaspoon cumin
1 teaspoon cinnamon
Salt and pepper to taste
Orange zest (about 1 tablespoon)
10 dried apricots, chopped into 1/4 inch pieces
6 dates, chopped into ¼-inch pieces
2 cups chicken broth
Sliced almonds, optional
Pat chicken dry and cut into ¼-inch pieces. Heat 2 tablespoons of olive oil and cook chicken for about 5 minutes, stirring occasionally to allow for even cooking. Remove chicken from pan and set aside.
Heat remaining 2 tablespoons of olive oil and add onions. Cook until translucent. Add garlic and spices and cook for 1 minute until fragrant.
Add in cooked chicken, apricots, dates, broth and orange zest. Stir to combine and bring to a boil. Cover and lower heat to medium-low temp. Let cook for 15 to 20 minutes until cooked through and sauce reduced.
Top with sliced almonds before serving.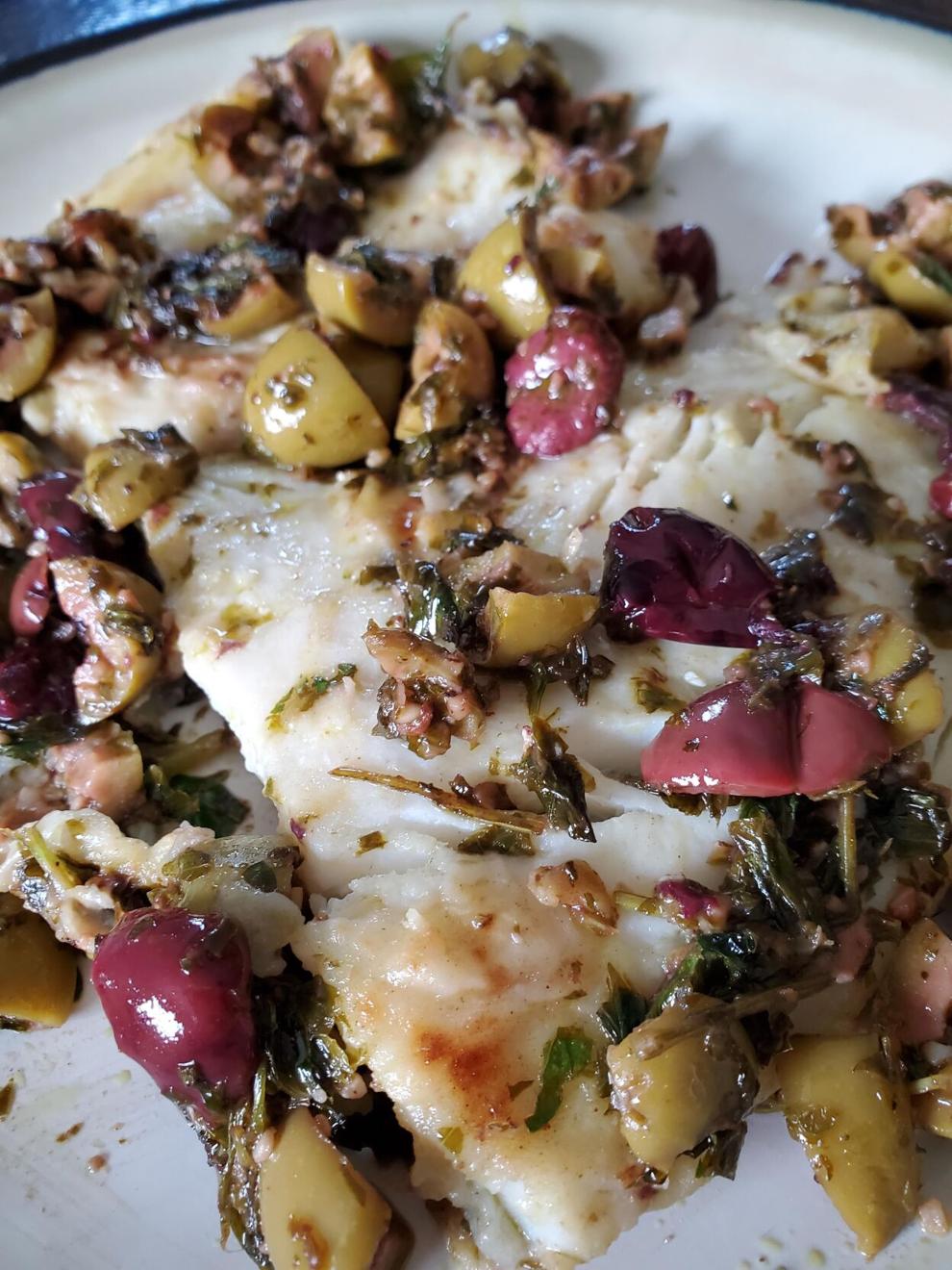 Cod with Olive and Parsley Sauce
Fish is a traditional food symbolizing the head of the new year. Some families include a fish head on their table during meals in order to wish family and friends a blessing of heading into the year strong and healthy.
"And God will make you as the head, and not as the tail, and you will be only at the top, and you will not be at the bottom." (Deuteronomy 28:13)
While I can't bring myself to place a fish head on the table, I came up with a delicious fish dish instead to enjoy. This dish has a nice brightness from the acidity in the parsley sauce and is easy to adapt based on the number of people enjoying the meal. You can also decide to make the sauce ahead of time and store in the refrigerator for a few days before using. Overall, there is very little cooking time involved, so this is a great dish if you're short on time but want to make a big impression.
Ingredients
4 pieces (about 6 ounces each) of fresh cod
½ cup flour (for coating, optional)
2 cups parsley, washed
4 tablespoons olive oil
2-3 garlic cloves
Juice from 1 lemon
10 ounces mixed (kalamata and green) olives, chopped
Salt and pepper to taste
Pat the fish dry and lightly coat each side with flour. Heat a pan with a drop of olive oil and cook fish about 1 minute per side to slightly brown. Remove fish from pan and set aside.
Using a food processor or blender, pulse the parsley, olive oil, garlic and lemon juice until desired consistency. Add the chopped olives to the pan and add the parsley sauce. Mix to combine and cook for a few minutes until fragrant.
Add the cooked fish back into the pan and cover to finish cooking for about 2 to 3 minutes over low heat. Plate and serve.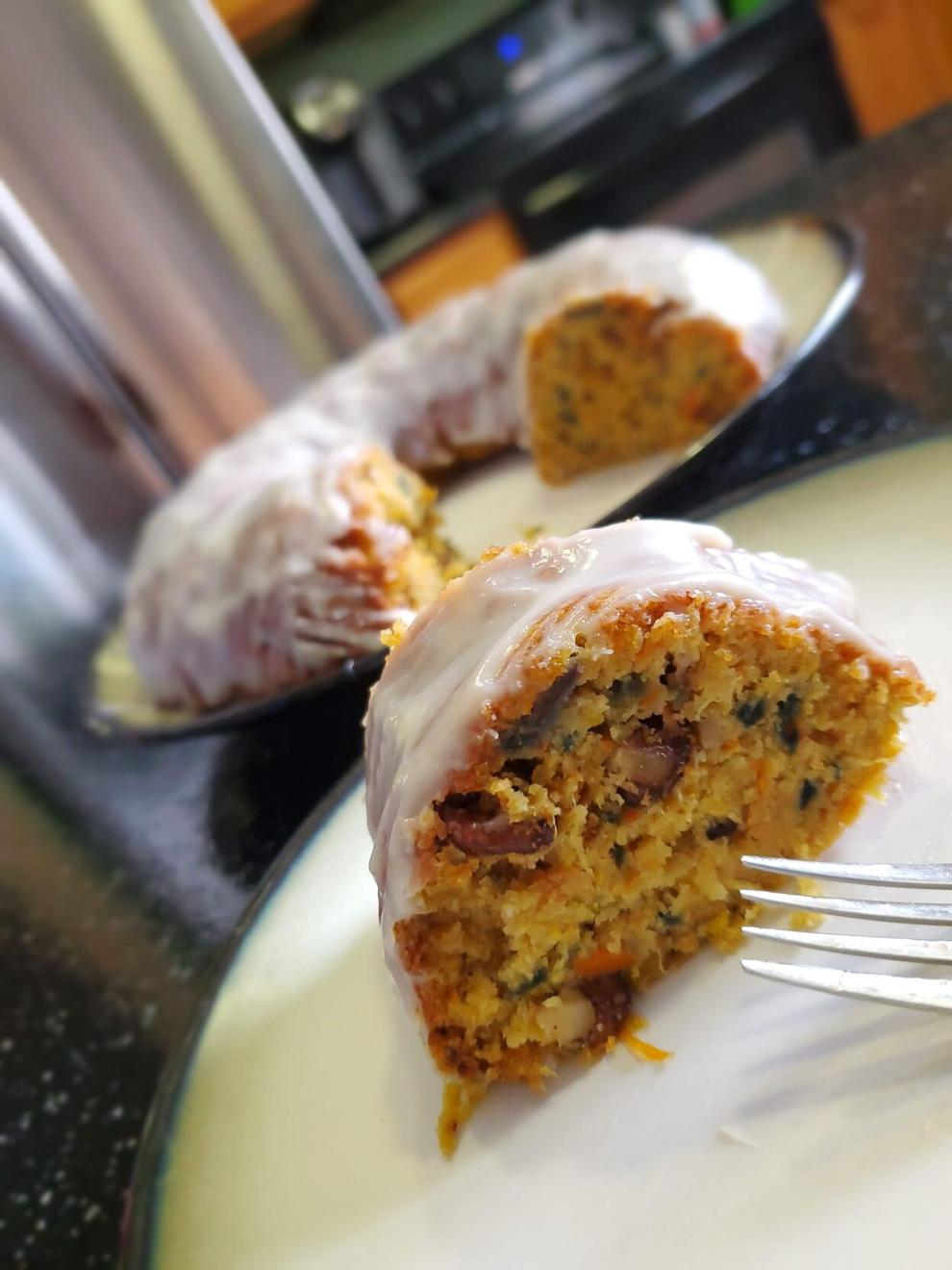 Carrot Cake Ring
While I haven't ever really loved the carrot rings I ate growing up, I do love carrot cake. So I decided to combine a few of my favorite recipes to come up with a delicious carrot cake ring to serve this year. I love using colorful carrots to create a fun visual dish, and it definitely made the inside look even more delicious than if only using orange carrots. It will be a delicious way to break your fast, as well. The (dairy-free) cream cheese frosting on top of the cooled carrot cake adds such a nice richness to it, and the pineapple and walnuts inside the cake really compliment all the other flavors.
Whether you have never made a carrot ring before or you want to change it up a bit this year, I recommend giving this recipe a try and enjoying it for a sweet year.
Cake Ingredients
½ cup brown sugar
¼ cup canola oil
1 egg (can sub 1/4 cup applesauce to make vegan)
1 tablespoons vanilla extract
1 ½ cups flour
1 teaspoon salt
½ teaspoon baking soda
½ teaspoon baking powder
8 ounces raw grated carrots
½ cup chopped pineapple
½ cup chopped walnuts
Icing ingredients
4 ounces dairy-free cream cheese
4 tablespoons sugar
½ teaspoon lemon juice
Preheat the oven to 350 F and spray a bundt pan with cooking spray. Using a hand mixer or mixing bowl, beat the brown sugar and oil until fully combined.
Add in the egg and vanilla extract and beat well. Mix in the flour, salt, baking soda and baking powder until a batter forms. Fold in the grated carrots, chopped pineapple and chopped walnuts until evenly combined.
Pour batter into greased bundt pan and bake for 40 minutes. Remove from oven and let cool for 5 minutes before flipping the cake out of the pan onto a rack to remain cooling completely.
Once cake is cooled, make the icing by beating the dairy-free cream cheese, sugar and lemon juice until desired consistency. Add a drop more lemon juice if you want to thin out the icing. Pour or brush the icing onto the cooled cake and serve immediately or store in fridge until ready to serve. JN
Jennifer Starrett is an events and marketing consultant. Visit jewphx.com, for more of her recipes and blogs.