I love discovering culinary products that are both delicious and have high quality ingredients. Not only does Laura's Gourmet Granola check both those boxes, but the products are certified kosher and made by a local Jewish mom, which makes them even more of a new-found favorite of mine.
Chef Laura Briscoe created her brand of gourmet granola after starting a culinary career as an upscale private chef and teaching classes and cooking on camera for local news segments. She has now grown her company to include nine incredible flavors that are sold online and in grocery stores nation-wide, including AJ's Fine Foods and Whole Foods Market.
And as a fellow Jewish mom and business owner, I could think of no better foundation for these Mother's Day recipes, which I created. These recipes are not only delicious, easy to make and gluten-free, but Laura's Gourmet Granola adds some extra flavor that take them to the next level.
I hope you enjoy at least one this Mother's Day with your family.
Apple Granola Crisp
Apple crisps are one of my favorite recipes to make and serve to my family. The crunch and flavor contrasts make it a unique dessert and my kids love it when I add granola to the top because it adds a little bit of extra texture and apple flavor. This is a great recipe to make ahead of time and let sit overnight in the fridge, which means one less thing you'll have to make on Mother's Day.
Ingredients:
5 green apples
1½ cup AppleLicious Crunch from Laura's Gourmet Granola
½ cup sugar
1 egg
½ cup melted butter or margarine
½ teaspoon cinnamon
1 teaspoon vanilla
Preheat oven to 350 F and coat 9-inch-by-9-inch pie pan with cooking spray or butter. Peel and slice apples and put layer slices in the greased pie pan.
In a mixing bowl, mix the granola, sugar, egg, butter and cinnamon until thoroughly combined.
Add the granola mixture on top of the apples to cover completely.
Bake for 30 minutes or until apples are soft.
Let sit overnight in the fridge before serving.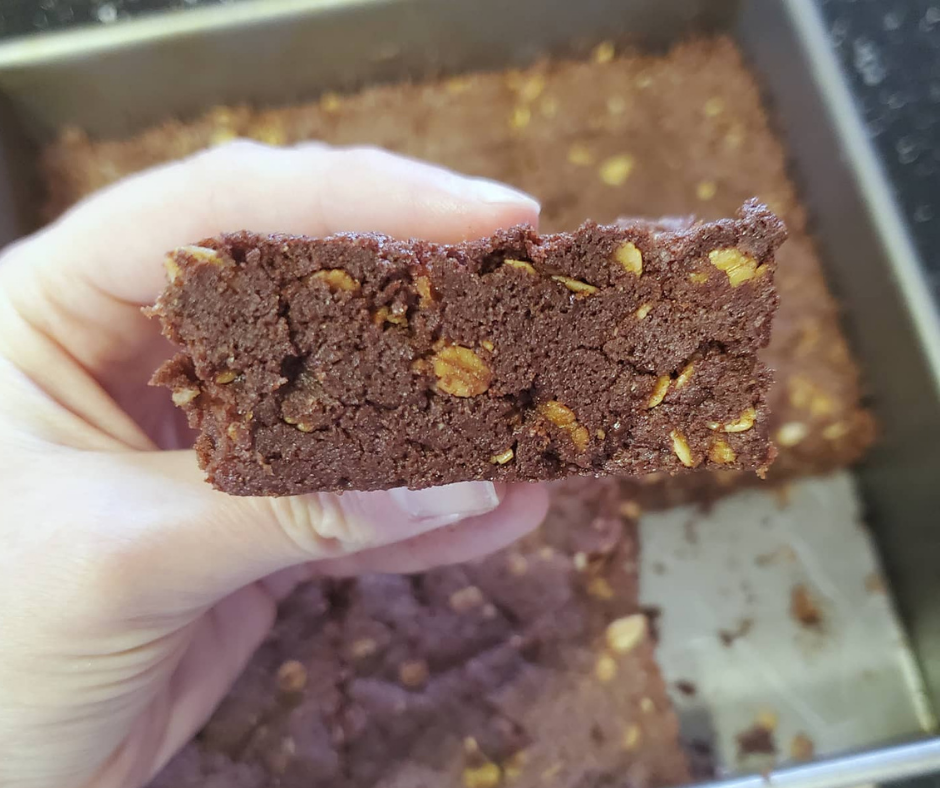 Peanut Butter Granola Brownies
We love peanut butter in our house, which is kind of funny since I grew up hating peanut butter until pregnancy cravings hit with my firstborn. Now one of my favorite flavor combinations is peanut butter and chocolate. These brownies hit all the notes and are made even more special by the addition of granola.
Ingredients
1 cup butter
½ cup peanut butter
2 eggs
1 cup sugar
1 cup gluten free flour
½ cup cocoa powder
¾ cup Honey Roasted Peanut Crunch from Laura's Gourmet Granola
1 teaspoon vanilla
½ teaspoon salt
Preheat oven to 350 F and coat 8-inch-by-8-inch baking dish with cooking spray or butter.
In a sauce pan heat the butter and peanut butter until melted and set aside to cool. In a mixing bowl, sift the flour, cocoa powder, sugar and salt. Add the granola and mix to combine.
Add the eggs and vanilla to the cooled butter mixture and add to dry ingredients. Mix thoroughly.
Pour batter into the greased pan and bake for 30 minutes.
Let cool before cutting. JN
Jennifer Starrett is an events and marketing consultant. Visit jewphx.com, for more of her recipes and blogs.