If there is one food that is almost always associated with celebrating Rosh Hashanah, it is the apple. Apples and honey represent sweetness for the coming year, and they're in several traditional holiday desserts.
I love baking with apples and during this time of year, we usually go a bit overboard and purchase loads of them. Luckily, I have quite a few favorite recipes that use apples. The first recipe I'm offering here is my version of cooked apples. It's versatile and I even use it as a topping for the ice cream recipe and stuffing in the rolls recipe.
You can use any types of apples you prefer or even a mix. I wish you all a sweet and fruitful New Year.
Apple Compote
This apple compote is delicious on its own and tastes like the filling of an apple pie. You can, in fact, throw this into a crust and bake, enjoy it as a topping for ice cream or even stuff it into bread for a delicious side dish for the holidays.
My kids love when I make it and consider it dessert when it is served on its own or even mixed into some plain Greek yogurt. You'll probably be making multiple batches, so you'll want plenty of apples on hand for this recipe.
Ingredients:
4 apples, washed, peeled and diced
2 ounces butter (or margarine* to make parve)
½ cup sugar
1 teaspoon vanilla
½ teaspoon apple pie spice
1 tablespoon tapioca flour (to bind)
Heat a large saute pan over medium heat and begin melting the butter (or margarine). Once melted, add in the diced apples and stir to combine. Add the sugar, vanilla, and apple pie spice and stir to combine. Cover pan and cook for about 5 minutes.
Stir the mixture and sprinkle in the tapioca flour. Mix well to make sure the flour is fully combined. Cover again and let cook for an additional 5-10 minutes until apple texture is to your preference. The longer you cook, the softer the apples will be.
Once the apples are cooked, the mixture should look a bit sticky and thick. Set aside to cool and store in an airtight container in the refrigerator until ready to use.
Apple & Honey Ice Cream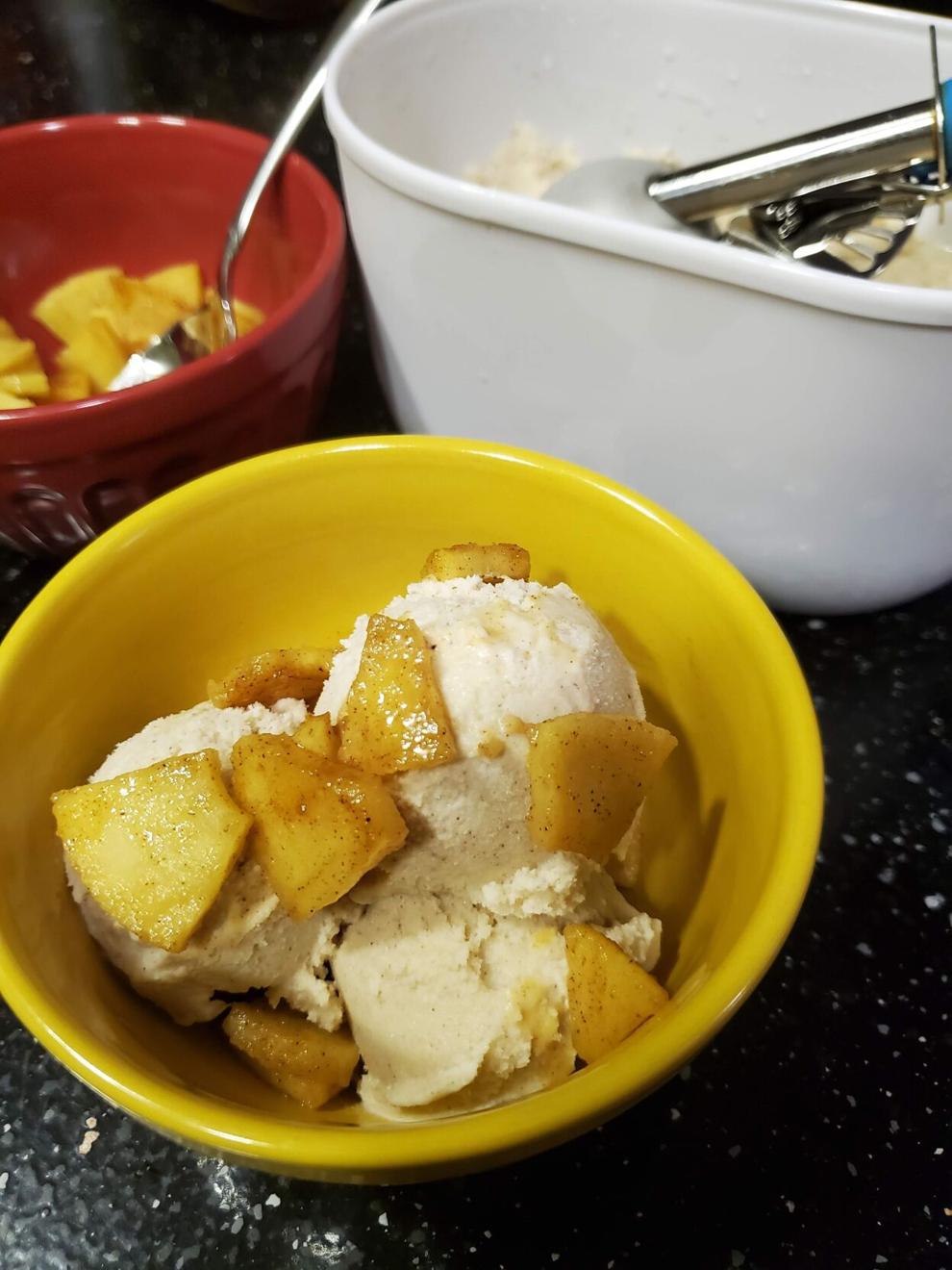 I got an ice cream maker at the beginning of summer and it is already one of our most-used kitchen devices. It saves a ton of time when making ice cream, but this recipe can also be made without a machine if you don't have one on hand. Either way, it is likely my new favorite flavor. It is deliciously creamy and sweet with a strong apple flavor, making it perfect for Rosh Hashanah.
And if you have any leftover apple compote from the previous recipe, add a spoonful or two to the top for an over-the-top holiday dessert.
Ingredients:
1½ cup heavy cream*
1½ cup whole milk*
½ cup honey
½ teaspoon apple extract
1 teaspoon apple pie spice
½ teaspoon salt
¼ cup sugar
*use 3 cups of unsweetened coconut cream to make parve
Pour the cream, milk and apple extract into a large sauce pan over medium to high heat. Once the mixture begins to boil, add in the honey and stir until dissolved. Lower the heat to medium and continue to cook for about 5 minutes until mixture begins to boil.
While the liquids are cooking, mix together the apple pie spice, salt and sugar in a large bowl until fully combined.
After the cream mixture has come to a boil, pour over the dry ingredients in the bowl and mix for about 2 to 3 minutes with a whisk. Once the mixture has cooled slightly, cover and set in refrigerator for at least 5 hours or overnight.
When you are ready to make the ice cream, pour the cooled mixture into your ice cream maker for about 10-15 minutes per instructions.
If you don't have an ice cream maker, pour the cooled mixture into an 8-inch-by-10-inch metal or glass baking dish. Place the mixture in the freezer for 90 minutes. Remove from freezer and mix again in the pan using a whisk. Be sure to scrape down the sides of the pan and break up any frozen chunks.
Return to freezer for 45 minutes and repeat the whisking and scraping before placing back into the freezer. Repeat this for a few hours until the ice cream is the desired consistency. After about 3 hours, you should have a soft-serve consistency. The longer you continue to whisk the ice cream and break up any ice, the more airy the final product will be.
Once ice cream is churned, scoop ice cream into a container to store in the freezer.
Pull-apart Apple Rolls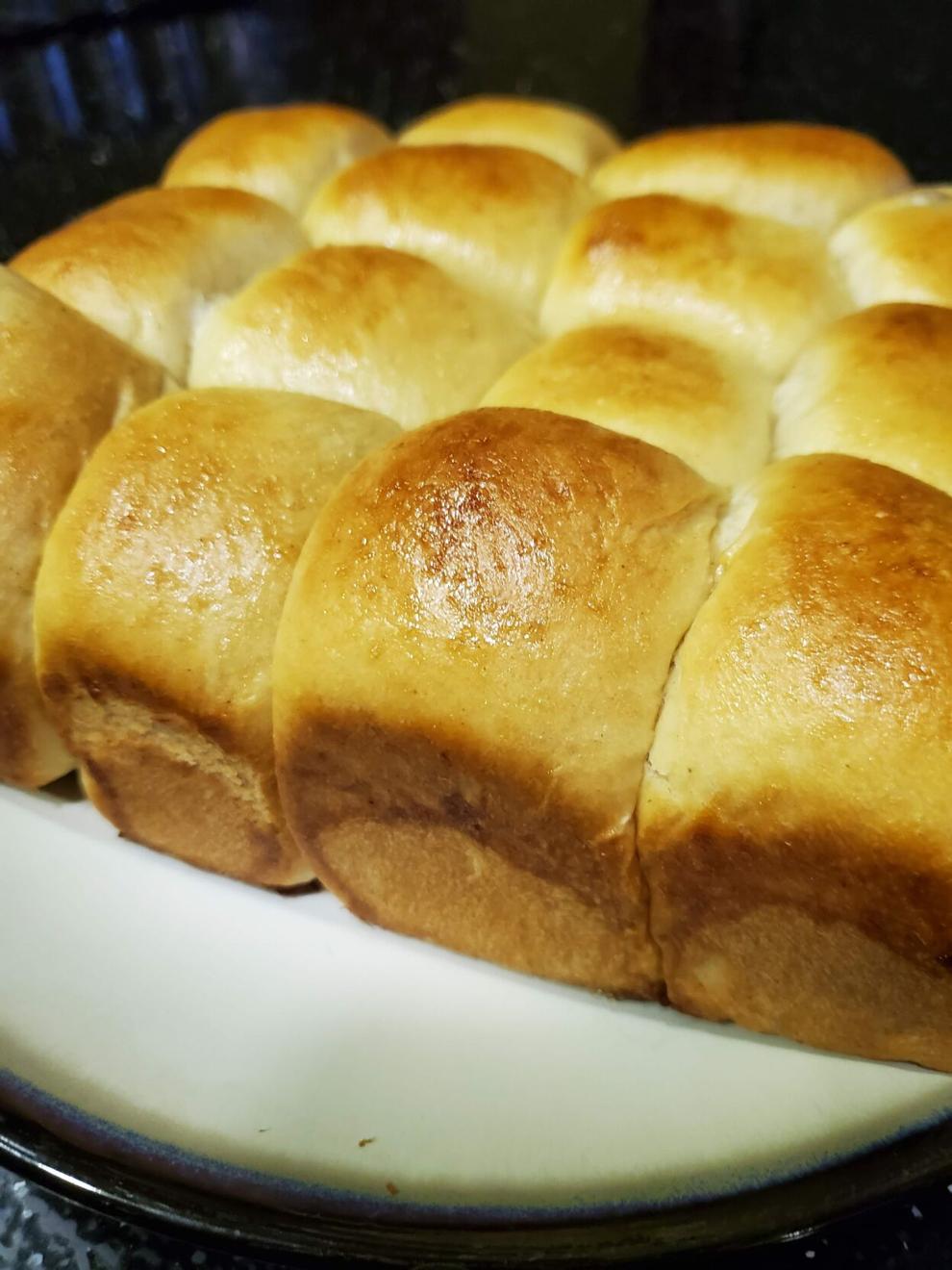 Nothing beats the smell of freshly-baked bread. And these pull-apart rolls are no exception. This version happens to use the apple compote to create a warm, gooey center to the rolls and they are a sweet addition to any holiday meal. The honey egg wash on top also adds a bit of sweetness and the apple pie spice mixed inside of the dough brings a delicious and unique flavor that compliments the compote perfectly. These rolls go really quickly.
Ingredients
1 package of rapid rise yeast
1 cup lukewarm water
½ cup sugar
1 teaspoon apple pie spice
½ teaspoon salt
3 tablespoon oil
3 cups flour
Apple Compote (see recipe above)
1 egg
1 tablespoon honey
In a large bowl, pour lukewarm water over the package of yeast and add a pinch or two of sugar. Mix gently with a large fork to just begin to combine, being careful not to overmix. Set mixture aside for 3-5 minutes until yeast begins to form a foamy texture.
Once yeast has bubbled, mix in the sugar, apple pie spice and salt until combined. Next, add the oil and give a good mix.
Add the flour to the bowl one cup at a time. Once the dough becomes too hard to mix with the fork, begin kneading the dough with your hands being mindful of the texture and adding a drop of oil if too dry or a tablespoon or two of flour if too wet.
Continue kneading for about 5 minutes and round out dough and place back into the bowl. Cover the bowl with a damp cloth and set aside in a dark space for at least one hour until doubled in size.
Tip: Heat oven to 150 F and then turn off once temperature has been reached. Place the bowl in the oven to rise.
Spray an 8-inch-by-8-inch baking dish with cooking spray and set aside.
Once the dough has doubled in size, divide into 16 equal pieces. Round each piece and flatten to about 4 inches in diameter. Place 1 tablespoon of the apple compote in the center of the flattened dough and fold dough over into a rounded ball with the filling securely wrapped.
Line the baking dish with the filled dough. Preheat oven to 350 F. Whisk together in a small bowl the egg and honey and set aside.
Once oven has reached desired temperature, brush the top of the dough with the egg and honey mixture until evenly coated.
Bake in the oven for 30 minutes. Take the pan out of the oven and let cool for 10 minutes in the pan. After 10 minutes, flip the dough out of the pan onto a baking rack and let finish cooling for at least 10 minutes before serving. JN
Jennifer Starrett is an events and marketing consultant. Visit jewphx.com, for more of her recipes and blogs.