It is said that to create Jewish children, one must make sure to give their children the opportunity to attend a Jewish summer camp and experience going to Israel.
Our story begins in Israel, where my sister, now Rabbi Erica Burech, was studying abroad during her junior year of college at Brandeis University. She always knew she wanted to be a rabbi, so it made sense for her to spend some time in Israel. One day while in Israel, instead of sitting with students from Brandeis, she decided to sit with a different group from another university. That is where she met Craig Weiss, a junior studying abroad from the University of Pennsylvania. He was from Phoenix, which started the domino effect of how Eric Kaye and I met.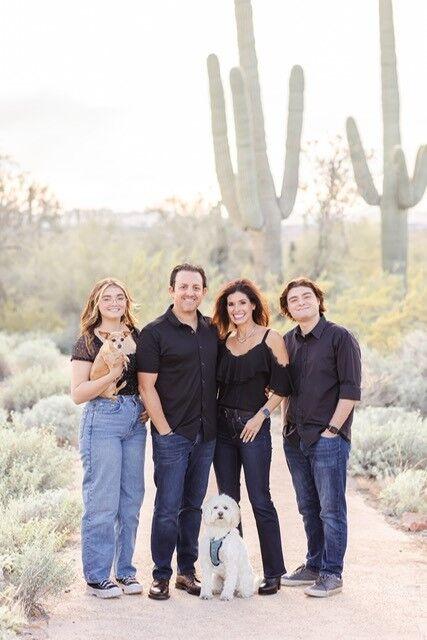 My sister and Weiss started dating, continuing through the rest of their college careers. He ultimately took a gap year when Erica had her first year in rabbinical school in Israel. Weiss was accepted into Arizona State University for law school and Erica wanted to be a student rabbi at a Jewish summer camp.
In 1997, my sister met Eric Kaye, one of the song leaders at Camp Charles Pearlstein (now Camp Daisy and Harry Stein). The following summer in 1998, she had planned to return to work at the camp and convinced me that I should consider working there too, as a unit head. I had recently graduated with an education degree from the University of Tampa, so it made sense to work in a camp setting to utilize my degree while potentially meeting other teachers who could assist me with finding the right teaching job in Phoenix.
My sister might have also convinced me to come to camp because she wanted me to meet the song leader, with whom she and Craig had formed a friendship. I'll always remember meeting Eric for the first time during staff orientation week. I was walking inside to what is known as "the barn" and he was coming outside the building, and we practically bumped right into each other. From that moment on, we built a friendship that turned into an amazing partnership of marriage, ultimately becoming parents and even transitioning into business partners.
We have committed to sending both of our children to Jewish summer camp. Our son, Asher, who is in school at Oberlin College, will be a second-year counselor at Gindling Hilltop Camp in California, where Andrea Cohen is the resident director during the summer. (Cohen is also the director of youth philanthropy and community programs at the Center for Jewish Philanthropy of Greater Phoenix.) Cohen was the director when Eric and I met at camp in 1998 and was front and center at our wedding ceremony in 2001. Our daughter, Lirit, a sophomore at Horizon High School in Scottsdale, will travel to Israel this summer with other campers from the Wilshire Boulevard Temple Camps in California.
We utilize a concept we learned at camp daily, tikkun olam (acts of loving kindness), as one of our core values in our business, where we assist older adults in aging gracefully in their homes with a caregiver and helping them to find the right assisted living community.
We are both also involved with the Jewish community, and it is largely due to our experiences attending Jewish summer camps as children and working at a Jewish summer camp as adults that instilled that importance in us. JN
Denise and Eric Kaye own Connections In Homecare & Communities (connectionsinhomecare.com).
Jewish News is published by the Jewish Community Foundation of Greater Phoenix, a component of the Center for Jewish Philanthropy of Greater Phoenix.