In early September, much of the political world was focused on U.S. Sen. Joe Manchin's, D-W.Va, seeming intransigence about passing the $3.5 trillion reconciliation package being debated this week in Congress. On Sept. 12, he made the rounds on Sunday morning shows. Meanwhile in Phoenix that morning, approximately 40 people stood outside another moderate Democratic senator's office, asking her to be bold.
Arizona Jews for Justice, with support from the Jewish climate advocacy group Dayenu, organized a rally, Hear the Call: Jews for a Just Recovery Package, outside of U.S. Sen. Kyrsten Sinema's office at 3333 E. Camelback Rd. The event's goal was to convince the moderate Democrat to vote yes on reconciliation package — "with not a penny less." Their clarion call: "Climate, care, jobs and justice now!"
The bill includes billions of dollars for climate issues and by using the reconciliation process, Democrats could pass the legislation with 50 votes. Vice President Kamala Harris' vote would break the tie.
But that would require every Democratic senator to vote yes, since it has no Republican support. The activists in Phoenix believe if Sinema signals she will vote yes, Manchin will follow suit.
At 10 a.m., as the temperature tipped over 100 degrees, Rabbi Dr. Shmuly Yanklowitz, AJJ's founder, addressed the small crowd.
Alluding to Rosh Hashanah and the birthday of creation, Yanklowitz reminded people that the moment Adam and Eve left the Garden of Eden, they were called to be stewards and guardians of the planet.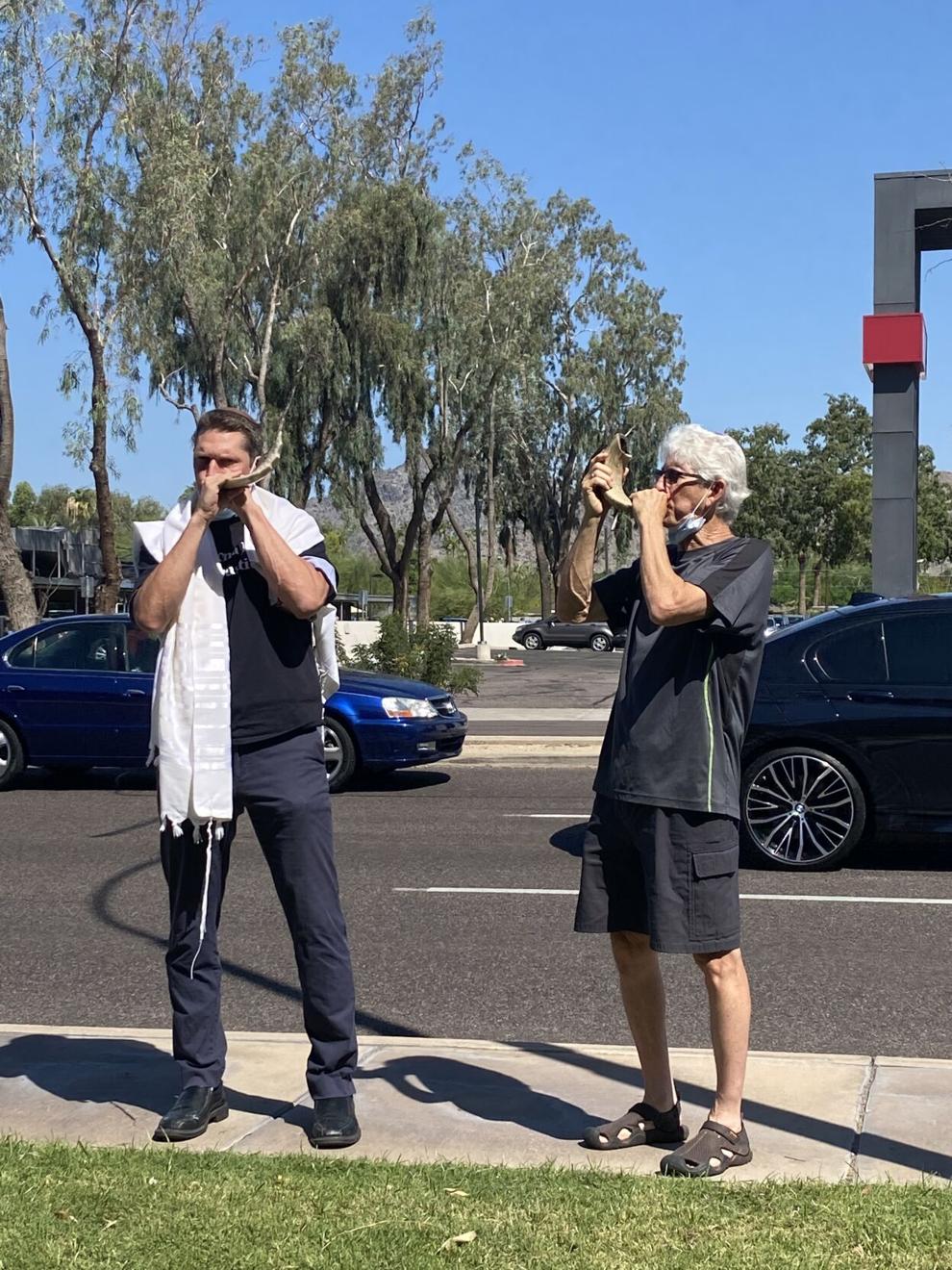 "They are called to responsibility," he said. "This is what every faith hears and most certainly our Jewish faith which calls for bold action."
He also pointed out that this is a shmita or sabbatical year, which means giving the earth a rest. "We are called to understand that everything is not for our own pleasure," he said. "To celebrate the birthday of the world we have to return to a level of respect, a level of dignity, a level of humility."
Yanklowitz asked that people not follow in the footsteps of Jonah, whom he called a "failed prophet" for running away when he heard the message of the world's impending destruction. The rabbi challenged everyone there to decide how they will respond to a similar call now that the world is imperiled again. He implored all, and especially Sinema, to heed it.
Evoking Maimonides' analogy that the world is like a scale, Yanklowitz said, "this is one of those moments where the scale needs to break its balance towards the redemption of the world" as opposed to its destruction.
Pablo A. Sierra-Carmona, Sinema's deputy press secretary, pointed out that the senator voted in favor of August's procedural vote on the budget resolution and is waiting to see how the "relevant committees" detail proposals in the legislations many areas, including climate. She will then "closely review them and continue engaging directly with her colleagues and the administration," he said, via email. Until then she won't comment on any one policy.
Rabbi Jennie Rosenn, Dayenu's founder and CEO, said Jews were gathering at similar rallies across the country to remind elected officials "that when it comes to climate, there is simply no time left to waste."
Madeline Dolgin, part of AJJ's first cohort of social justice fellowships, also addressed the crowd. She focused on Arizona and how the bill could affect Sinema's constituents.
She called attention to the rise in the state's average temperatures by acknowledging the "baking heat" of the morning. And she pointed to the state's many wildfires, which show no sign of abating. There have already been 1,106 wildfires in 2021 burning more than 453,000 acres in the state as of June 25, 2021, she said.
She also pointed to last month's news that the federal government declared a water shortage on the Colorado River for the first time and announced mandatory cutbacks that will come in 2022. Dolgin cited studies that the river will soon be unable to keep up with the demands of the millions of residents who depend on it.
The reconciliation bill will address regulations for energy and climate requirements, which the state currently lacks, she said. And with Arizona having more sunny days than any other state, she highlighted the bill's support for solar energy. Acknowledging these issues can seem "daunting," she also said there is no choice but to keep advocating for change.
"We need to take responsibility for our actions and make reparations," she said. "Jews are trained to heal and not to stand by as the planet falls to the fate of human folly."
Ari Anderson, an organizing intern for AJJ who recently graduated high school, was even more direct about what is at stake.
"One of the things I find super interesting is how most of the policymakers behind this stuff won't live to see the effects of their decisions," he said.
Pointing to rising temperatures, which have caused the highest level of known heat-related deaths to date — more than 220 — he cautioned, "and this summer is not done yet."
He attempted to drive home what the reality of high temps and low levels of Lake Mead, Lake Powell and the Colorado River will mean for Arizona's residents, and he pulled no punches.
"It means that people will die, and it means that I might not be able to show my kids where I grew up, and it means that my children might inherit a wasteland instead of a home," he said.
"There is no win or lose. We are literally facing a situation of existence or extinction."
After a few more speakers, Yanklowitz and others blew shofars "to wake people up," he said. "The shofar is not only calling Sen. Sinema, it's calling each of us."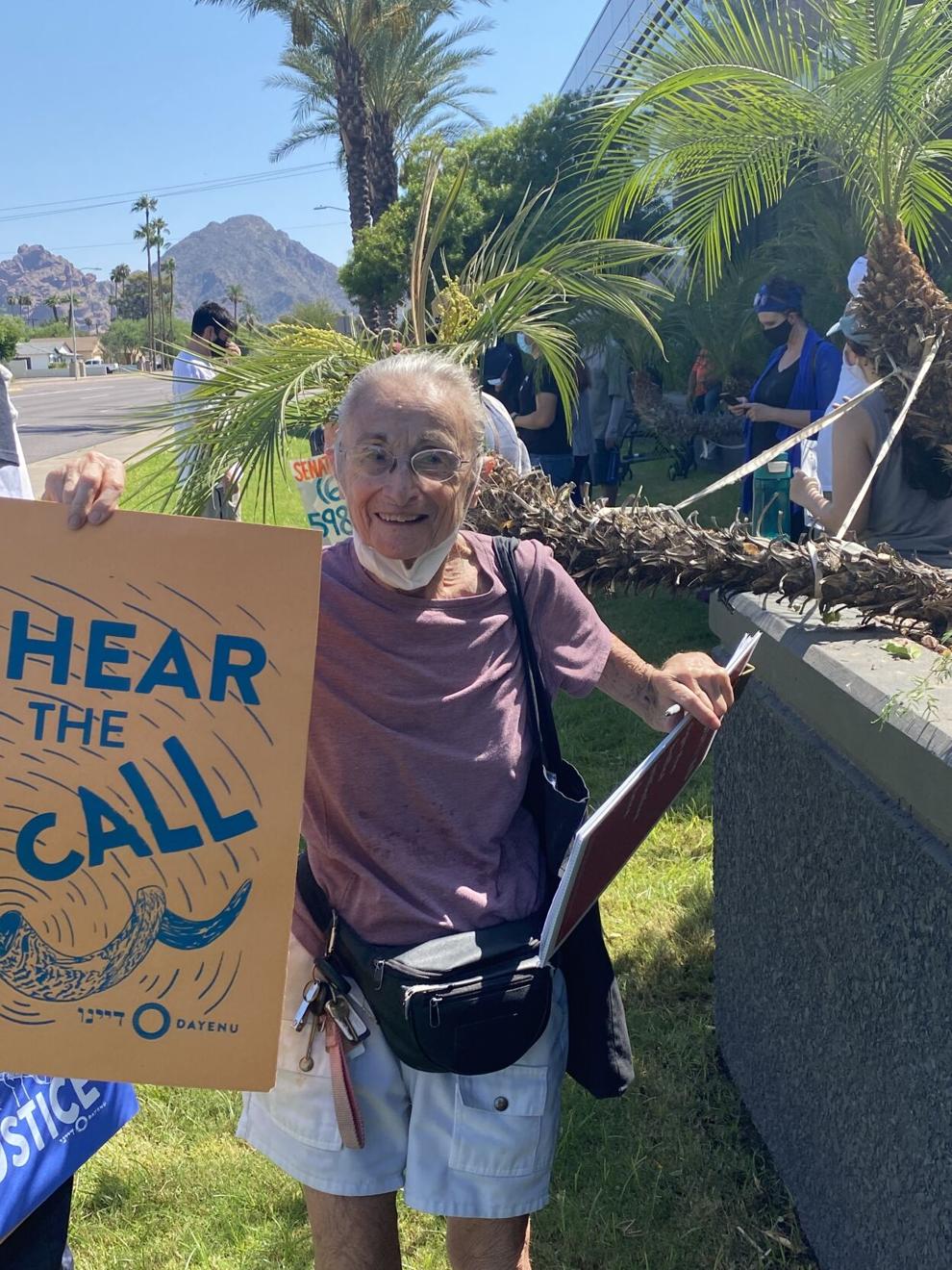 While most of the crowd was fairly young, Rivko Knox, 83, also held her sign high. She was there for the simple reason that she's human and shares the planet, she said.
"I'll be dead before the worst happens," she said, but pointed to her children and grandchildren as a good reason to show up and advocate. And even if she didn't have children, she said, it's her responsibility to protect life.
"It's tikkun olam," she said.
Sunday's rally followed on the heels of a similar gathering on Sept. 10, in front of the state capitol in Phoenix with a cohort of Arizona state representatives, Arizona Alliance for Retired Americans and the Arizona Youth Climate Coalition among others. JN