On the second Shabbat of this year, Or Atid, a small and independent Jewish community in Prescott, held a rather unique commitment ceremony. Rabbi Julie Kozlow, Or Atid's founder, along with 75 of its members, passed the Torah from one person to the next, until everyone had a chance to hold it.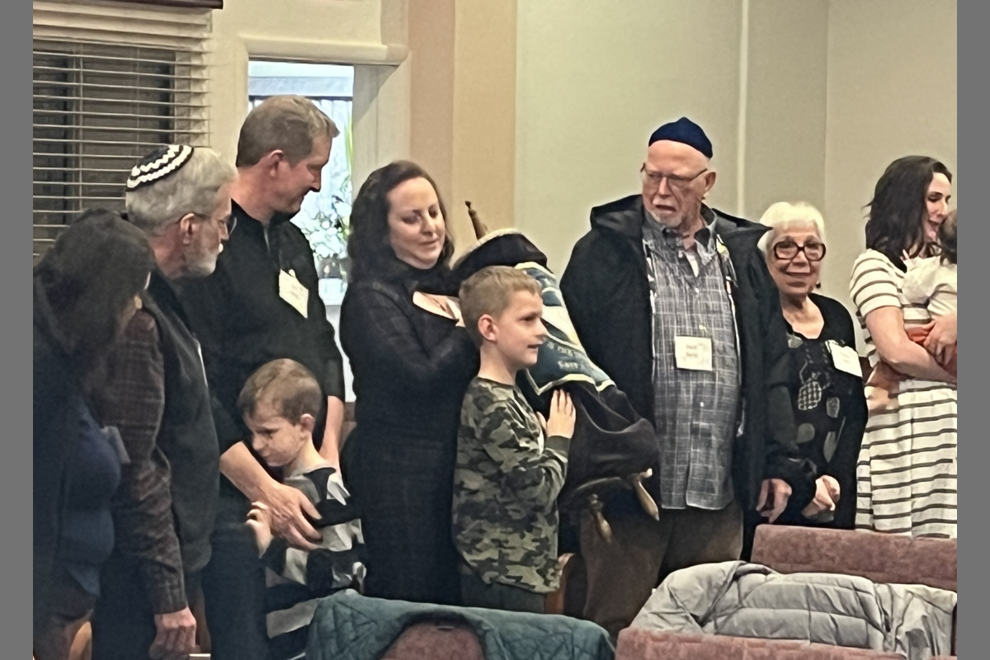 "The way they all took the Torah into their arms was exquisite," Kozlow told Jewish News.
The evening saw the unveiling of the community's new name, Or Atid, "light of the future." When Kozlow and about 20 families began meeting at this time last year, everyone referred to the group simply as "the Community." Kozlow decided that if this entity were viable after a year, she would give it a more apt and traditional Hebrew name.
"A community like this, deeply spiritual and meaningfully connected, is the light of the future," she said.
The one-year anniversary was also a moment to stand together under the canopies of four chuppahs and commit to one another and the "sacred endeavor" of Or Atid itself. The chuppahs symbolized the spiritual home Kozlow is building, not alone, but with the resolve of every member.
"We all have our parts to play, and we all have to show up to make it work," she said.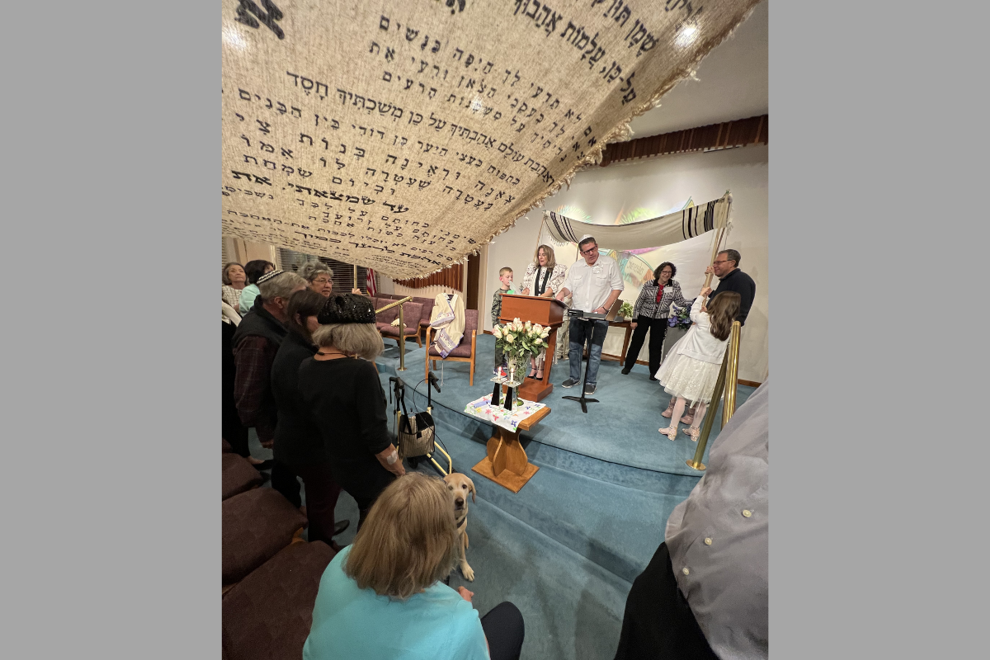 Emily Grotta lives in Goodyear but also has a house in Prescott and was part of Or Atid from the beginning. While she admitted this community is not right for everybody, and that some activities have worked better than others, she is overwhelmed by how "this breath of fresh air" has exceeded her expectations.
"We've become one big family and that's remarkable in one year," she said.
Kozlow rents Prescott's Unity Church's sanctuary three times a month for Shabbat, in addition to all Jewish holidays. Grotta attends frequently enough that she knows every member and loves watching the kids during Shabbat service.
A standout experience this first year happened during the Yizkor service when Kozlow asked everyone to bring in a photo of someone they had lost. Grotta brought in a photo of her daughter, who passed away three years ago. The photos were displayed on tables at the front of the sanctuary for everyone to see.
"As we went in line to get blessed, we passed the tables and were looking at the photos and talking about them and sharing the stories of who these people were. It was very intimate and emotional," she said.
Grotta has lived in nine states and been a member of several different synagogues, large and small. She admires Kozlow and her approach, especially her emphasis on spirituality. Over the past year, Or Atid has grown from fewer than 20 families to more than 40. Grotta suggested maybe it would increase to 60 or 70 families in total.
"I don't see it getting bigger, but who knows? She (Kozlow) keeps attracting them."
Dr. Robyn Chase, another original member, belonged to other synagogues in her life but didn't feel really connected until she met Kozlow.
"Rabbi Julie hit a spot in my heart and soul which woke me up," she said.
January's ceremony "was more like an installation for all of us — a mutually respectful commitment full of positive energy," she said.
One of her highlights from Or Atid's first year was a trip to Israel that the community took in October. It was her first visit but it didn't feel foreign to her, thanks to the guide Kozlow arranged, she said.
The experience was "deeply immersive, religious and a launching pad to induce growth in all of us," she said.
Or Atid offers adult education classes, Hebrew school, lifecycle events, an Israel trip and "holy hiking" excursions in addition to Shabbat and holiday services, and Kozlow is responsible for all of it.
She put together a rabbinic advisory team of highly-qualified professionals, who understand and support her vision, but she clarified that this group does not function like a traditional synagogue board.
She listens to their counsel but Kozlow is the ultimate decision maker. People agreed to be on the team because they want the community to be a success and because they support her and "believe in my soul," she said.
Kozlow stressed that Or Atid will not follow the path of a traditional synagogue or what she calls "corporate Judaism." In her previous pulpits, she never felt the freedom to express her vision or meet her creative potential, which made much of her career "uncomfortable and painful," she said.
Now, she "reports to nobody but God."
In earlier years of her rabbinic career, Kozlow found herself contending with the stress and strain of politics and egos and often felt demeaned. But in the past year, there have been only a couple of uncomfortable moments with members, which she settled quickly and quietly.
All members have a positive role to play at Or Atid. Seeing their mutually respectful interactions, while at the same time removing the pettiness that she experienced in the past from her daily life, has been enormously rewarding, she said. "I finally feel like I'm doing what the purpose of my life was meant to be."
The satisfaction that she feels now is the biggest part of her remuneration. "If I had been offered the amount of money I get now at my first job, I wouldn't have taken it," she laughed. "Now, I get a happiness paycheck and my life feels so utterly different."
Everyone pays their dues at the beginning of every month. She informed the members early on that she couldn't make things work if she had to "run around asking people for money." Thus far, she hasn't had to.
Members also volunteer to take administrative tasks off her hands, and both Grotta and Chase emphasized that everyone wants her to take time for herself and her family.
To do that, she takes the last week of every month off to visit her children in Los Angeles, take a class or hike in Sedona.
"I haven't taken time out in my career since I got into this business 30-some years ago," Kozlow said. "My life has never had a place for me in it. I am dedicated to this community but also grateful to be allowed the time to find out who Julie is."
Kozlow told Or Atid members that making it to their first anniversary was their "proof of concept." She has ideas about ensuring her community's future, but she's "laser-focused" on the needs of the families who have chosen her as their spiritual leader.
"If I die tomorrow, I am so proud that, thank God, I had a year to do the real work that I was called to do to bring Judaism alive." JN
For more information about Or Atid, visit rabbijuliekozlow.com.