After her brother unexpectedly died at age 56 in September 2019, Helene Harty Miracle struggled to deal with her grief. She quickly had to shift gears to take over his business responsibilities and meet the needs of his employees. At the same time, the single mom was also about to become an empty nester — her daughter was heading out of state for college.
"My life was going to be extremely different," she said. "I knew I needed support."
Although she didn't find the type of support she sought at that time, she later reached out to the clergy at her synagogue, Congregation Beth Israel in Scottsdale, about creating a safe, open and non-judgmental space for members to support each other during times of grief.
This past January, her vision came to fruition with the launch of the Shema Circle, a supportive group for CBI members who are experiencing life transitions, losses and other difficult moments.
The group was established through The Matthew B. Harty Family Foundation, Inc., named after Miracle's brother, in partnership with CBI Cares, a member volunteer program that is part of the synagogue's Hilton Family Welcome Home Project.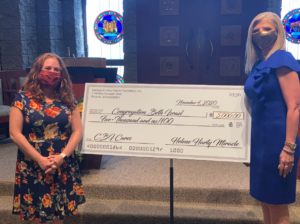 The initial cohort, made up of six women in their 60s and older, met Jan. 8-Feb. 26. A second session began March 5.
The program, led by CBI's Rabbi Sara Mason-Barkin and member Amy Heims, a chaplain at Banner University, provides a place for participants to share their stories and wisdom as they connect and heal.
Having this type of program is especially timely now "as we're all going through this pandemic," said Mason-Barkin. Whether people are going through the specific struggle related to the loss of a loved one or struggles related to the pressures of the pandemic, such as isolation or trauma, creating a space within the community dedicated to moving through that pain and challenge can "be something that brings our community closer together through the sharing of stories," she said. "We're trying to deepen connections within our community."
The loss of a loved one, challenges related to aging, being an empty nester and infertility are examples of the experiences that members share, Mason-Barkin said.
The group, which meets weekly on Zoom for an hour and 15 minutes, begins with a short meditation designed to help transition participants from whatever else they were doing that morning into the emotional space created by the group, said Heims. That practice is especially important when connecting over technology, she said. Next is an opening prayer, followed by a reflection on a specific topic based on Jewish themes, a time for sharing and the introduction of the following week's topic to reflect on over the week and discuss at the next meeting.
It's not therapy or a formal support group led by a therapist, Heims explained, but it's like "a community within a community," with everyone there for each other and learning from each other and sharing their stories.
"As Jews, storytelling is central to our identity," reads a description of the program in a recent temple bulletin. "The Shema Circle offers a place to tell our stories, to make sense of our lives through our tragedies, loneliness, joy and change."
"We are our stories," Heims said. "What brings us together and creates bonds is listening to each others' stories and telling our stories."
Mona Jamison, a member of the pilot cohort, is very appreciative that she was part of the program.
"The benefits to me were numerous," said Jamison, a winter visitor from Montana who has been a CBI member for nearly five years. After her husband of 50 years died in May 2020, she wasn't interested in attending a support group, but when she learned that CBI was forming the Shema Circle, she signed up. "I'm really grateful that the support came from the temple," she said.
Many of the women in the group had lost someone close to them and it was helpful to hear how they dealt with the grief, Jamison said, and it gave "me comfort in the knowledge of not being alone on this journey."
Although Miracle's original vision included having the group meet at CBI, the fact that the group met over Zoom instead of in person didn't hinder the experience at all, Jamison said, because it still felt intimate due to the group's small size — the women could see everyone else's faces on one screen.
Although their formal meetings with the Shema Circle have come to an end, members of the first cohort plan to continue monthly virtual meetings on their own, said Miracle, who got to witness firsthand the bonds that were formed. "You could see the growth as the women gained confidence in sharing their feelings," she said. "You build a bond." JN
Leisah Woldoff is a freelance writer based in Phoenix.