Chi Isiogu, Phoenix's Temple Chai's program director, greeted several people in the parking lot of Pilgrim Rest Baptist Church in Phoenix by handing out T-shirts and protective rain ponchos at 8:30 a.m. on Monday. She referred to the approximately two dozen Jewish Martin Luther King Jr. Day marchers, who braved the steady rain and cold temperature — hovering at about 50 degrees — as a "small but mighty show of force."
On the drive to Pilgrim Rest, Isiogu, her husband Matt and their two-year-old daughter listened to "Lift Every Voice and Sing," commonly referred to as the "Black National Anthem." The couple looked at each other when they heard the words, "Let us march on 'til victory is won," and knew the rain didn't matter. That lyric encapsulates the spirit of the march and whatever the weather, it was important to show up.
"Our daughter is Black," Matt Isiogu said. "Let me take this time to honor the legacy of civil rights because our country has come a long way but it still has a long way to go."
Brianna Tsatskin, part of Temple Chai's project design team, hadn't been to an MLK Day event in a while and saw this as her chance to become more involved with Temple Chai and social and racial justice issues. Armed with hot coffee, she said she was happy to be there even with the inclement weather.
Jesse Goodsell came because of their Jewish values, which means showing solidarity for other groups.
"We often think we're separated from issues around civil rights, but we're always a part of it — something that our state struggles with today," they said.
Those sentiments are shared by Isiogu, who wanted to organize a Jewish contingent to support and show unity with the Black community.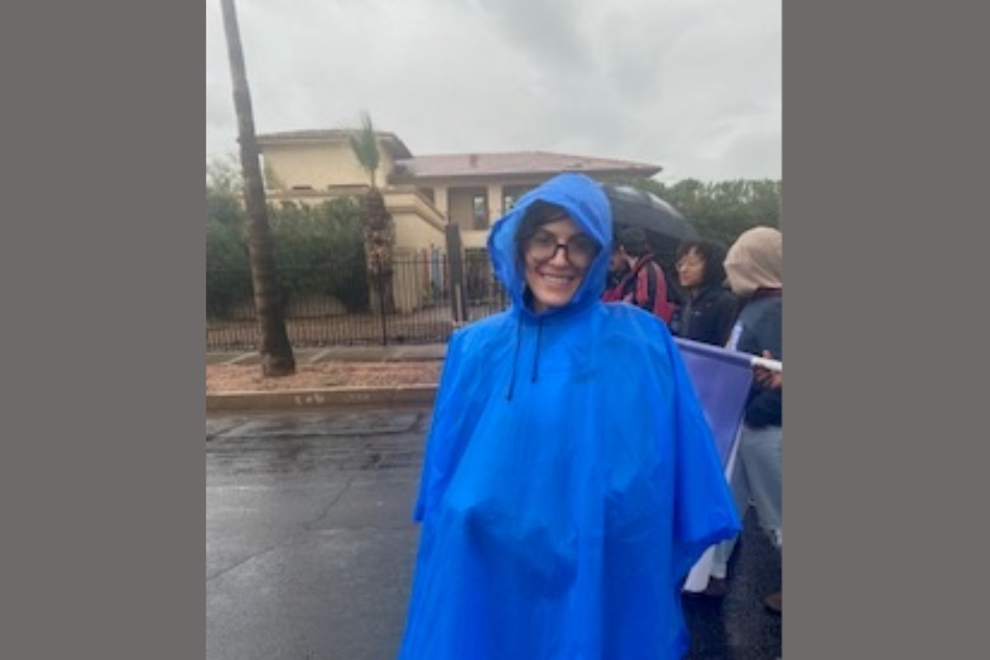 Emily Gilman, a Temple Chai teacher, attended the march for the first time since the COVID-19 pandemic struck. She usually brings her kids but left them at home on Monday due to the weather. Still, it was important for her to show up because "civil rights are central to who we are as Jews."
Michael and Iris Fox, Temple Chai members since the 1980s, weren't terribly bothered by the rain. This holiday celebrates a "great cause," Iris Fox said. "We're not done learning about him (MLK) and more of his story needs to be told because there's still so much bias and hatred."
The couple remembers well the controversial 1987 action of then-Gov. Evan Mecham, a Republican who made it one of his first acts to rescind the previous Democratic governor's executive order to create the MLK holiday. After spending a few years in the national spotlight over the issue, the state celebrated its first official MLK Day holiday on Jan. 18, 1993.
Rabbi Bonnie Koppell and her daughter, Jessie Rubenstein, reminisced how in those years, they would join in marches at the state's capital protesting Mecham and demanding the state make MLK Day a holiday.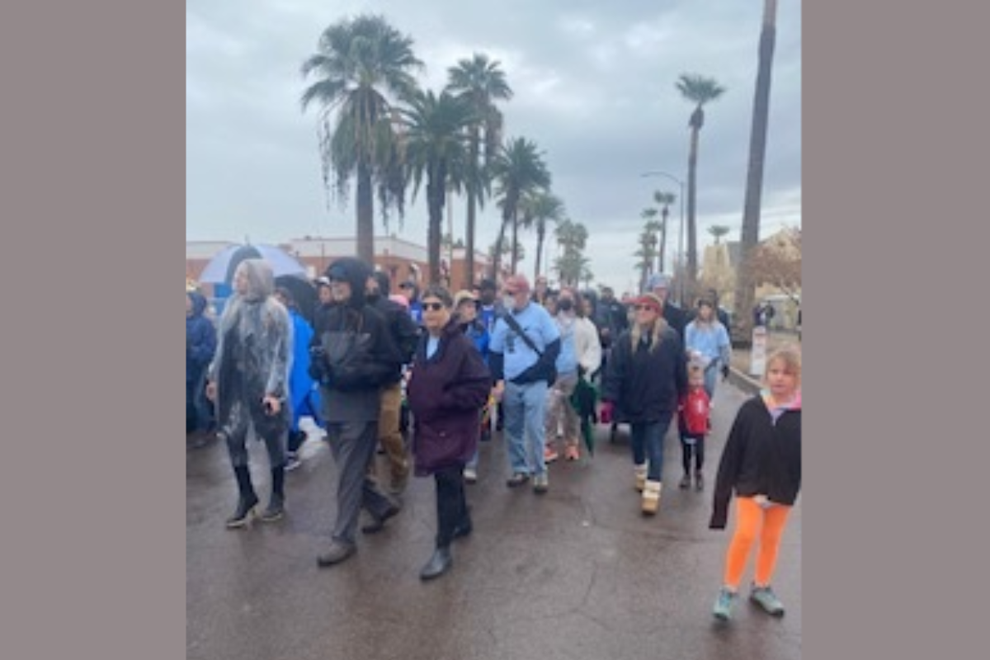 "It makes me feel really proud that now, not only do we have the holiday, but we have people from the temple who think it's important enough to be here to celebrate this event and Martin Luther King," Koppell said.
"King was someone who really exemplified Jewish values," Rubenstein agreed.
Judy Schaffert, a member of Temple Solel in Paradise Valley, said being part of Monday's march made her a "little misty" thinking of the years she marched with her kids in defiance of Mecham. But she's under no illusion that the racism that kept the holiday from being made official for so long is gone.
"The problems that Dr. King was addressing have only become worse now because there are people who are trying to suppress the vote — and some people here don't want people who aren't white and Christian to vote. That's really insidious and wrong, and if Jews are all about seeking justice, we have to do it with our feet just like Rabbi (Abraham) Heschel," she said. JN