Robin Meyerson spends her free time delivering mezuzot to those who need one, helping other Jewish women learn how to bake challah and teaching Torah.
She identifies as an Orthodox Jew now, but it wasn't until she was around 26 years old that she understood what that even meant.
She grew up aware of her Jewish identity, but didn't know any other Jewish people aside from her family members. Her dad was an engineer, and her parents wanted to show her and her brother the world. They lived in Australia, Malaysia and England, and learned about Buddhism, Hinduism, Islam and Christianity.
"I was completely ignorant about Judaism," she said. "It's a miracle I married a Jew."
Meyerson, who lives in Scottsdale, met her husband when she was 19 studying business at Arizona State University. Coincidentally, he also did not know much about Judaism. When they got married, they figured they ought to do something Jewish, so they held their wedding ceremony at Temple Chai, a Reform congregation.
A few years later, she saw a Jewish Federation of Greater Phoenix ad in the Jewish News for a trip to Israel.
"I grew up all over the world," she said. "I'd been to Greece, Egypt, all through Europe and Asia, but I'd never been to Israel."
Neither had her husband, so they went together.
"We get on the bus with all these nice people from the Federation and they say, 'Oh, King David lived here and Sarah was here,' and I was like, 'What? Those were real people?'" She laughs now looking back. "My husband and I both have master's degrees. We looked at each other and we said, 'We don't know anything. This is ridiculous.'"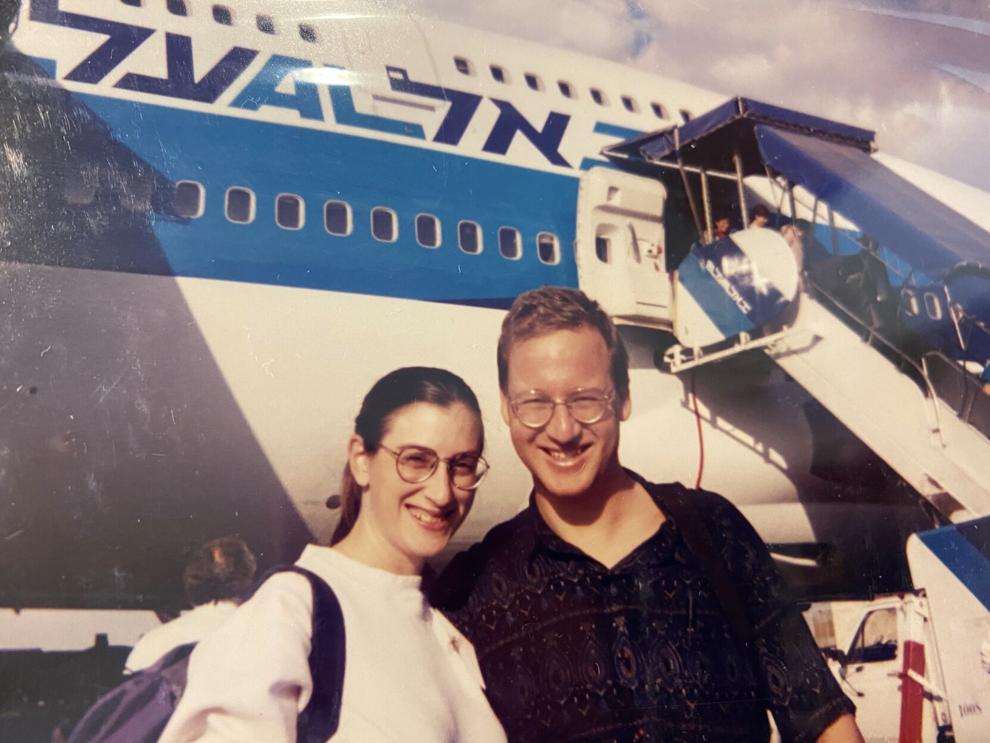 So began their spiritual journey, which pushed them out of their comfort zones.
When Meyerson was 30, they had their daughter and began going to services at Congregation Har Zion, a Conservative synagogue. There, her husband discovered he didn't know what a tallit was or how to wear one, prompting him to learn about Orthodox Judaism. He told Meyerson he wanted to go to an Orthodox synagogue, Young Israel of Phoenix, to her dismay.
"'What?' I said, 'I'm not going there.'" The mechitza, the barrier between men and women, made her uncomfortable. However, she reasoned that she would feel differently if she knew more about it. "There's got to be something to this, if it's lasted 3,000 years." She started reading more about Orthodox Judaism and getting to know the families who attended the shul.
"These women have degrees, they have good jobs and yet they have like 20 kids. How do they do this? How do they balance this? So I started going to their houses for Shabbat." She loved it.
Meyerson and her husband started trying out all of the Orthodox shuls; they took classes everywhere. Then she got a study partner from a free service called Partners in Torah. Her partner was based in New York, and Meyerson learned with her for eight years over the phone.
"We became really good friends and I met her in person a few times. She taught me almost everything I know," she said.
Meyerson is now co-director of Project Inspire Arizona, chair of the Shabbos Project Arizona and she provides life coaching to Jewish women.
Looking back, it wasn't just one thing that prompted her to be curious about Judaism, she said. She doesn't know where it came from, but when she was 11 and living in the United States for a year, she asked her parents to find a synagogue. For one year she went to Sunday school at a small temple in Paducah, Kentucky.
Then, as an adult, she sought meaning when she started a family. Working in the corporate world as a director of corporate communications for a Fortune 200 company, she was knee deep in office politics and privy to office infidelity.
"I'm just starting my family, and there's all this gross stuff going on, and I'm just thinking, 'There's got to be a better way,'" she said. Meanwhile, she is attending Shabbat dinners and is taken with the family values she witnessed.
When Meyerson was a young professional, she didn't want kids. Completely career-oriented, she figured she'd have one kid for her husband when she was 30. And that's what she did. Eventually, she was able to have four more kids, her last when she was 45. Her five kids are between 9 and 23.
It was a long journey of learning, exploring and transitioning, but she hasn't looked back.
"It's been the greatest decision of my life," she said. "I felt blessed that I found this secret society." JN