If you asked Shlomo Pri-tal 30 years ago what his retirement would look like, he never would have imagined it would include making glass art.
"I thought I would start studying Spanish, go take physics classes — I like physics. But then again, I don't study Spanish. I don't take physics classes. I'm doing something that I didn't think I was gonna do, which is glass."
Pri-tal, 74, retired in 2017 after a long career with Motorola. Shortly after, he discovered glass art when his wife asked him to make new house numbers for the exterior of their Phoenix home. He thought it would be nice to make them out of glass and he and his wife have a friend, Barbara Becker, who owns Art for Fun! Studio and Gallery.
"So I made the numbers. And then from there, I started to make more things," he said. He likes the planning that goes into making a design and then physically cutting and gluing the pieces together to bring the plan to fruition.
He's made Chanukiahs, candlesticks, dishes, lazy Susans, a skylight and decorative plates. One of his favorite things he's made so far is a seascape — a decorative piece modeled after an aquarium, with glass fish, coral, starfish, an octopus and even seahorses.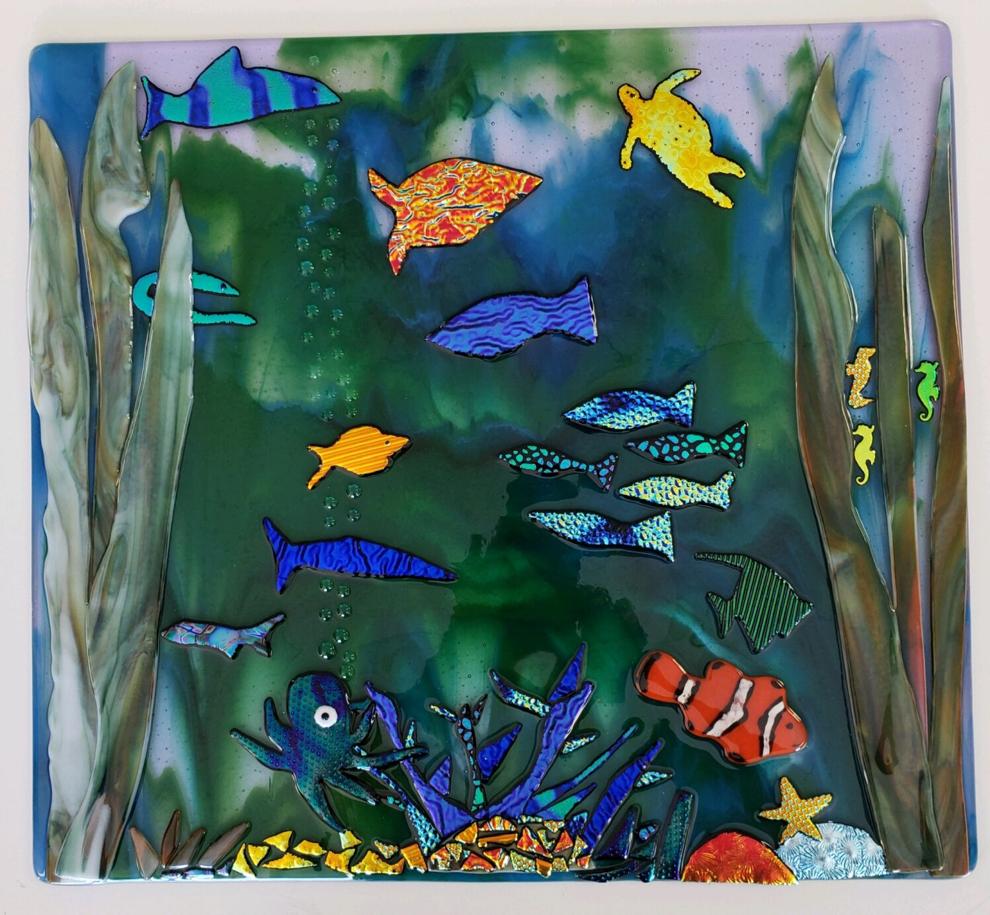 "There's hardly any space to put any more art in my house," Pri-tal joked. "I give it to my children, I give it to friends." He doesn't want his hobby to feel like work, he said, so he doesn't actively sell his art.
Earlier this year, he donated one of his pieces, a Chanukiah, at an art auction for Wise Aging, a program through the Bureau of Jewish Education and The Jewish Federation of Greater Phoenix.
"I was so touched when he said he would donate, because sometimes people are not as open to donating as they are to selling," said Diana Nashban, who was the chairperson for the silent art auction. "It was a beautiful Chanukiah, he uses many different colors of glass. I was lucky because it got to sit in my house until the auction was over."
Five people bid on the item and it ended up selling for $250. Pri-tal said that was the third Chanukiah he had donated over the past few years. One of them went for $450, he said.
"It's nice stuff and I would buy it myself," he said.
Pri-tal would think about retirement throughout the years while working at Motorola. He figured he would take classes and focus on photography, which he always liked. But the wall space in his house quickly filled up. With glass art, he can also incorporate photography, building glass scenes from photographs.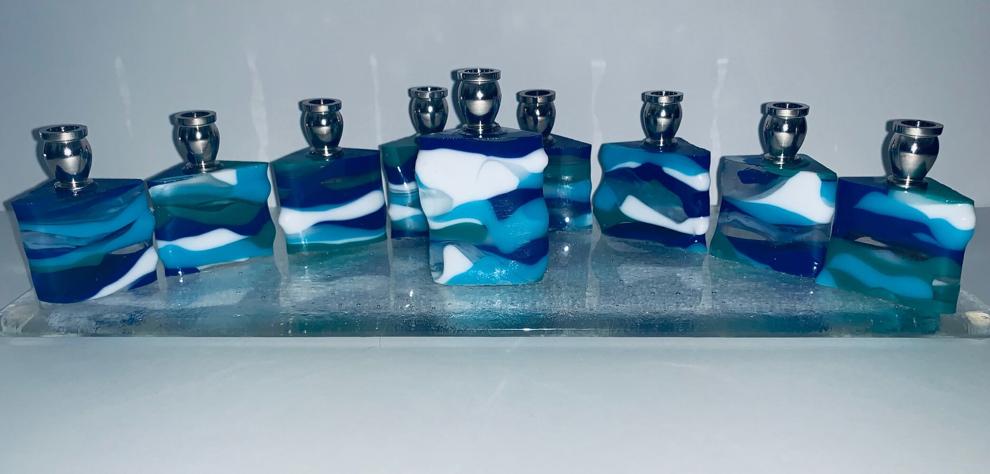 He laughs thinking about his younger self reacting to his current hobby. "I didn't have any inclination or desire to do that," he said. "I got into it, and it's nice and I like doing it."
Randee Pri-tal, his wife, said Shlomo has always been very creative. "When he was working in his career, his creativity took a more technical route. He's always been able to think outside the box."
Still, Randee was surprised at the quality of what Shlomo would bring home when he just started his hobby. "He's never done anything like this before, but with each piece he brought home, it was like, 'Wow, this is really nice.'"
They have a 5-year-old grandson. And so far, he hasn't broken anything — "yet," Shlomo laughed. JN