Every Monday, Pnina Levine wakes up early to volunteer for the International Rescue Committee (IRC) in Phoenix, helping refugees who have newly arrived in the country and are hoping to be granted asylum. She loves her time there so much she calls Monday her "fun day."
Since she started about a year and a half ago, she's also recruited a few other people to volunteer at IRC. Monday at 7:30 a.m., she meets up with one such friend, Mauricio Pereira, and they have the same argument about who is going to drive. Both of them collect so many items to donate they enjoy arguing over whose car is too full to drive.
On Sunday, in preparation for her next-day shift, Levine buys yogurt — anywhere from 60 to 100 containers — to bring with her. Another volunteer brings pastries and when they arrive, they make coffee and serve breakfast. At 9 a.m., the volunteers open up the showers to the refugees.
"They've been on the road for weeks and they're really in need of a shower," Levine said. She also buys little things at the dollar store to give away, such as hair ties, gloves, mirrors and nail polish.
"One time, I brought nail polish and I did everyone's nails," she said.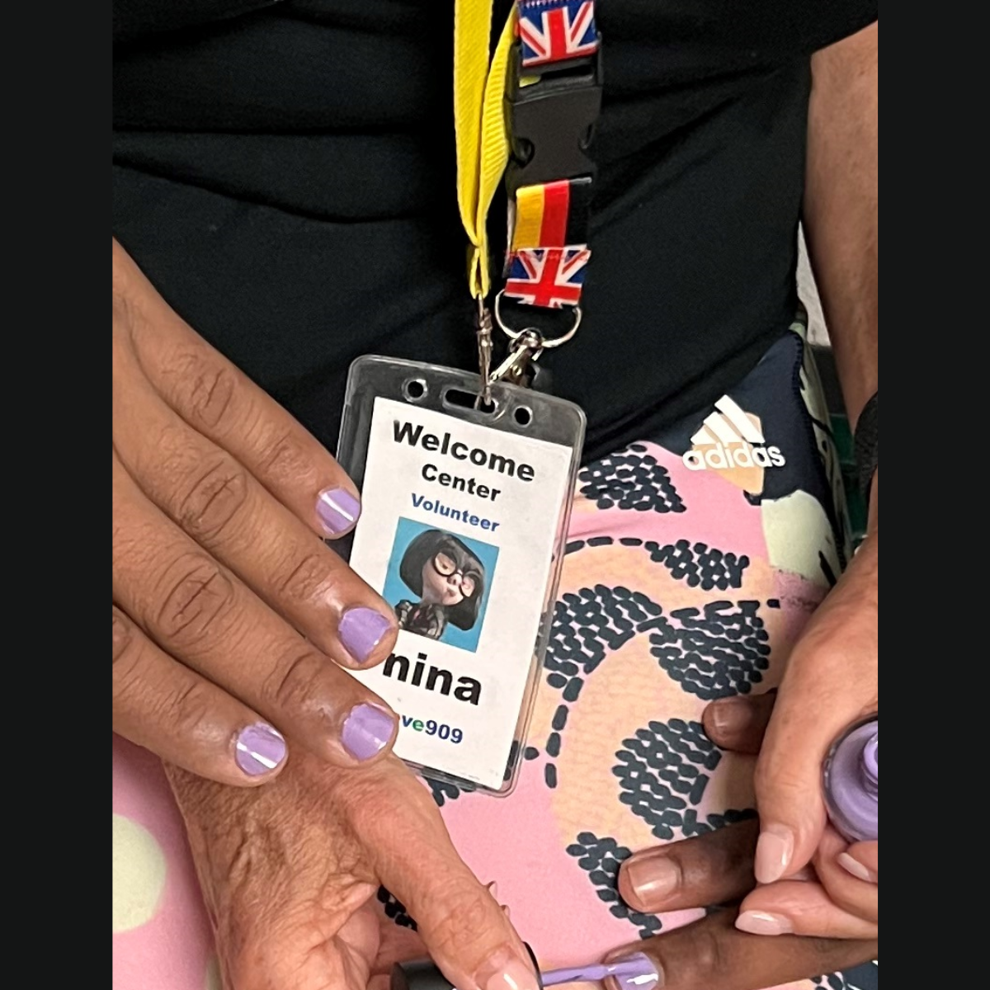 She leaves at about noon, after a morning of helping between 200 and 300 people who have been dropped off at the IRC center by U.S. Immigration and Customs Enforcement (ICE).
The IRC provides opportunities for refugees, asylees, victims of human trafficking, survivors of torture and other immigrants by working with government bodies, civil society actors and local volunteers, according to its website.
Levine has spent her life volunteering, and as a dentist, she has donated her dental skills many times. Now that she's retired, she still volunteers twice a year for Arizona Dental Association's Mission of Mercy, where people who cannot afford dental care can come and receive free dental work for a day.
One of her favorite volunteer memories came from dentistry.
In 2017, Jen and Kevin Groman, Arizonans who wanted to assist a Congolese family, came to Levine for help.
"There is an amazing Congolese girl who goes to school with my daughter," Jen Groman said. "One day, we threw her a birthday party because she had never had one. She brought two friends, a Congolese girl living in foster care and a Congolese boy whose family had only been in the United States for a month. His name is Israel Ehusa."
The Ehusa family fled the Congolese Civil Wars that began in 1996 in what was then called Zaire, now the Democratic Republic of the Congo.
"They fled the Congo 20 years ago and had been living in a refugee camp in Tanzania all that time," she said. "Their children didn't know anything but life in a refugee camp. They didn't get medical care, they didn't get enough to eat, they were always hungry."
As part of her effort to serve the refugee community, Groman wanted to help the nine-member Ehusa family — ranging in age from 8 to 53 — receive dental care. Levine and her staff answered the call, offering her services at no charge, along with two other dentists.
The family had never seen a toothbrush or toothpaste but, ironically, the only thing Levine needed to do was fill one cavity for one family member. She had to call the other dentists who were coming to assist her and tell them not to bother.
"They were the kindest, nicest family in the world," Levine said. "They were so appreciative of anything we did. Every single one of my staff members donated their time for this family. It was one of the best experiences I have ever had."
Levine has also volunteered for Central Arizona Shelter Services (CASS), Brighter Way Dental Center, St. Vincent de Paul Society, Planned Parenthood and more. She loves volunteering.
But nothing compares to her work at the IRC. She even likes to joke that she should pay IRC for the opportunity to help out.
"I feel like people look down on refugees but the people we see at IRC have given up everything for a small chance to live here," she said.
Many of the people she helps don't speak much English and are alone after leaving their families and belongings behind.
"They've experienced terrible things for the slim hope of asylum and I would really like to help them out," she said.
Levine is a member of the New Shul in Scottsdale. One of the reasons she joined is because she feels the synagogue shares her philosophy of the importance of both giving back and accepting all people.
The immigrants at the IRC let Levine know how grateful they are for her work, which lets her see what a difference she is making. However, the IRC doesn't make volunteering as easy as some places, she said.
"You have to fill out a lot of forms, have a background check, go to their facility and watch a two-hour film. You just don't call them up and go. They're careful about who they take," she said.
Some of the organizations Levine has volunteered for have asked her to do only simple tasks, like filing paperwork. She's done enough of that though, she said and prefers the hands-on experience. Levine takes Spanish now, too, and thinks it would be a good idea for more Arizonans to do the same, given how much of the population speaks it.
"I've volunteered all my life, I'm 65 years old and I have never had a more rewarding, positive experience," she said. "It's what you make it!" JN
For more information about the IRC, visit rescue.org.