This week, the Jewish News is sharing more stories of people, organizations and synagogues that are stepping up for their community during the COVID-19 pandemic.
Whether it's helping people find a new job in a difficult economy, knitting caps for newborns, or even surprising people with bagels to make them smile, all are ways the Jewish community continues to live the concept of tikkun olam in these trying times.
JFCS gives career assistance
David Adatto never thought he would be unemployed at 67. He didn't expect Two's Company Inc., the home decor and gifts company he worked for, to let him go after 28 years.
But Two's Company had a tough year in 2019, Adatto said. And when the COVID-19 pandemic struck last March, "it was the icing on the cake. The business basically came to a standstill," he said.
Adatto was one of thousands of Arizonans caught up in the pandemic's wave of furloughs and layoffs; he was furloughed in March, brought back to work in April, furloughed again in May, and let go June 15. Arizona's unemployment rate stood at 10% in June, when Adatto began looking for new opportunities.
"I haven't written a resume in over 28 years," he said. He quickly realized he needed help.
A friend told him about Jewish Family & Children's Service's career services program, funded by The Blank Family, and although Adatto had been involved with JFCS "for years," he wasn't familiar with that program. So he reached out and got the help he was hoping for. His resume got a new look, and he found resources for networking. He received tips on how to interview.
"There were four or five meetings that we had virtually, and I had homework to do for these meetings, which was great," he said. "And it was a great help."
JFCS made him feel like he wasn't alone, he said. "They were in my corner to help."
Adatto hopes to land his next sales gig soon. "I loved what I did," he said.
Kathy Rood, manager of Jewish Social Services at JFCS, said Adatto is one of about 500 local community members who have taken advantage of the program since its inception in August 2011. JFCS created the free program originally in response to the Great Recession.
"Repairing the world happens one person at a time," Rood said. "When you help to make one person's world better, you help to make the whole world better."
Knitting hats for preemies
Lauren Glick retired two years ago. She expected to spend time with her grandkids and travel with her husband. That was before COVID-19.
Instead of traveling, now she knits.
"It's helping me stay sane," she said. "I'm stuck in the house." She finds knitting peaceful and takes extra comfort knowing she is knitting for a good cause.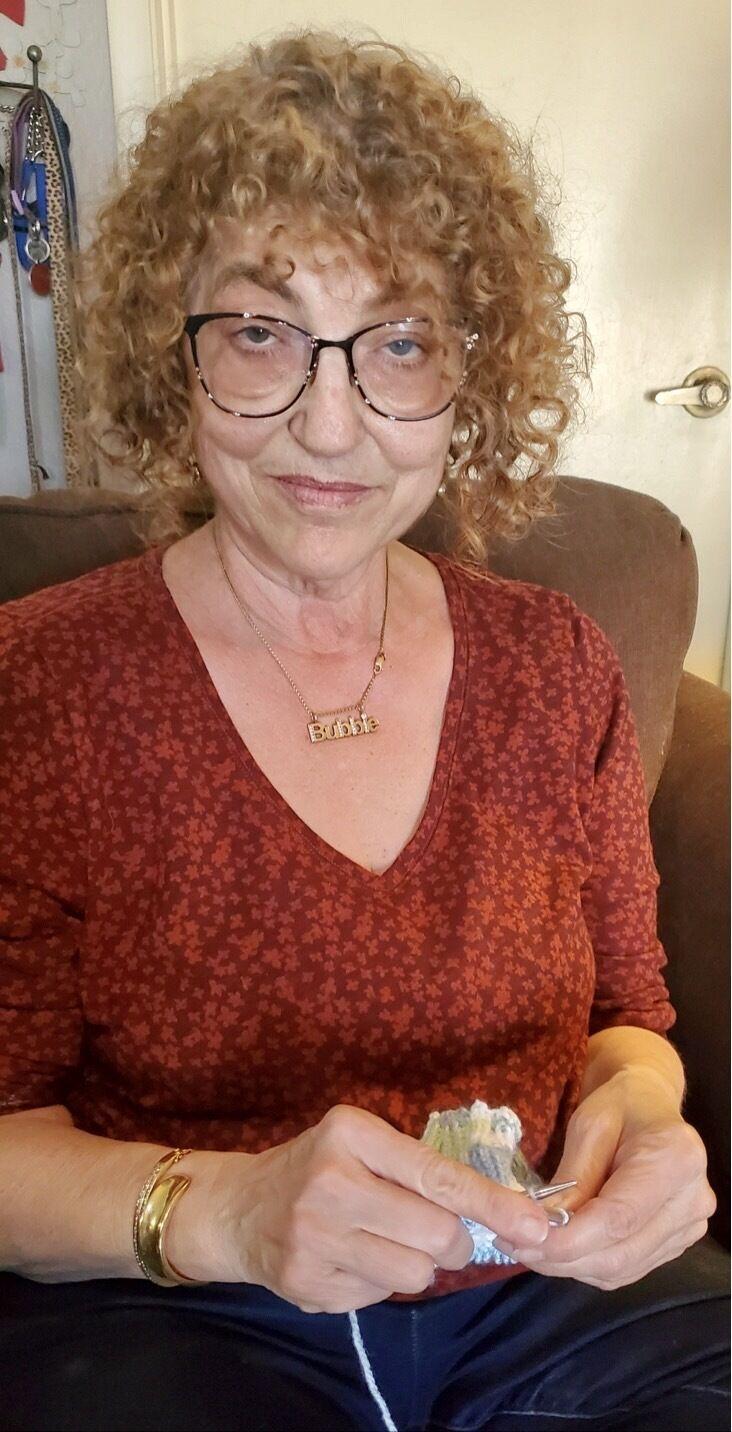 She joined Knit a Mitzvah, a study group offered through the Phoenix chapter of the Brandeis National Committee, about two years ago. The group makes hats, scarves and blankets to be donated to HonorHealth Medical Group and JFCS.
For the past year or so, she has been knitting and donating hats for premature newborns. Each hat takes two to three hours to make, she said.
Her twin grandchildren were born prematurely, and she knows how much the hats mean to parents of babies in the neonatal intensive care unit. "My daughter always said how much she appreciated the women who knitted the hats," Glick said. "She was just so appreciative that she still has the hats; they're 6-years-old now."
She donates between 30 and 40 hats per month.
"It just feels good to give it to other people," she said.
Michelle Remis still remembers what a difference it made for her son 13 years ago, and is still "extremely grateful to whomever" made his hat. He was born at 26 weeks and weighed just over two pounds. It was almost two weeks
before Remis was able to hold him for the first time.
"The NICU nurses put the hat on him the first time we got to hold him to help keep his head warm outside of the incubator," she said. Seeing her baby with so many wires and tubes was unsettling. "It was comforting to have that one thing that other babies had," she said. "It felt like a bit of normal in a surreal situation."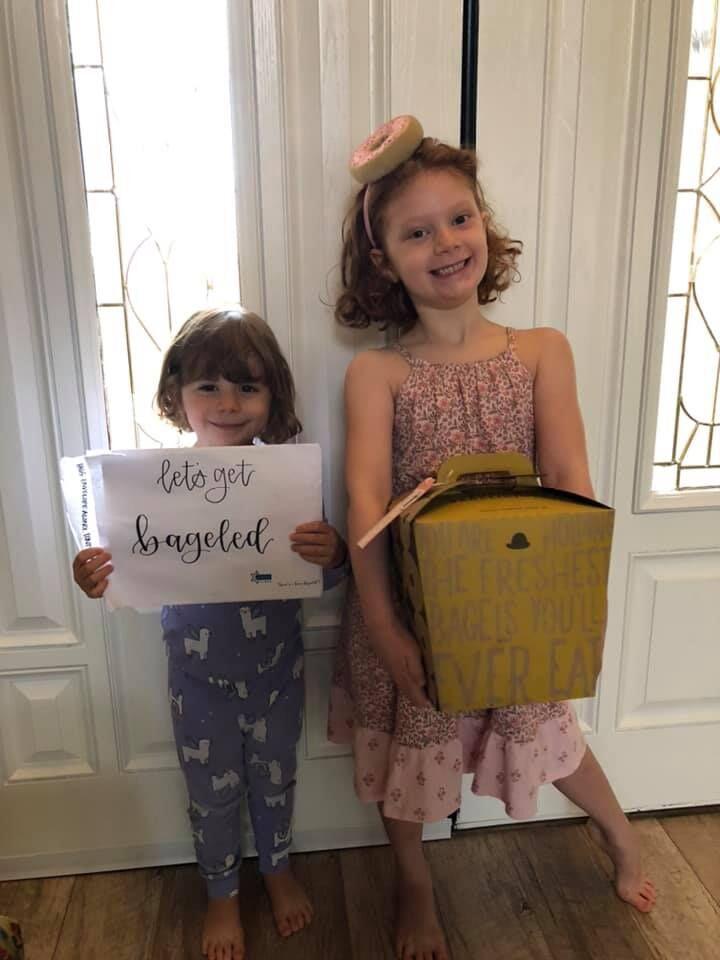 Temple Emanuel of Tempe 'bagels' members
Lynn Obstein's doorbell rang unexpectedly one Saturday morning in February. She opened the door to find a dozen bagels. "Oh, what a wonderful surprise," she thought.
Temple Emanuel of Tempe congregants have been posting photos
of being "bageled" for the last three months, so the surprise wasn't total.
Obstein saw the messages but wasn't expecting her turn to come so quickly. And that little flash of surprise is what made it fun, she said.
In November, Temple Emanuel's board started a bageling chain to maintain a sense of community for its membership. After months of being separated by COVID-19, surprising people with bagels and a cheerful note seemed like a fun and delicious way to keep connected.
Chelsey Falk, b'nai mitzvah coordinator at Temple Emanuel, split the synagogue's membership list into 14 groups based on where members lived. One person in a group begins by sending a dozen bagels, two cream cheese containers and a note with a greeting and a list of instructions to another family on the list.
"Surprise! You've been bageled," reads the note, which also explains how to bagel another family and reminds people to cross their name off the list to avoid being bageled twice. People are encouraged to post a picture on Temple Emanuel's Facebook page with #TEOTgetsbageled.
This treat isn't just about having something good to eat. It's a way to let people know "we're still thinking of you even though we're not able to see you," said Falk. Some people don't even want the bagels, but everyone has enjoyed the surprise, she said.
Falk started her position six months ago, and because of COVID, has been unable to meet people in person.
"It's been such a nice thing, because I've met so many people and families," she said. Her mother-in-law was also surprised to learn there were fellow congregants living nearby. "We've been finding all kinds of people," Falk said.
Obstein agreed.
"We're a very spread-out community and it's cool to know there are so many people nearby," she said.
The project is fun, and using bagels also gives one the opportunity "to feed peoples' souls," Obstein said.
"Maybe that sounds corny, but you feed people in more ways than one," she said. "It lets you know you're part of something that's bigger than yourself."
Obstein also praised Temple Emanuel's COVID programming in general. "It's such a hard time and they've really risen to the occasion — now, we're almost more connected."
Obstein didn't waste any time in finding the next family and bageled them the next morning.
Her husband dropped the bagels on the doorstep, and by the time he reached his car and turned around, the bag, full of bagels and cream cheese, was already gone. JN