Over the last few months, the Jewish News has shared stories of people and organizations that are stepping up and giving back to their communities, whether it's donations of meals or masks, raising funds for the staff of a senior living community or simply offering socially distanced family photos on the porch.
This week, we're featuring a few of the ways in which the Jewish community is continuing to live the concept of tikkun olam during the COVID-19 pandemic.
Sack lunches and social justice
When members of Beth El Congregation jumped on a Zoom call with the synagogue this week, it wasn't just to learn or to pray, it was to make peanut butter and jelly sandwiches and connect with community while providing a lunch to people experiencing homelessness.
On Sunday, June 21, families and members of all ages assembled sack lunches with a sandwich, fruit, granola bar, chips and water over Zoom, then dropped them off in the Beth El parking lot. The average donation was around 20 sandwiches; one family put together 80, while a senior member made three. Every lunch that members could donate, said Barbara Lewkowitz, social action chair, "was an amazing gift."
The sandwiches were delivered to Beth El through a no-contact drive-through, which gave families and members a chance to pick up a kosher popsicle and to visit with clergy and staff. Afterward, the synagogue delivered the lunches to Arizona Friends of the Homeless for distribution.
"I think we not only gave people an opportunity to spend time with each other in a socially-distant, positive way, but also the opportunity to touch base with Beth El," Lewkowitz said. "A lot of people hadn't been at the synagogue in months, and just to even drive by and see the building and see the rabbi during a drive-by was really comforting to a lot of people."
The sack lunch drive was the third social action event that Beth El has hosted so far. In December, on Christmas Day, congregants made and passed out hygiene kits and blankets to the homeless. In May, for Shavuot, Beth El held a water drive that brought in 2,000 bottles of water.
Next month, the synagogue plans to host a collection for seniors experiencing homelessness who will soon be staying in a hotel in Phoenix. The city voted in April to use federal funding from the CARES Act, a COVID-19 relief package, to rent 95 hotel rooms for seniors experiencing homelessness.
The goal of all of these projects, Lewkowitz said, is to find ways to connect while also reaching out to the broader community.
"We can't come together for minyan; we can't come together for Saturday morning services — it's all been over Zoom," Lewkowitz said. "So this is a way for us to touch base with each other and do good for others, which is a basic tenet of Judaism."
And even though social action events are now virtual, Beth El members can connect and share a special moment with friends and family. That face-to-face interaction, Lewkowitz said, made the sack lunch drive special — especially for the kids.
"This was a really good thing for them to be able to go on Zoom and not have it be a teaching moment," Lewkowiz said. "It was a teaching moment in a different way; it taught them about caring about others and about tikkun olam and about doing social justice, and it wasn't sitting in a Zoom classroom. And they could socialize with their friends while they were all doing something good for others. Kids really enjoyed it."
Second community blood drive saves lives
After a successful blood drive in April, the Jewish Federation of Greater Phoenix and the Martin Pear Jewish Community Center came together for a second time this weekend to provide community members with the opportunity to donate blood and save a life.
"We're here for the community. We're always aware of what the needs are, and from our end, the JCC, the Federation, the [Ina Levine Jewish Community] Campus, it's a very simple thing for us to do, and yet it provides a huge benefit, especially with everything that's going on right now," said Jay Jacobs, CEO of the MPJCC.
Forty people signed up to donate blood on Sunday, June 28, at a socially distanced blood drive in the parking lot of the Ina Levine Jewish Community Campus. For Carla Stark, a first-time donor, the blood drive was an important way to give back.
"I'm doing it because obviously there's a need, especially in times like we're in right now," Stark said. She's also a member of Congregation Or Tzion, which lost Rabbi Micah Caplan on June 14. "In his memory, I think doing a mitzvah is especially important."
The blood drive is a perfect fit for the Federation, said President and CEO Marty Haberer: Its mission statement calls for saving Jewish lives and enhancing Jewish life, "and it doesn't get any more lifesaving than giving blood."
"It's one of the beautiful things we can do for each other at a time when, not only are we dealing with illness and pandemic, but we're also obviously dealing with a lot of social issues and a lot of looking inward to see, what are we about and how are we behaving and are we only about ourselves or are we about taking care of other people in the community?" Haberer said.
During the pandemic, Haberer has seen Jewish organizations come together, and "that ability to connect with other organizations and everybody being so cooperative is really a positive," he said.
The MPJCC, Federation and the Ina Levine Jewish Community Campus are all collaborating, Jacobs said, to "make sure that we're giving back to the community that supports us."
For Haberer, the blood drive is also a unique opportunity for the Federation to reach out and help directly.
"For Federation, which normally is a fundraising organization that raises money and then passes it out to other people — for us to be a part of something that is boots on the ground, to actually give blood ourselves … and to be a part of something that is actually life giving, not just money, but life giving, it really takes it up a notch for us," Haberer said. "We're very proud to be a part of that."
As with the first blood drive, appointments to donate on June 28 were filled before the drive even started.
"It tells us that our community is responding to the need, which is also incredibly important," Jacobs said. "There's many different ways people can help, and this is probably one of the simplest."
Stark was also struck by how easy it is for her to give blood as well as the difference it could make.
"It just feels like the right thing to do," she said. "There's not much else I can do to help with all this stuff that's happening, so if there's something little that we can do to help, I'm going to do that."
Giving back to caregivers
At the beginning of June, the Phoenix Holocaust Association launched a campaign to help caregivers at senior living facilities with more than just a symbolic gesture.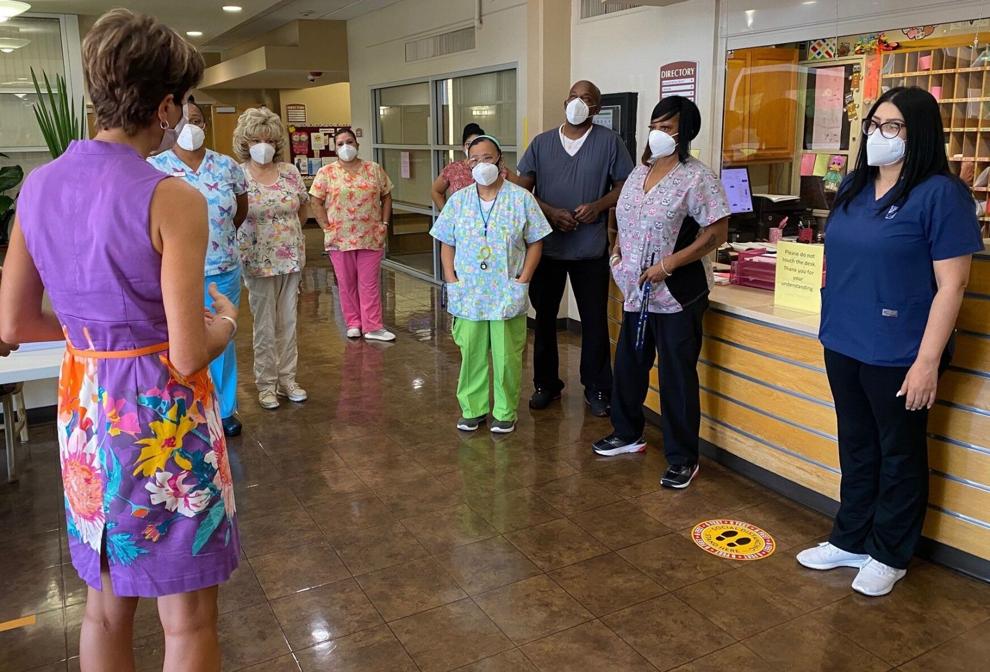 The campaign, which so far has raised over $15,000, will provide certified nursing assistants, home health aides and personal care aides at four senior living facilities with a $50 gift card to the grocery store — something that could make a meaningful difference in their week.
Janice Friebaum, vice president of the PHA, thought to launch a fundraiser for caregivers when she saw people thanking doctors and nurses. She thought of the staff in senior living facilities who are on the frontlines of COVID-19, and "I basically viewed them as unsung heroes," she said.
"It's just a really tough situation for them, and then you put on top of it the actual work that they do," Friebaum said. "So many of us who have had loved ones in senior residential facilities know the work of these caregivers, which is work that many of us often would not want to personally do ourselves, and they do it with the most incredible patience and respect for the people that they're serving."
The PHA initially partnered with three senior living facilities that had connections to the Jewish community or to Holocaust survivors: Kivel Campus of Care, The Palazzo and Belmont Village Senior Living. As the campaign passed its initial fundraising goal, the PHA added a fourth senior living facility, Friendship Village Tempe, as a partner. The goal is to provide every caregiver at the four facilities with an Albertsons-Safeway gift card worth at least $50.
While there isn't an end date for the campaign yet, Friebaum expects fundraising to continue for a few more weeks, until at least mid-July.
"At some point there will be an end point, and we'll look at the total dollars, and we'll determine, do those total dollars get distributed among the four facilities, or do we go ahead and add a fifth?" Friebaum said.
Overall, the response from donors has been overwhelmingly positive.
"I think there's a really soft spot in people's hearts for the work that caregivers do," Friebaum said. "And then presently under these circumstances with COVID-19, it was just the timing, the gesture of making sure that the gratitude we're showing is of a practical nature — I think all of these things conspired to cause people to become very enthusiastic about this campaign." JN
To donate to the Unsung Heroes of COVID-19: Senior Residence Caregivers Campaign, visit gofundme.com/f/help-us-recognize-our-caregivers.