Rabbi Stephen Einstein was happy to retire in 2012. For 36 years, he had been the pulpit rabbi of Congregation B'nai Tzedek, which he founded in Fountain Valley, California.
But just two years into retirement, he was called back to the bimah.
For the past seven years, Einstein has traveled to Yuma to provide High Holiday services — except for 2020, when he provided services virtually. Congregation Beth Hamidbar in Yuma is one of a few Arizona synagogues that are served by rabbis living out of state.
For many years, student rabbis helped out in Yuma, a small city about 200 miles southwest of Phoenix. But in 2014, congregation leadership was looking for somebody more seasoned. The congregation worked with the Union for Reform Judaism, the Central Conference of American Rabbis and the Hebrew Union College-Jewish Institute of Religion to identify the right fit.
"Here Rabbi Einstein was: experienced, skilled and can roll with things — all the things you want in a veteran rabbi. We knew he would be a great fit for Yuma," said Rabbi David Fine, who was the small congregations' specialist at the URJ at the time.
Einstein was happy to continue "to be of service" and enjoy the parts about being a rabbi he loved most — leading services — without having to do any of the parts he didn't enjoy as much, like making operational decisions, attending board meetings and so on. He also jokes that he's just never been good at saying no.
Leone Neegan, president of Beth Hamidbar, said it's been "wonderful" having Einstein as their rabbi.
While he's only physically there for High Holidays, he gave the congregation a class in doing lay-led services. "We take turns leading Shabbat services, and we pool our knowledge," Neegan said. And in the meantime, if anything arises, Einstein is available by phone.
Einstein said the relationships he has formed with congregants in Yuma have a different flavor than those he built in California. Leading a congregation for 36 years, he knew multiple generations of families. In Yuma, he sees himself as a visitor.
Even though he has "very warm feelings" toward Yuma congregants, and he and congregants are "very friendly" with one another, "it's not the same as having an ongoing relationship on a daily, weekly or monthly basis," he said.
High Holidays are different, too. In California, hundreds of congregants would gather in the pews. In Yuma, 25 is a big crowd. "But it's a nice, intimate feeling," Einstein said. And, more people participate.
Einstein said being Beth Hamidbar's rabbi is "a plus for me in every way you could imagine."
He and his wife make a getaway out of his Yuma visits. He enjoys the four-hour drive from Orange County to Yuma with his wife, and they found a favorite lunch spot they make sure to visit along the way.
Einstein has been involved in "just about every organization you can think of that's doing good things" and said being a traveling rabbi is another way he can continue that.
Rabbi Allison Lawton, meanwhile, prefers to think of herself as a rabbi of a Paradise Valley congregation who happens to live in Orange County.
Lawton has been the rabbi of Temple Beth Ami since 2017. Every other Friday, she flies in on Friday afternoons to lead services, then travels back home Saturday morning.
"I don't like to consider it a traveling rabbi, because it sort of diminishes my role," she said. "When they have services, I'm their rabbi; if they have life crises, I'm who they call."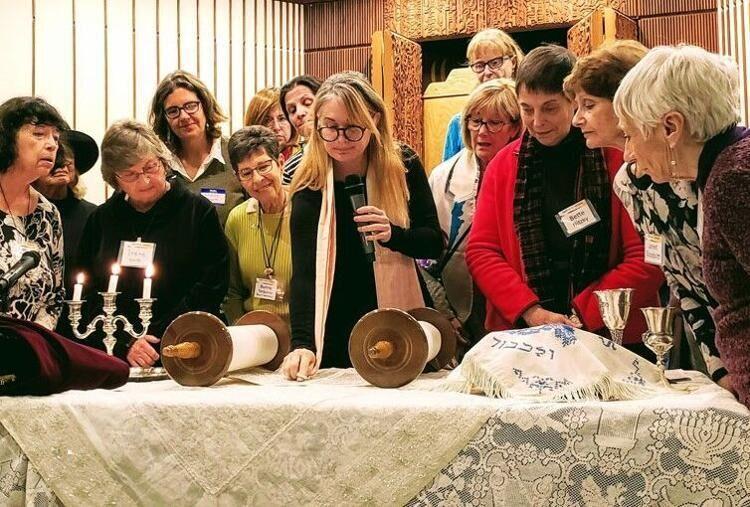 Beth Ami is a 43-year-old synagogue with exclusively senior members.
"There's something very special about a congregation made up of senior adults who really know what they want, not only the temple service, but out of a temple itself," Lawton said. She and longtime members liken Beth Ami to a giant chavurah.
"They have lots of activities: hikes, movies, dinners, Bible study, that kind of stuff. And services are just basically like a cherry on top of what they're already doing," Lawton said.
Being a rabbi is a second career for Lawton. She taught elementary students at a Jewish day school for many years, until she decided she no longer wanted to work with young kids. She still wanted to be in the Jewish community and being a rabbi seemed like a great fit.
"The word 'rabbi' means teacher, and I wanted to continue to teach — adults," she said.
Beth Ami was her first congregation after attending the Academy for Jewish Religion. The synagogue put out a job listing, and Lawton happened to see it.
"I met with a couple of the congregants in San Diego, and we liked each other enough that I am now their rabbi," she said. JN