Over the past decade, Rabbi Dean Shapiro of Temple Emanuel of Tempe has always shown up for the people who needed him.
"I have learned how to listen. And how powerful being heard is for people. And I have learned how much pain many people carry — pain of all sorts," Shapiro said.
He's been there for congregants both inside the synagogue and in their homes. He's led services, classes, prayers and he's been part of many jovial and deep conversations.
But his time at Temple Emanuel comes to an end May 31. It felt to him like the right time for a change.
"There's a lot going on," Shapiro said. His partner and 12-year-old son have been living in New Zealand — where his partner is from — since October. The couple wanted to have a life that more closely resembled what they had before the pandemic, and New Zealand has all but eliminated COVID-19, with 2,600 cases and 26 deaths reported since early last year, according to a New York Times database.
In his letter to Temple Emanuel's congregation last October, Shapiro wrote that the last couple of years "have been intense and draining," and he felt he needed to reprioritize his life in order to be a "whole, healthy person."
He isn't ready to share what his next chapter holds, but he is proud of what he is leaving behind.
He takes pride in all the kids who became b'nai mitzvah, who became leaders of the congregation and "who learn to think for themselves and express their own ideas and make the transition from childhood into adulthood," he said.
He is also proud of the programming he was part of, like Temple Emanuel's Sacred Aging Group, which he called "a place of thoughtful reflection, conversation and preparation for Temple Emanuel members who wanted to explore the realities of aging."
And he's loved studying Torah with the community and "accompanying new Jews to the mikvah, seeing the joy on their faces and the water in their hair as they emerged from the living waters as Jewish people."
He has also enjoyed the music the congregation made together. "It's been beautiful to sing with our community and enjoy the rhythm of life together," he said.
The congregation planned several events to celebrate his contributions to the community, including a drive-through breakfast, a special Shabbat service and a Havdalah service at South Mountain. A committee of volunteers put together a collection of about 250 photos, memories and messages for him.
Personal notes to Shapiro came from congregants and community members, as well as other rabbis and faith leaders.
Rachel Myland wrote of Shapiro that he is "one of those rare spiritual leaders who has the ability to take prayer seriously without taking yourself too seriously."
Gerri Chizeck wrote, "You make a difference in so many people's lives, and you made one in mine."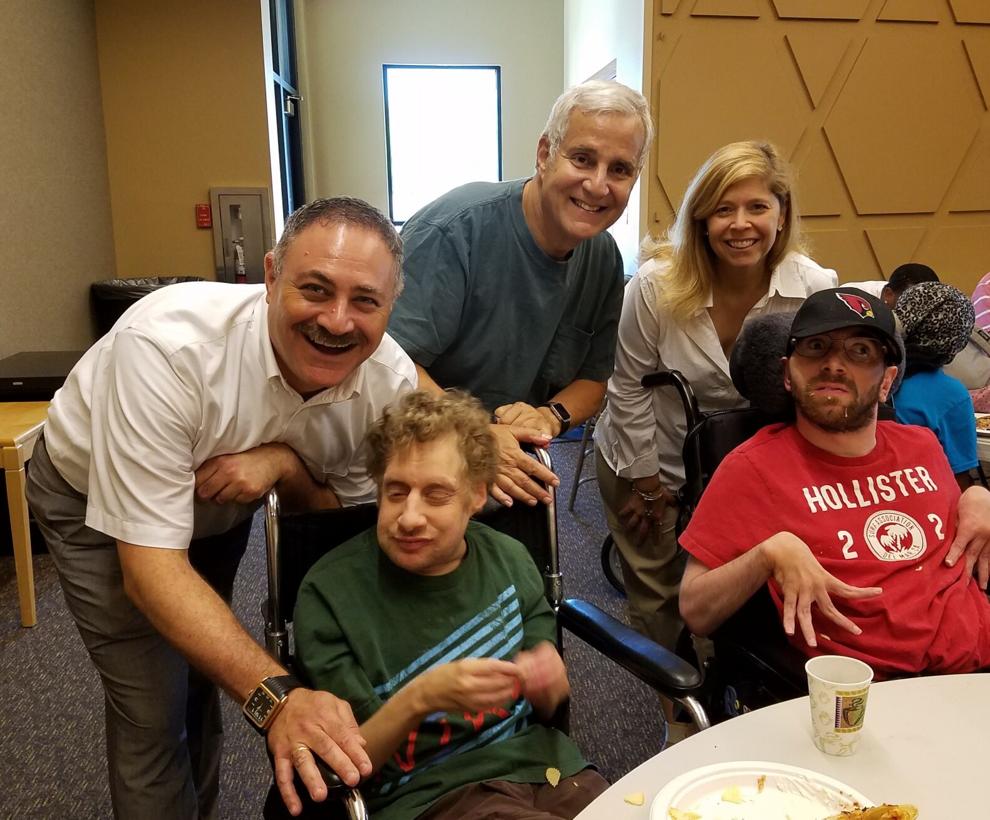 Amy Hummell, executive director of Gesher Disability Resources, has worked with Shapiro since 2010, when he began leading Simchat Shabbat services during the summers for Gesher members.
"He would always make sure that our members knew they were important," she said, to him as a person, as a rabbi and to the Jewish community. "He feels so comfortable with all people. I don't think he's ever really truly
seen a disability."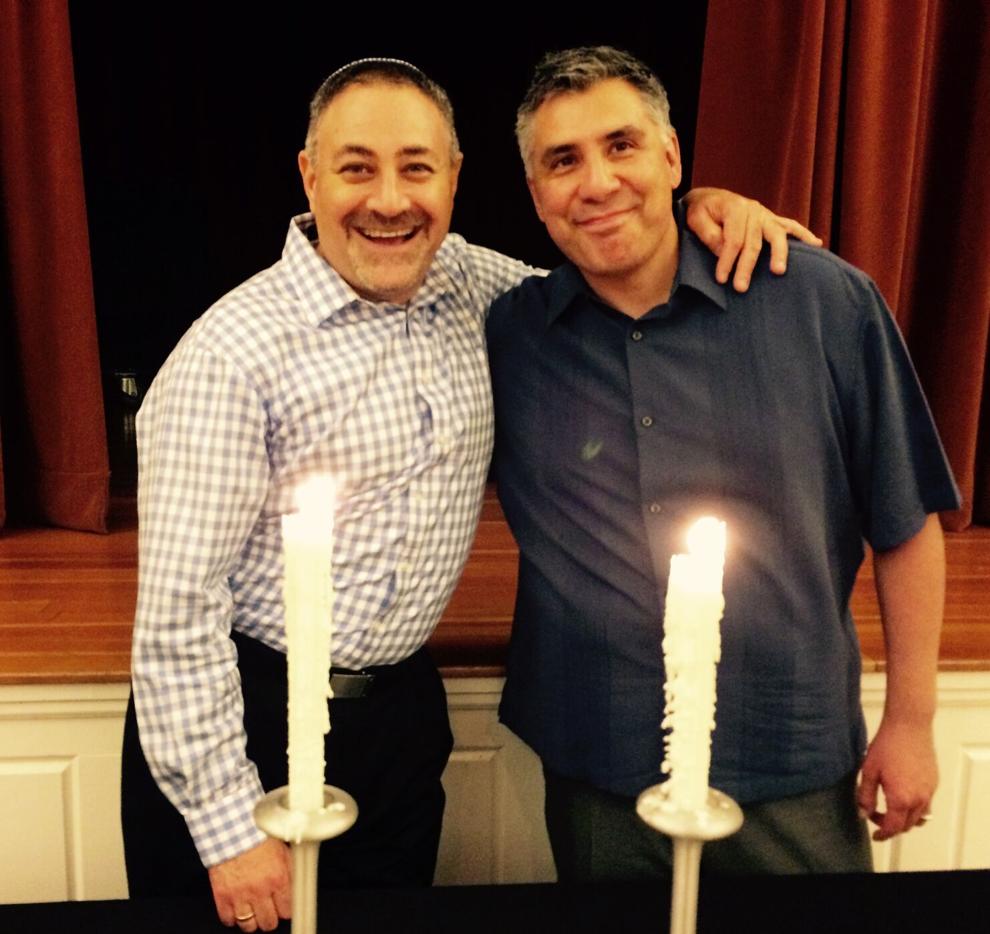 Carlos Galindo-Elvira and Shapiro worked together for several years during the annual Latino-Jewish seder.
"I am thankful for Rabbi Dean Shapiro, a person of goodwill and goodness, who shared himself with diverse communities to promote dialogue and understanding," Galindo-Elvira said. "Mostly, I feel privileged to have seen and heard him lead the annual Latino-Jewish seder in English, Spanish and Hebrew. On a personal level, his advice helped to create a new path for me and sparked a new way of thinking that was lifesaving."
Ellen Friedman Sacks, executive director of Jewish Free Loan, worked with Shapiro when he was a member of JFL's board of directors from 2014 to 2016.
"We will miss him and the positive impact he has had on our community and wish him only wonderful things ahead," she said.
Shapiro said he has been overwhelmed by the love and trust Temple Emmanuel's community has placed in him over the years.
"They have shared their stories and their pain with me and asked me to be part of their lives in the most tender moments," he said. "I have shared the joy of new parents, as they brought their baby into the covenant and heard people's hopes, dreams and fears. And that is an extraordinary privilege."
Rabbi Cookie Lea Olshein will take over for Shapiro on June 1. JN
To view the messages for Rabbi Dean Shapiro, go to tinyurl.com/3vvke42e.