In the early 1990s, a few Jewish Bukharian families moved to Phoenix from New York in search of affordable housing and a warmer climate. Today, Phoenix has the largest Bukharian Jewish community in North America outside of New York.
What led to this growth and why did so many Jewish families from Central Asia decide to make Phoenix their home? This question inspired Daniel Stein Kokin, Ph.D., to organize "From Samarkand to the Valley of the Sun: The History and Culture of the Bukharan Jews," which drew more than 200 people to Beth El Congregation in Phoenix on May 1 to learn about the history and culture of Bukharian Jews.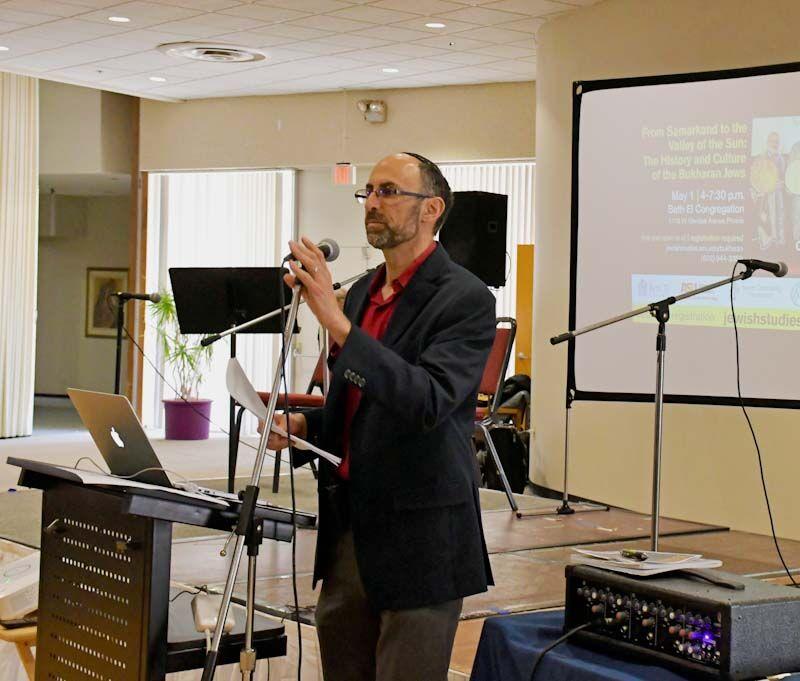 The program, presented by Beth El and Arizona State University Jewish Studies, began with a lecture by cultural anthropologist Alanna Cooper, Ph.D., the Abba Hillel Silver Chair in Jewish Studies at Case Western Reserve University in Cleveland and author of "Bukharan Jews and the Dynamics of Global Judaism." She presented a brief history of Bukharian Jews, who come from the city of Bukhara, Uzbekistan and the Central Asian countries of Tajikistan, Kazakhstan and Kyrgyzstan that surround it.
In 1989, just before the dissolution of the Soviet Union, the majority of the world's Bukharian Jews — around 50,000 — lived in Uzbekistan and Tajikistan, Cooper said.
After the collapse of the Soviet Union, the majority of Bukharian Jews immigrated en masse to the United States and Israel. Today, less than 200 Bukharian Jews remain in the region, she said, and the three largest Bukharian Jewish communities in the world are in Israel, New York and Phoenix.
One member of the local Bukharian community, Tzipporah Sukhodolsky, left Tashkent, the capital of Uzbekistan, in 1989 at age 5 and arrived in America the following year with her family, settling in Brooklyn, N.Y.
"When we first came to New York, we as little kids had to be very independent," Sukhodolsky told the group at Beth El. Her parents attended evening classes to learn English and worked hard to make a living. In 1996, they moved to Phoenix. "My parents decided that it would be better for us for many reasons," she said, including the weather being similar to Uzbekistan, better living conditions and having a friend who lived there.
In those early days, she chose not to identify as Bukharian publicly. "You didn't want to be different; you wanted to blend in as much as you can," she said. "I'm in awe that there are so many people here today to learn about my culture."
Another member of the community who shared his story was Yochanan Suleimanov, who immigrated from Kazakhstan to New York in 1992. After tiring of apartment life and the city's high crime rate, he moved his family to Arizona in 1995.
At that time, there were only about 15 Bukharian families living in Phoenix, he said, and after friends and family members learned about his experience, they soon made the move. He is now president of Ahavat Israel, one of four Phoenix Bukharian synagogues.
Today, at least 500 Bukharian Jewish families live in Phoenix (some sources say it could be as many as 1,000 families).
Many of Phoenix's kosher markets and restaurants are owned by Bukharian families, including Cafe Chenar, who provided traditional Bukharian food for the May 1 program to those who pre-ordered a meal.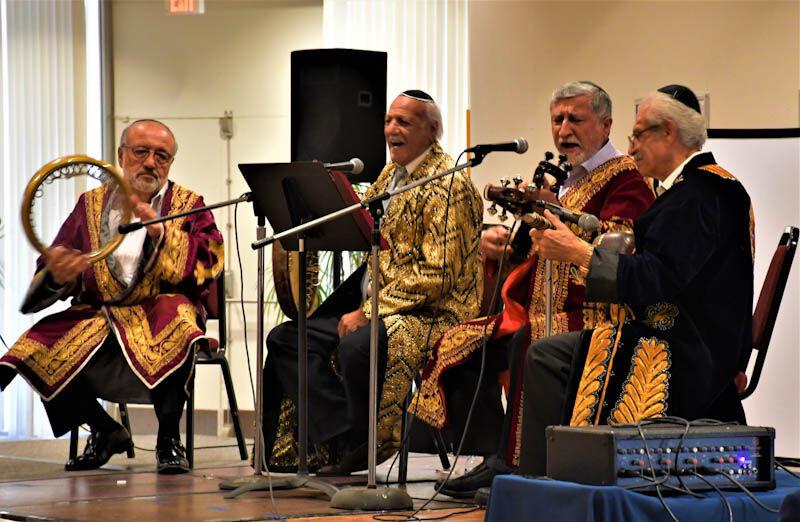 After the meal, Evan Rapport, Ph.D., an associate professor of ethnomusicology at The New School in New York City and the author of "Greeted with Smiles: Bukharian Jewish Music and Musicians in New York," gave a presentation about Shashmaqam, a Central Asian musical genre.
Next came a performance by Ensemble Shashmaqam, a New York-based group who has been performing music and dance from their native Uzbekistan and Tadzhikistan since 1983. The musicians, wearing traditional Central Asian robes called joma, played doyra (Uzbekistan drums), rubab and tar (both lute-like instruments). Dancer Malika Kalontarova, a popular Tajik-American dancer who was named People's Artist of USSR in 1984, joined the band for a few songs, inviting members of the audience to join her on the dance floor at the conclusion of the program.
"Her energy was an out-of-this-world experience for me," said attendee Lenka Siroky. "It was a moment of pure joy and I'm grateful for that."
"As a newcomer to Phoenix, the strong Bukharian presence here strikes me as perhaps the most interesting aspect of the local Jewish community," said organizer Stein Kokin, whose wife, Rabbi Nitzan Stein Kokin, is the spiritual leader of Beth El. "I viewed organizing this program as an opportunity for me to learn more about the Bukharian Jews, their history and culture. I am further gratified that so many local organizations offered their support and that the program attracted such a diverse audience." JN
Leisah Woldoff is a freelance writer based in Phoenix.