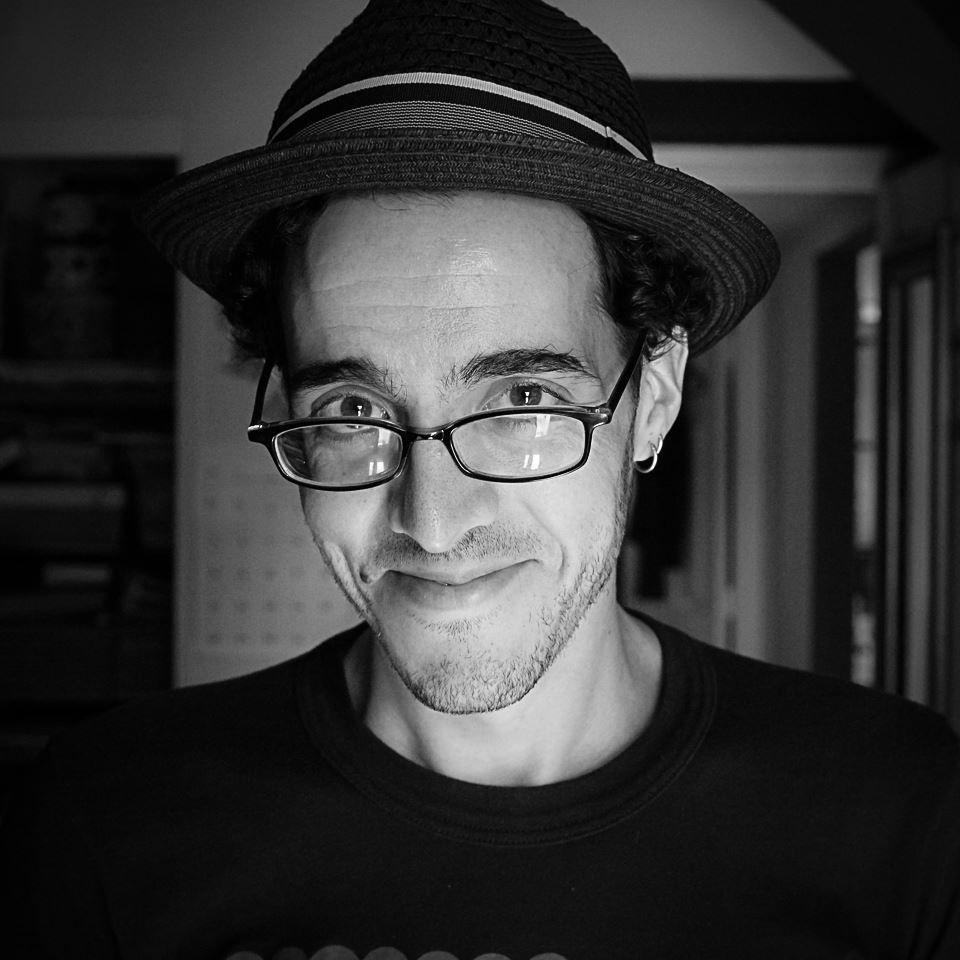 When Jared Duran, 35, graduated from ASU with a degree in English and a concentration in creative writing, he didn't want to spend the time or money to go to graduate school, but still wanted to be involved in something literary. While attending a monthly poetry series called Caffeine Corridor, he met Jake Friedman, the founder of Four Chambers Press.
When Friedman put out the call for submissions for the press' first annual literary journal, Duran submitted and was accepted. After that issue launched, Duran began working with the press, gravitating toward programming and events. This eventually led him to start "Limited Engagement," a local arts and culture podcast.
Now, Duran not only hosts that podcast, which is going strong having just posted its 80th episode, but also cohosts another podcast, "Hoot 'n' Review," with Jenna Duncan. He also records and produces "Chatterpod," the podcast version of the weekly live storytelling event Chatterbox, and is working on another yet-to-be-released podcast about jazz and poetry. All this is in addition to his work with Hoot 'n' Waddle, a press and podcast network.
Can you tell me about your writing in fiction and poetry?
I like to write stream-of-consciousness. If I have some sort of scene in my head, I do my best to write that out. I try not to rein it in. I'm not a huge fan of editing. That mostly stems out of how I don't do a lot of structure. I don't do outlining or anything like that. And that can have its limitations.
I like writing short bizarre pieces, little scenes, usually not more than just a couple of people. I like dialogue a lot. That's probably influenced by David Mamet or Woody Allen. Again, something with two people talking. I think there's a lot to mine out of the human condition and just people being ugly.
I notice both those influences you mentioned are Jewish. Does your Jewish background and upbringing have an impact on your work?
Definitely. There was something about just being Jewish that was kind of marginalizing as a kid. I have come to identify with that a lot, and culturally all my favorite filmmakers are Jewish. There's something about the humor that I just identify with, too. I always find Jewish humor much more acerbic.
In addition to making a good living being a priority, which I've failed at, the intellect was championed in a way that I didn't see much in friends who were of other faiths. We had tons of books around. Family get-togethers were basically people trying to outwit each other with acerbic humor, sarcasm and biting kinds of things. There's definitely an attitude to Jewish men that I took to very quickly.
How did "Limited Engagement" get started?
It started out as a programming thing for Four Chambers. There's a furniture shop on Seventh Avenue in the Melrose District called C-MOD. The woman who owns that, Cynthia Black, is friends with Jack Evans, who runs Caffeine Corridor.
She had this space and wanted to start a reading series there and asked him if he was interested in doing anything. He said that he wasn't interested, but he knew Four Chambers and said he would get the word out to us. I was running events in programming for them at the time.
I had this idea in my head — I had been feeling there was not a lot of accessible discourse about the creative process outside of academia. I had just recently started listening to podcasts like "WTF," things like that, where it was these honest and frank conversations really digging into people's creative process and making them relatable to people and not obscuring them in a kind of academic cloud. I think that there's more of an audience for it.
I didn't want to just do another reading series, because that had been done, so I had this idea to do kind of like "WTF." At that time, it was going to be limited to writers. I wanted it to be a live event.
So what made you shift from the live event recordings to a private studio?
I happened to see that Robyn Hitchcock was playing in Tucson. I'd been wanting to do some non-live recordings. I reached out to see if he was interested. He said, "Yes, I think we can make that work." So I went down there and recorded that.
This was one of my all-time favorite songwriters and musicians. I prepped a whole bunch of stuff to talk to him about, but part of the way through the interview, I just stopped paying attention to what I had written and we just talked. Some of the cool stuff that came out of that was that the conversation in general was more honest. I felt more relaxed, not having some sort of structured agenda question-wise.
That was the catalyst really for the direction change of the show. I still did the monthly live thing, but I started booking additional recording sessions. I started to notice as I went back to the live show that the interviews with people "in studio" were more open and honest. It's just this kind of a lizard-brain thing that happens when you've got an audience where you feel like you have to entertain in some way, or keep an eye on making sure you're being engaging and everything. It takes you out of that one-on-one conversation. The recordings I was doing at home had a lot looser and more relaxed feel. I found that I actually got a lot more out of talking to people that way than during the live show. JN