Holocaust survivor Oskar Knoblauch has touched thousands of lives, sharing his survival story and its lessons. And despite being 95, he will continue his work for decades to come with the high-tech help of Phoenix's future Holocaust education center.
Knoblauch will become a hologram-like exhibit that is planned for Arizona Jewish Historical Society's $15 million, 17,000-square-foot facility. It will include a 4,000 square foot space dedicated specifically for Holocaust education. AZJHS's goal is to open the Holocaust education center in 2024, contingent on fundraising. It will be only one of seven locations in the world where this hologram-like technology is available.
"I will be done and finished — ready to go — to be presented to the public by mid-2023," he said. "All I need is this one room in that museum where I can be seen by hundreds of thousands of people around the clock."
Lawrence Bell, AZJHS' executive director, said the not-for-profit has had a vision for a Holocaust education and heritage center for about five years. With recent funding for the project, plans are finally coming together.
Now more than ever, the general public needs to know about what happened during the Holocaust and why the Holocaust took place, he said.
"We want to show people the destructiveness of intolerance, hatred and racism, and how it consumes the societies that fall for it," Bell said. "It leads to political division; it leads to situations akin to civil war at times; it can lead to totalitarian states. It leads to genocide, to war and, eventually, it leads to your own self-destruction."
AZJHS hired Gallagher & Associates last year to design a preliminary plan for the facility. The space dedicated to Holocaust education includes four areas, beginning with an entry that project manager Jeffrey Schesnol described as focusing on the "frighteningly similar" fertile ground for discrimination and prejudice nurtured by radical groups today. The space will also feature artwork by Scottsdale artist Robert Sutz, who has chronicled local Holocaust survivors since 2000.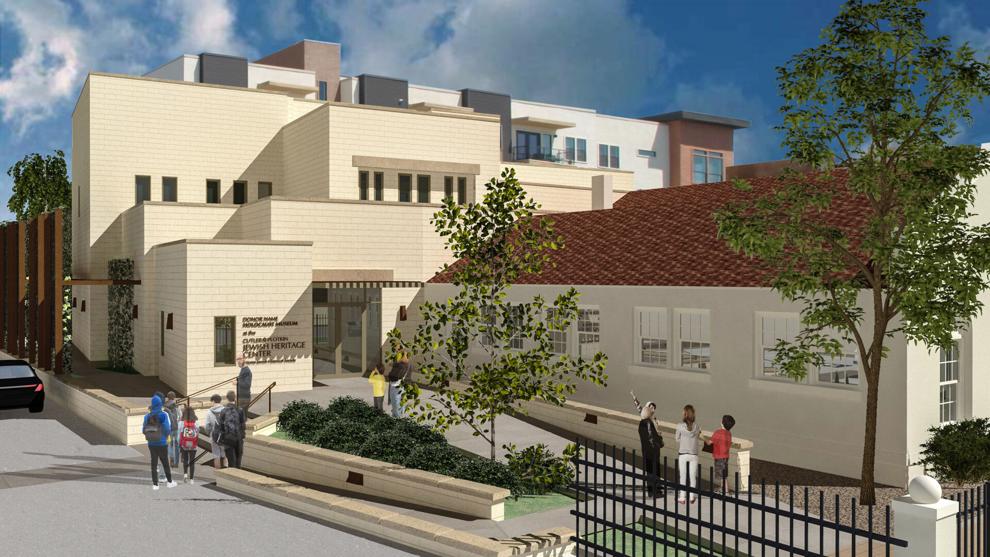 Bell said WWII is fading from popular consciousness and the entry point will help today's young people see the relevance of the Holocaust in today's world.
Visitors will then enter the largest part of the center, focusing on the "nuts and bolts of what happened" and the experience of Jews leading up to the war. Then, they will have an opportunity to learn from local Holocaust survivors through recorded testimonies.
"We want to focus locally, because we're not building the U.S. Holocaust Museum; we're building a place for local people to be able to come and visit and learn about the Holocaust," Bell said. A new Arizona law mandating Holocaust education law means plenty of potential for student visits.
In this area, Knoblauch will appear as a life-size, 3D image on a screen and visitors will be able to ask him questions that prompt real-time answers. AZJHS partnered with the USC Shoah Foundation's Dimensions in Testimony to create the exhibit.
"We understand very well the power of conversation between Holocaust survivors and the younger generation," Stephen Smith, executive director of the USC Shoah Foundation, said in a video about the technology. "That conversation, that moment of dialogue where I ask my question and I get it answered — it's just magic in the room when that happens and we wanted to try and find a way and preserve that as best as possible."
Knoblauch did the filming for the project during the last week of June.
He was born in November 1925, in Leipzig, Germany. In 1936, he and his family were forced to leave because his parents were Polish citizens.
"I had to fight to be accepted by my peers. Nobody wanted me. They called me a foreigner, a German, a Jew. They hated Germans; they hated Jews," he said.
He continued his education until the outbreak of WWII in September 1939. Soon after the German occupation of Poland, he and his family were again faced with restrictions imposed on the Jewish population.
In March 1941, his family was separated from his mother, who was sent to a slave labor camp, Plaszow. Knoblauch, his brother, sister and father were assigned to work at the headquarters for the Gestapo.
His father, who had secured some measure of safety for himself and his family through his rare skill in refurbishing coats and fur, was murdered in 1944 — eight months before Knoblauch and his siblings escaped on Jan. 17, 1945. It was the same day their fellow workers were deported to a concentration camp in Germany that few survived. He and his siblings were liberated the following day by Soviet soldiers and were fortunate to reunite with their mother and cousin.
"There were so many close calls, even at the last minute," he said. "I cannot figure out the riddle."
Before being liberated they were accused of being Germans in front of the Soviets.
"It was like a never-ending story. What else can happen here?"
The filming was taxing, he said.
"You cannot answer everything the way you really want to," Knoblauch said. "This subject is so huge."
Schesnol said the goal is to raise $15 million over three years from donors, corporations and the general public. The 17,000 square feet includes classrooms, offices, and a separate gallery to host traveling exhibits on other genocides and persecutions. So far, AZJHS has raised about $2.4 million.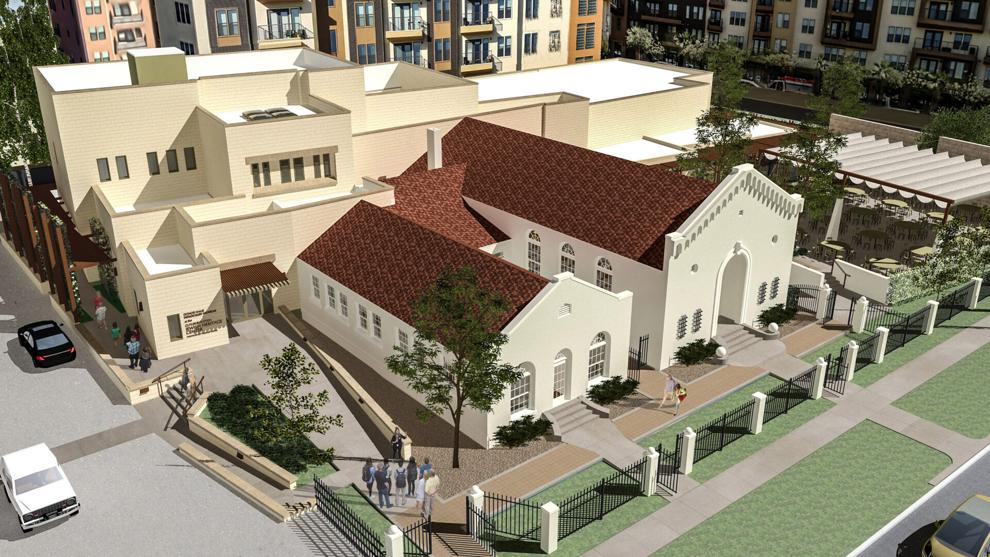 Tim and Susie Ernst are among the funders for the project, and fully funded the hologram-like exhibit. Susie is the daughter of Holocaust survivors. Creating a Holocaust education center will honor her parents' memories, and she hopes to prevent such atrocities happening to anyone — Jewish or not — again.
As a child, she only vaguely knew about the pain and loss her parents had endured. But it wasn't until her 20s, when she went with her parents to Detroit's Holocaust museum, that she got a clear picture.
"Right afterward, my dad began sharing his story in exquisite detail. Things even my mom had never heard. It became important to me at the time to share his story and the stories of others," she said. When the opportunity arose to help create a Holocaust education center in Phoenix, she and her husband agreed to do "whatever we can personally and financially do to help make it happen."
Tim said there is no time to waste in seeing plans for the center through.
"Hate crimes, including antisemitic, anti-Asian and anti-Muslim acts of violence, are on the rise in our community and the nation," Tim said. "We need to celebrate the value of diversity and stand up against marginalizing people of different skin color, different traditions and cultures, or different belief systems."
He noted Phoenix is the largest city in the nation without a Holocaust museum.
Knoblauch said the plans for a Holocaust education center in Phoenix concerns every Jewish person.
"It's going to be one of the best little museums in the Southwest," he said. "Change in the world can come only with good education."
But, he said, plans are only as good as their financial backing.
"Build me that home in downtown Phoenix," he said. "Maybe people should look into donating. Not their time, but a little bit of their money. You know, you cannot take it with you." JN