Books line the dining room table and even the floor at Ettie Zilber's house, and more are on the way. All the books are about the Holocaust. Zilber will soon deliver them to the Arizona Department of Corrections, Rehabilitation & Reentry.
On Sept. 29, Kaleb Cole, who led a Neo-Nazi hate group to target Arizona Jewish Life editor Mala Blomquist and others last February in a coordinated hate campaign primarily against Jewish journalists and journalists of color, was convicted of five federal felonies.
"It triggered a memory of a very well-known Holocaust survivor, Eva (Mozes) Kor, and how she would go into prisons and speak to the inmates. And I thought, 'Maybe we could help with educating the inmates in the prisons about the Holocaust, which was one of the biggest hate crimes in history,'" Zilber said.
Kor worked tirelessly to spread the message of forgiveness after publicly forgiving all of the Nazis, including Adolf Hitler and SS Doctor Josef Mengele, who conducted experiments on her and her twin sister at Auschwitz. Kor last spoke with inmates in June 2019 just weeks before she died of a heart attack at age 85.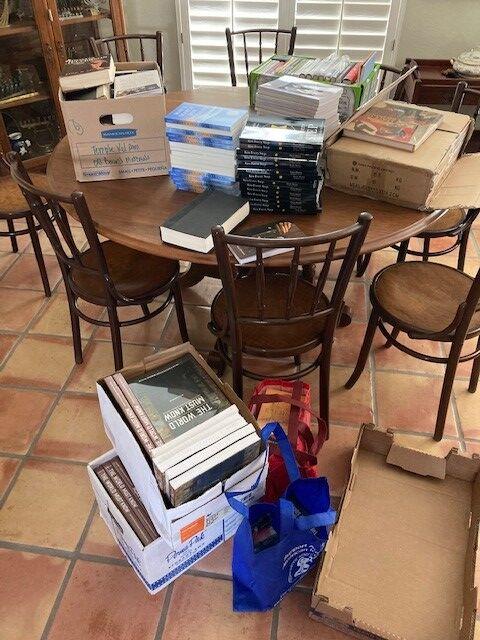 Zilber, a Phoenix Holocaust Association board member, formed a partnership with the Department of Corrections to bolster Holocaust education for inmates working toward their high school diploma.
"It's grown into a big project, and that's great because it's an indication of interest and understanding about how important the topic is and how it can benefit everybody," she said.
The prison system declined to comment on what kinds of Holocaust-related programming and/or educational resources are currently in place, if any, and how this collaboration can benefit inmates.
"Being that it is still in the works, there is not much to say except that we are excited to partner with Ettie and the PHA," a spokesman said.
The PHA has survivors present to groups and schools, and Zilber hopes to provide that service to the prison system as well. Because of the pandemic, speaker presentations will have to be pre-recorded or virtual, she said.
Sheryl Bronkesh, PHA's president, said the organization has only worked sporadically with the prison system in the past — a few years ago a prison facility in Florence requested a speaker, for example.
"I don't know why we never reached out," she said, but she is glad Zilber had the idea and spearheaded the new partnership.
"Maybe we can help some people who haven't had that education, whether they have no feelings about Jews, or whether they hold very negative views about Jews," she said. "But I can only see positive things coming from it."
When Kor spoke of an end to prejudice to inmates inside the Pendleton Correctional Facility in Indiana, the local news outlet, Fox59, reported her words:
"For you who are here in prison who committed terrible crimes, I believe that no child is a wolf and none of you were born to be criminals or born to be in prison or to be mistreated. I believe unfortunately that your early childhood was not a happy one.
"Yes, I had all the reasons to be angry with the world. I realize that some people cannot forgive but forgiveness is not for the perpetrator. If it helps them, so be it, but I am thinking about myself. What can I as one human being do without hurting anybody — because I never wanted to hurt anybody — and make a difference in my life?
"I changed the relationship between Germans, Nazis and me."
Zilber said she has received "many, many memoirs" as well as educational DVDs. She was also grateful to have received "The World Must Know" by Michael Berenbaum, and "The Holocaust by Bullets" by Father Patrick Desbois, both of which she considers must-reads.
She plans to make her first delivery to the prison system on Monday, Oct. 18. She figures she'll have around 600 books by then. "I have been driving all over the Valley collecting donations," she said. "We will still have books arriving after Oct. 18 and, of course, we will make future deliveries."
The PHA has been at the forefront of formalized Holocaust education since 2018, when it began efforts to push the state to mandate it. In 2020, the Arizona State Board of Education added Holocaust education to Arizona education standards, and in July, Gov. Doug Ducey signed a law requiring Arizona's public schools to teach about the Holocaust and other genocides at least twice between seventh and 12th grades. The PHA has been working with the Department of Education and many education institutions to create a toolkit for educators with resources on how to teach the Holocaust.
"That's the big project, and this is one more project under that umbrella," Zilber said. JN