Shoshana Simones and her family eat out a lot more than they used to. Before the pandemic upended daily life almost a year ago, the family would eat out about once every two weeks. Now, the family orders from kosher restaurants a few times a week.
"With three kids, usually we try to cook and eat at home," Simones said. "During this past year, we've tried to patronize our kosher restaurants more than we would previously."
It's no secret that COVID-19 has devastated the restaurant industry, and kosher food businesses are no exception.
Twelve percent of the 100,000 restaurants that existed in Arizona at the beginning of 2020 are now closed, according to Susie Timm, president of Knife & Fork Media Group, which represents the Arizona Restaurant Association. Several kosher restaurants and food services say they are limping along, barely surviving.
Even though 613 Grill is located near several Orthodox shuls — roughly 10 — it's really the tourists keeping Itzhak Rafael's restaurant afloat. "Thank God that the airports are open, because without that I don't think we'll be able to survive," he said.
He estimates about 20% of his customers are local, a drop from what he saw pre-pandemic. "I definitely understand," he said. "There were a lot of elderly crowds that were regulars and whatnot, and now they're concerned about eating out."
Dany Marciano, owner of milk+honey espresso bar & eatery in the Martin Pear Jewish Community Center in Scottsdale, said it's been especially tough not having a street-facing entrance. "We have some very loyal customers that still are ordering to go, but we don't see a lot of people," Marciano said.
Alejandra Dashe and her husband have been going out of their way to order at milk+honey to support Marciano and his business. She said she doesn't go "that often" because even though she feels "relatively safe" eating indoors at the JCC, she'd rather be safe than sorry.
Before COVID, about 30% of Marciano's sales came from catering. "We had everything: outside catering, events in the JCC, meetings in the JCC — any event through the JCC," he said. But now, "catering is dead." With limited support from the community, most of the customers he sees are tourists seeking out kosher food.
Bradley Levy, owner and chef of catering company Brad's Kitchen, had to get creative to make it through COVID. He started offering and delivering pizza kits last year. They come with five 8-inch frozen plain crusts, five 3-ounce containers of pizza sauce and five 3-ounce containers of mozzarella cheese. Each kit costs $35 with $5 of each kit donated to an organization of the customer's choice.
He also started offering and delivering Shabbat meals. "It's basically just trying to reinvent yourself," Levy said. "You have to sort of just do anything to try and keep the wheels turning."
He feels the Jewish community is doing what it can to support him. "I think there are people just kind of stepping up," he said.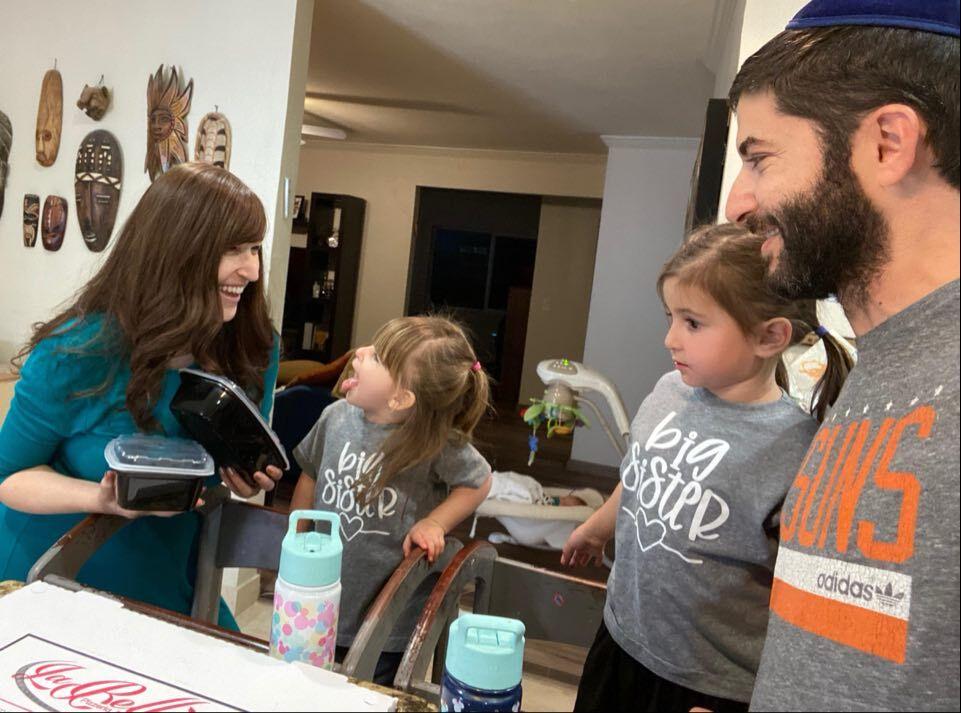 Simones said she frequently orders from catering companies, including Brad's Kitchen, to make sure she is spreading her support as widely as she can. "Anyone who posts on any of those kosher groups [on Facebook] that they're providing food, we make an effort to order from them," she said, noting she recently saw a new kosher offering promoted inside a Facebook group devoted to kosher food: Only Kubbeh.
While many kosher food businesses are just trying not to close, Tzvia Halilyan started Only Kubbeh in late January. "I needed to help my husband, so I started cooking from home," she said.
Halilyan was a teacher at a private Jewish day school and stopped teaching out of concern for her health amid the pandemic. Meanwhile, her husband has had trouble finding work as a handyman because of pandemic-related safety concerns, further tightening the household budget.
She is keenly aware of the struggles restaurants face and tried her best to offer something different so as not to take away from other businesses. Her menu consists of different types of kubbeh and offers three for $15 with a side of rice or Israeli salad for pickup.
In her first two weeks of promoting her menu online, she received six orders, an encouraging sign. People must be eager to try something different, she said, since there are only so many kosher restaurants to choose from.
Simones is using the would-be family activity budget toward supporting kosher food businesses. "We want to help everyone, and I mean, obviously, we're getting good food out of it," Simones said. JN