For a second year, the Jewish Community Relations Council of Greater Phoenix (JCRC) put out a call to collect winter coats for newly arrived refugees in Arizona. And just as they did last year, Jewish communities in the state and across the country stepped up to answer that call by delivering hundreds of coats and winter gear.
Approximately 2,500 asylum seekers arrive weekly at the International Rescue Committee (IRC) Welcome Center in Phoenix, as well as a few local churches with temporary refugee shelters. The only clothes the refugees have with them are often too thin to withstand winter temperatures in some of the cold places they are en route to, further north and east, where they will be resettled with family, friends and other sponsors while they await asylum hearings.
Last year, Paul Rockower, JCRC's executive director, looked north to Sedona, the Verde Valley and Flagstaff for donations of winter coats. He also asked JCRC colleagues from Youngstown, Ohio and Buffalo, New York to pitch in, which they did. This year, Temple B'rith Shalom in Prescott and JCRCs in Providence, Rhode Island and Boston, Massachusetts, also lent a hand.
Temple B'rith Shalom Rabbi Susan Schanerman rallied her members to deliver coats by the end of November and found a receptive audience. Anna Keating, who leads a coalition of volunteers on this issue, said the coats B'rith Shalom delivered were "packed in boxes the density of a neutron star" that arrived just when they were needed.
"It was a very fulfilling and meaningful experience for us," Schanerman said.
Rockower is grateful about the overwhelmingly positive response he's received since he first asked for coats last year.
"We don't have winter coats here, which is why we reached out to places where they get more wintry weather," he said. "Thankfully, they took up the charge and were able to work together with their communities to be able to run with this and donate large capacities of winter coats for the asylum seekers."
Rockower coordinated his efforts with Keating, who calls her coalition, "our Interfaith Refugee Asylum Volunteers or IRAV."
Keating started working with members of Greater Phoenix's Jewish community through Barbara Lewkowitz, who organizes social action at Beth El Phoenix. She then met Rockower, who connected her with synagogues and organizations that could help her find the heavy coats and winter gear the refugees need.
"I'll watch as buses pull up and 40 people get off and not one of them has a coat," Keating said. "It's an impossible task to get a coat for all the babies, toddlers and people of all shapes and sizes. It breaks my heart to send people, even children, with only a blanket up north where it's freezing."
The Jewish community has been a tremendous help in this regard, especially those in places where people have more experience with frigid weather. Even though many Jews in Greater Phoenix grew up in colder climes, after a few years in the desert, they seem to forget just how heavy a coat needs to be.
Keating is from Minnesota and remembers the cold but she understands her fellow Phoenicians, who are generous but sometimes donate coats that just can't cut it.
"You ask for a winter coat here and you get a hoodie. We can't send people to New York where the temp is zero degrees in a hoodie. Paul's connected us with people who understand what winter is and that's been really special," she said.
Stephanie Hague, the chief policy officer for the Jewish Alliance of Greater Rhode Island, definitely understands the cold, and when Rockower reached out to her, she was prepared to help.
"It felt like a natural fit for us," she said. She and her staff posted about the need for coats on social media and around the Jewish community center, where they put collection boxes.
"We had boxes out for a week and they were overflowing with coats within days. This is the time of year when people are going through their coats, so we had gently used and brand-new ones."
While she works mostly with local groups in Providence, "every once in a while, we can reach out and this was such a specific ask for a specific population. It felt like the right thing to do and people were happy to participate."
Similarly, in Youngstown, Melissa Bateman, community engagement director for Youngstown Area Jewish Federation, and Nicholas Bush, the Federation's development and community relations manager, were also happy to help.
"We are a small community and we're always trying to look outside of Youngstown to make an impact," Bateman said. "Last year, we sent 500 pounds of supplies to Ukraine."
Bush agreed.
"We're always thinking about others and we really know the importance of a winter coat right now," he said.
Bush did the shopping and said he "didn't want to buy anything I wouldn't wear. I wanted to keep someone warm with the most effective coats possible."
They collected money to buy new coats and asked stores for donations. They're now sending them to Beth El, where Keating will collect them and get them to the refugee shelters.
Bush and Bateman know of many Youngstown residents who are snowbirds in Arizona. Next year, they will reach out to those folks to bring extra coats when they pack their bags for the desert.
Keating said Arizona's Jewish community has stepped up in other ways to assist asylum seekers. For example, volunteers from the National Council of Jewish Women Arizona and Beth El baked hundreds of muffins, put together food packages and had clothing drives that have all been enormously helpful. Additionally, a group from the Jewish Community of Sedona and the Verde Valley continues to get donations to her.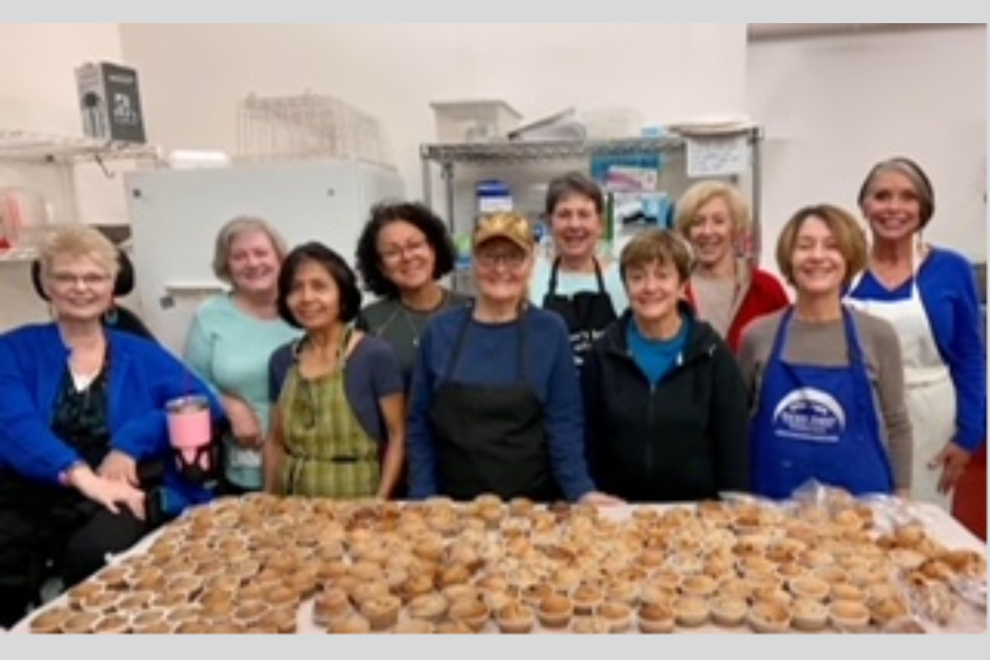 "The Jewish community has just been wonderful," she said.
Rockower is already planning to have a coat drive for next year. Keating assumes he'll call it Operation Snowbird 3.0.
"The capacity this year is even greater," he said. "It helps Jewish communities who are not on the frontlines with asylum seekers to help and engage in this act of compassion and to support those who have asylum status, and we'd like to get more involved because, as wonderful as they've been, we're still close to being outstripped by the need." JN