Veronica Clark spent years feeling that her body didn't really belong to her. "Anybody who wanted to touch me, could touch me," Clark said, describing her story of sexual abuse for "Power and Persistence: Making Our Voices Heard," the National Council of Jewish Women of Arizona's virtual advocacy gala on March 7, 2021.
The first segment of the organization's annual fundraiser focused on Ruth Place, which will be the state's first trauma recovery center for survivors of sexual assault and exploitation. Survivors want to feel worthy, and that's the impetus of the new center, said Civa Tamarkin, president of NCJW AZ.
"Current rape crisis centers focus on reporting, rape kits and prosecuting the crimes," Tamarkin said. "Most survivors of sexual assault want to get on with their lives, but it's difficult to navigate the mental health system." Ruth Place will offer one-on-one therapy, a social network for survivors and a mentorship program for immediate crisis intervention.
After years of sexual abuse at the hands of family members, Clark wasn't sure where to turn. As an adult, the abuse haunted all of her relationships and led to further abuse. She kept her shame to herself. "It was a lonely journey for a long time," she said.
Clark and Candace Adams, another sexual abuse survivor, shared their personal stories and told attendees how consequential a center like Ruth Place would be. Clark surmised that if Ruth Place, or something like it, had existed when she was younger, "it might have helped me realize that I had a lot to offer and discover who I was a lot sooner." Everyone's story is different, she said. But everyone needs people who are going to care and help.
Clark met Tamarkin through Arizona Coalition to End Sexual and Domestic Violence. When Tamarkin explained her intention to build Ruth Place, Clark knew it was the right project for her to get involved in. She had held back when she was approached by a few other organizations working on sexual abuse issues. "I don't want to share my story with just anybody," she said. Her father is Jewish and she went to Hebrew school, and she feels confident the Jewish community can bring integrity to the issue.
Educating the community is going to take longer than an hour, she said, but the gala's introduction was very effective. "The fact that the Jewish community is getting behind this issue and saying it has to stop — it's big," she said. "It will help get people's attention who might otherwise turn away."
The master of ceremonies, Jason Alpert of Alpert Enterprises, used several minutes to appeal to the audience for donations to Ruth Place. It didn't take long to surpass the $25,000 goal. The gala was a kickstart to the development of a capital campaign, and Tamarkin is hoping to break ground in the next 18-24 months.
Clark was thrilled to see so many people contribute to a cause that is "in her heart." She thought Tamarkin's introduction was especially poignant. "Civia did a fantastic job of communicating," she said. "I could feel her passion for Ruth Place coming through."
Ruth Place wasn't the only item on the evening's agenda. In her introductory remarks, Tamarkin reminded viewers that NCJW has been present in Arizona for 100 years and helped to establish Jewish Family & Children's Service. Its agenda and priorities — access to reproductive health care, women's rights and voting rights — are the same, she said, but now the organization has a new focus on advocacy. It is rallying opposition to state bills that would restrict voting rights, abortion rights, discriminate against transgender girls in sports and more, she said.
Pat Mitchell, founder and editorial director of TEDWoman and author of "Becoming a Dangerous Woman," was the gala's featured speaker. Mitchell talked about the need for women to work together to solve problems. It's especially important for older women, she said, "to come off the sidelines" and get involved in the fight for social change.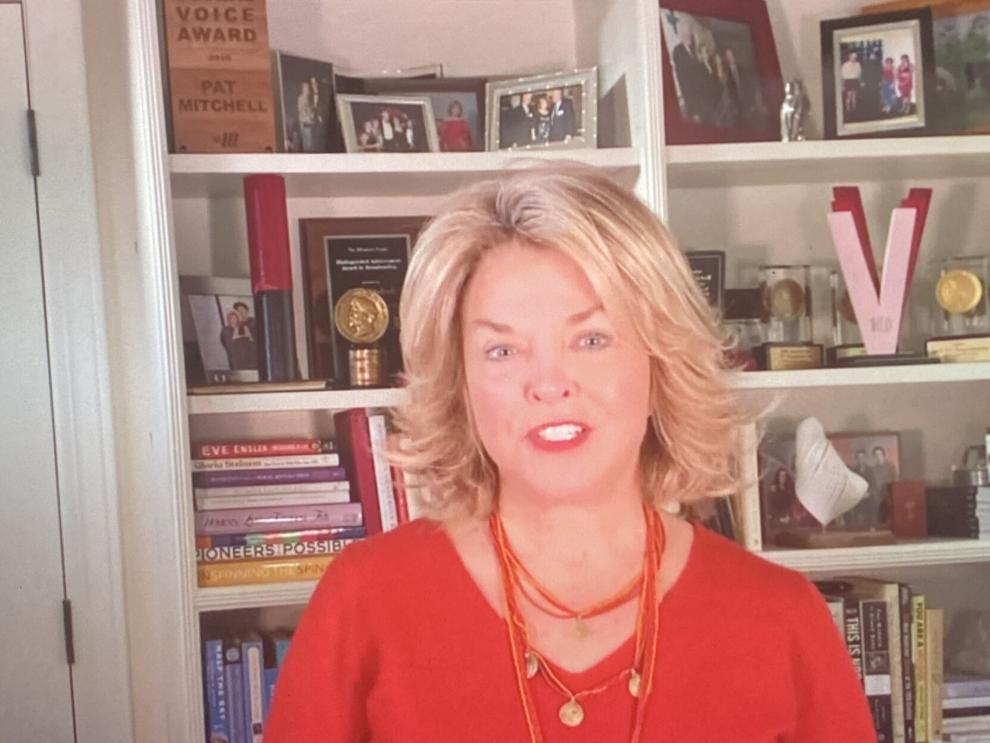 "We never retire — we rewire," Mitchell said. "Older women can be the most powerful and therefore dangerous force for positive change." As with her book's title, she uses the word "dangerous" to describe someone who refuses to be ignored.
There was also a moment of celebrity when Jane Fonda made an appearance. After being semi-retired from activism, she got involved again when she turned 80. She used her time at the event to highlight the need for women to join the fight against climate change, because women's bodies are most affected by its disastrous effects, she said.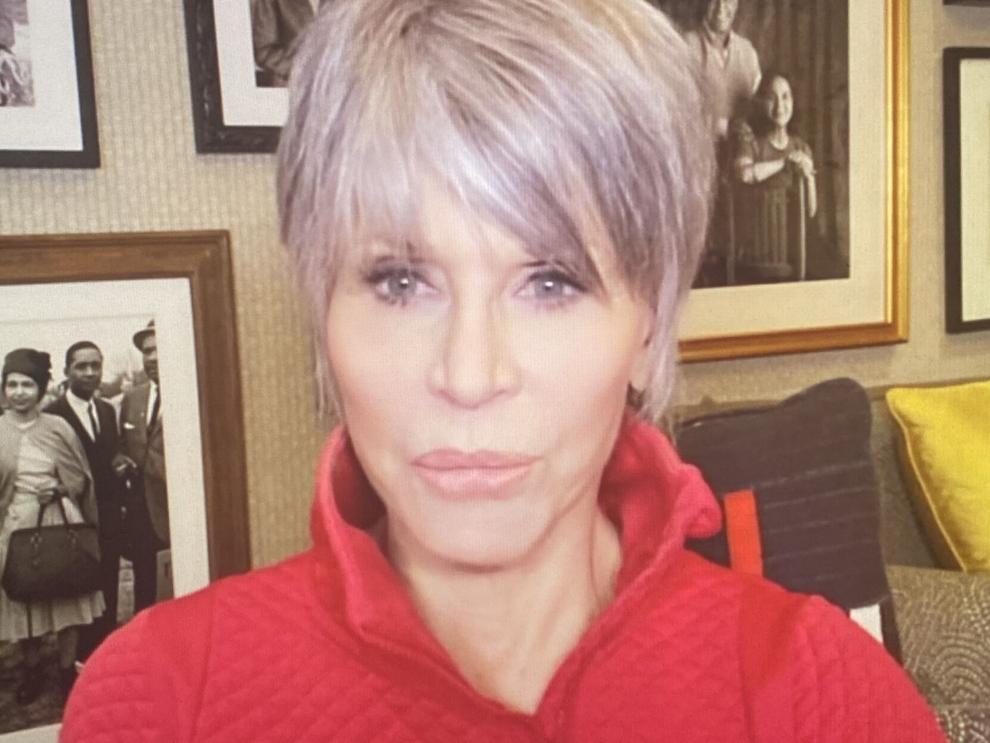 "This is the time," Fonda said. "We have a decade. We are the last generation to decide if our children and grandchildren have a viable future."
To end the event, which aired on the eve of International Women's Day, three women leaders were honored with NCJW AZ's Impact Award for protecting their communities during COVID-19.
Mayor Kate Gallego of Phoenix, Mayor Regina Romero of Tucson and Coral Evans, former mayor of Flagstaff, were applauded for their early actions closing bars and restaurants and issuing mask mandates once the pandemic set in. Even though they were criticized and overruled by Gov. Doug Ducey, "they continued to press the issue while Arizona became COVID capital of the world," Tamarkin said.
The women all sent their thanks with video messages, and Gallego said that as a Jewish woman she is thrilled to receive the award. "I believe my faith teaches you are stronger when you work together," she said, and highlighted the partnership between the three women mayors. "Thank you to my sister mayors, and we look forward to rebuilding."
The event ended with Alpert thanking Tamarkin for her advocacy and her work on Ruth Place, which was her idea.
"The key lesson," Tamarkin told Jewish News, "is the intersectionality of all components of social justice." All of NCJW AZ's work, she said, falls within a framework of reproductive justice. "By definition it's about the human right to determine whether or not to parent and to raise children in a safe, viable, sustainable environment." She emphasized that all the various components of social justice are interconnected.
Flint, Michigan is the perfect example, she said. The environmental water issue affected the well-being and health of the community, especially those in low income levels "as it always does," she explained. "It all comes down to our fundamental mission: to safeguard the rights and improve the lives of women, children and families. How do you improve their lives when they can't drink the water? It's all so interconnected, and that is what makes NCJW so unique."
The total amount raised for the organization, which included funds from the week-long silent auction, was $110,510. JN