As COVID-19 swept across the Navajo Nation this year, one member of the Navajo Nation Council turned to a community he knew would step up to help: Congregation Beth El of Montgomery County, his family's synagogue in the Washington, D.C., area.
"Beth El stepped up to be a fiscal sponsor, to be a nonprofit that can accept donations. And they've really helped our communities out here on Navajo," said Carl Roessel Slater. "I think that the one thing that has fallen by the wayside is telling that story."
Slater was elected to the council in a special election last year, and took office in October 2019. He serves as vice chairperson on the Health, Education and Human Services Committee, and since March, he's been fighting to protect his constituents from the COVID-19 pandemic.
His vision for a sustainable and self-sufficient Navajo Nation comes from both Jewish and Navajo values. Growing up, Slater had "one foot in both worlds," he said. He attended services and became a bar mitzvah at Congregation Beth El, and he also spent summers in Round Rock, Arizona, where his grandparents were well-known educators and advocates for education based in Navajo traditions and led by Navajo people.
"I just feel incredibly blessed to be both Navajo and Jewish," Slater said. "Within both cultures, I think there is this concept of trying to repair the world or return it to the state that is closer to harmony and beauty, and they really complement each other in my mind."
Slater has been dealing directly with the fallout from COVID-19 in Round Rock, where he lives, as well as his district in general. With 7,088 positive cases and 336 deaths from the virus as of July 24, the Navajo Nation has among the highest infection rates and death rates in the country.
"I've lost a lot of constituents. And some of my communities are tiny, they're very small relative to Phoenix, but you're losing 14, 20 people in a community, or you're losing households," Slater said. "Today, I just found out about a family that had to bury two of their children within the last three weeks."
Slater thinks a lot these days about how he's using his time. He's one of 24 elected members of the Navajo Nation Council, which means a lot of calls and committee meetings. At the same time, he's looking for ways to prevent tragedy for the communities he represents, whether that's organizing deliveries of food and water or driving it to constituents himself.
"That's the difficult part: How do you use your time?" Slater said. "Is it literally just trying to get the material support and going out and physically bringing it to your people or to people who can distribute it? Or is it working on those broader public policy issues that could strengthen the whole system? … That balance is so hard to define, there's no formula for it and it changes daily. Sometimes I have to get off calls so that I can go help with delivery or try to figure out an insurance issue."
And at the same time, Slater is continuing to move forward with legislation to advance the self-sufficiency of the Navajo Nation. He has plans to support agricultural infrastructure and to restore windmills and ranches that are part of the nation's traditional food systems, in addition to fulfilling basic needs for residents of his district such as running water, electricity and housing.
"Those are just the basics, but building a nation that is sustainable, aligns with our values and has pushed out a lot of these detrimental forces takes a broad-based effort," Slater said. "It's not operating within each issue in isolation — it's finding those connections, because that creates a durable and sustainable society."
Slater's vision for the Navajo Nation, and how he approaches his role as the youngest member of the Navajo Council, is inspired by his upbringing: his parents' passion for public service, summers at his grandparents' house in Round Rock and the overlap that exists, he said, between the Jewish tradition of tikkun olam with Hózhó, a Navajo concept of harmony, balance and beauty.
"It's not just about progress for progress' sake; it's not just about advancement. It's actually taking a moment to meditate on what existed that worked in the past," Slater said. "What would this world be like without all the structures and acrimony that human beings cause? And how do we put ourselves into this world, where we respect creation and we build sustainable systems that are supportive of creation and not destructive of it?"
Growing up in both cultures deeply informs Slater's worldview.
"I grew up with one foot in both worlds and I feel like they're 100% my identity," he said. "It's not like one is less than the other."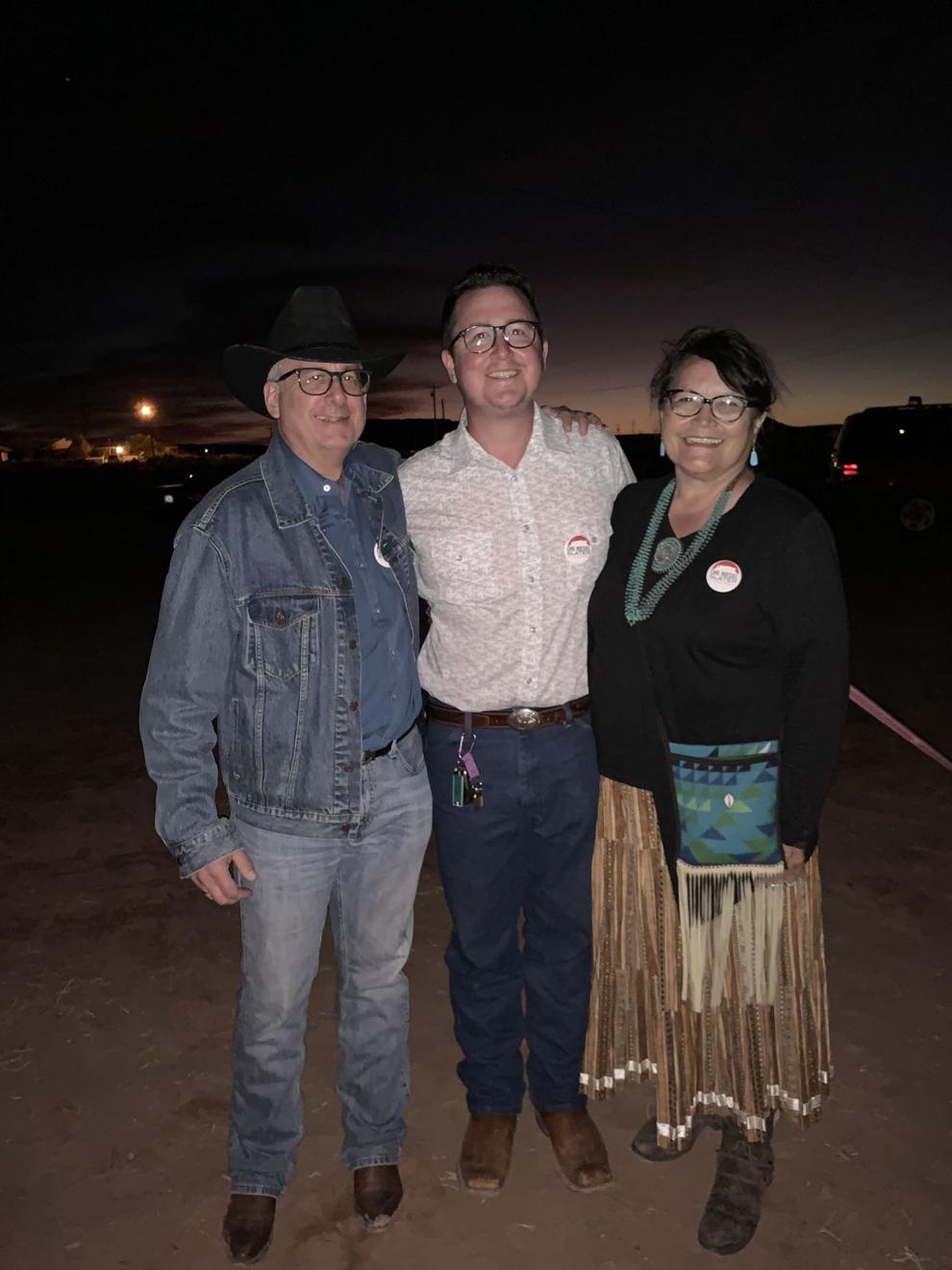 But in addition to the harmony between the two sets of values, there are cultural differences that Slater had to learn to navigate: communication styles, for example.
"This kind of brash, maybe confrontational, overbearing stereotype of the Ashkenazi Jewish family, the type of communication, people talking over each other — that communication style is not something that you can use on Navajo, because we communicate differently, and the language is different and the descriptors and the construction of grammar and everything," Slater said. "So growing up, I had to balance that."
Ultimately, learning to code switch between those two styles and to navigate two different worlds has served him well, he said.
While there are no synagogues on the Navajo Nation, Slater still tries to attend services at a synagogue once in a while, whether that's a conservative congregation in Albuquerque, New Mexico, a Chabad house or Reform congregation in Flagstaff or a synagogue in Durango, Colorado. For Shavuot last year, he visited Beth El Congregation in Phoenix. The name, he noted, is something of a family tradition: "I grew up going to a Beth El, my dad grew up going to a Beth El … I like supporting our Beth El."
Not being able to attend services regularly weighs on him, though.
"It's something where I can go a few months without getting to synagogue, and it definitely weighs on me spiritually," Slater said. "Having grown up doing both [Navajo and Judaism], I can't just do one or the other, I need both to feel whole. And it's really tough as someone who believes the stuff and cares about it, cares about its perpetuation and what that obligation means."
His family has also influenced him in ways beyond faith. Slater is named after his paternal grandfather, a lawyer who died before he was born.
"I'm somebody who never knew his grandfather and has kind of felt the weight of being named after someone who was a lion within the family, even the extended family. It's weighed on me a lot," Slater said. "In this job, I know that my grandparents would be proud of me and the work that I'm doing, because it's reflecting the values that they raised their children with and they passed on to me."
Slater's own passion for public service came from witnessing his parents in action.
His father is a lawyer who worked for a judge on the United States Court of Appeals and eventually was appointed principal deputy general counsel of the U.S. Air Force. His mother worked for New Mexico Sen. Jeff Bingaman, reestablished the Navajo Nation Washington Office and served as the deputy assistant secretary for Indian Affairs in the Department of the Interior. When Slater's youngest brother was born, his mother stopped working in an office and started working as a board member for organizations that focused on protecting women and children.
"They shaped, through their actions, the values and issues that I care about today," Slater said.
With both parents involved in politics, law and government, policy and legislation is a natural fit for Slater.
"It's in our blood," he said. "I think that it came naturally to me. I don't know what it is, but it's talking to people, it's human interaction, it's trying to understand what motivates folks and what vision they have for their lives and their communities."
Summers at his grandparents' house in Round Rock also influenced Slater's understanding of his place in the world. Ruth and Robert Roessel were visionaries in Navajo education, founding both the Rough Rock Demonstration School, a school founded on principles of Navajo language, history and culture, and Diné College, the first tribally controlled college in the country.
"They had me thinking from a very young age about what are these bigger forces that contribute to our lives and what we can do and what we can imagine and what obligations we have," Slater said. "I get a lot of inspiration from them."
Today, Slater is focused on reimagining what the Navajo Nation could be.
"A big part of that for me is thinking about how we build a sustainable Navajo nation that has local communities that are either self-sustaining or regionally self-sustaining and don't require a lot of inputs or interactions with dominant society or the United States," Slater said.
His goal is to bring those resources directly to the communities that need them, including access to food and medical care. During the COVID-19 crisis, there are only five hospitals to serve the 178,000 members of the Navajo Nation, and ICU beds are almost nonexistent. Some members have to drive two hours to reach the nearest grocery store. Changing that, Slater said, is going to take some reimagining of the relationship between Navajo and the United States.
"We've been here from the beginning, we're not going anywhere anytime soon, and the prosperity of Navajo and the United States are intertwined," Slater said. "So we need strong federal support to build those self-sustaining institutions and imagine a future for Navajo that is more divorced from — a lot of people would say — these dominant capitalist forces that pull apart societal connections, community connections and reinforce consumption instead of sustainability."
In the face of the COVID-19 pandemic, there's a number of ways that the Greater Phoenix community can help, Slater said, from monetary donations to help volunteers distribute food to donation drives for sanitation supplies and backpacks, education materials and toys for kids who are out of school for the time being.
More than that, though, Slater wants the Greater Phoenix community to learn about the history of the city's relationship to the Navajo Nation, and to be advocates for a more just future.
"The second part — and this actually should be before any sort of donation or anything — is to educate yourself," Slater said. "It's not incumbent upon Indian people; it's not incumbent upon those that you are worried about for them to teach you. It's for you to learn about your role in this system that quite frankly exploits the resources of Indian peoples and transfers that wealth or potential for prosperity to the quote unquote 'dominant society,' those off the reservation.
"That's what I want to see the Phoenix Jewish community reckon with — the prosperity and the beauty that comes from that community down there is by definition premised on the power and water that came from up here." JN
To learn more, visit www.navajorelief.fund.