Miriam Hirschl prioritizes education, and at 102 she still enjoys learning about a lot of things, including ballet and art. She also listens to a variety of lectures offered through Jewish Family & Children's Service Virtual Center for Senior Enrichment.
"Learning is essential to our existence," said Hirschl, a Sun City West resident. "Just like food nourishes our bodies, information and continued learning nourish our minds."
Hirschl grew up with a passion for learning. It is the reason she became a teacher.
"I had a long and meaningful career in education and my husband was a doctor so I know how important being active — both physically and mentally — is for staying sharp and being independent," said Hirschl.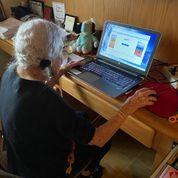 This belief is something Hirschl and her husband, Daniel, instilled in their children. For 57 years, the couple led by example, and it served the family well.
"We challenged our children at every turn," said Hirschl. "We encouraged them to be healthy and eat right. We preached the importance of education. And today I can proudly say, they listened."
Hirschl's three children all graduated from college and went on to earn advanced degrees.
"I am the proud mother of a pediatric surgeon and an electrical engineer," said Hirschl. "My beautiful daughter was a nurse administrator before she died of breast cancer. It was devastating for our family, but I am an optimist. I know life must go on and what better way than through my eight grandchildren and four — soon to be eight — great-grandchildren."
When it comes to staying sharp, Hirschl practices what she preaches.
"I still drive and do my own grocery shopping, but I let others help me when I need something special," she said. "It's important to ask for help when you need it."
Her advice for other seniors in Greater Phoenix is to stay engaged and keep busy.
"Take the time to read because reading is important," said Hirschl. "I belong to a book club and we have been reading some wonderful stories. I usually get my books from Amazon and then give them to my kids. I learn a little about this and a little about that. I love it!"
Hirschl is an active participant in the programs offered by the senior enrichment center. Among her favorites are the free virtual ballet, art and lecture classes.
"I'm not a dancer or an artist but I love the classes, she said. "They keep me busy and committed to doing something. I don't just sit around and watch television. I want to engage with people. Plus, I like that I don't have to worry about transportation or dressing up."
The CSE offers a wide variety of programming in the comfort and safety of one's home. Seniors throughout Greater Phoenix and of all faiths can get involved and enhance their quality of life with free virtual programs that improve mental, physical and social well-being through stimulating thoughts and ideas, movement and exercise, as well as socialization.
In addition to exercise and art classes, Hirschl attends talks from renowned professors about astronomy and history as well as lunch and learn sessions with actors from the Herberger Theater Center.
"Preserving your mental abilities as you get older is easier than you think," said Hirschl. "You just have to be open to new ideas or at least doing the old things in a new way. I, for one, am glad I gave it a try. JN
For more information about the JFCS Virtual Center for Senior Enrichment, email Jennifer Brauner at seniorcenter@jfcsaz.org or visit jfcsaz.org.