Erik Rendelman, youth advisor at Congregation Beth Israel, tried many things to entice kids back into community and engage them in Jewish learning once the coronavirus pandemic shut down the synagogue's regular, in-person activities. And he was aided initially by the simple relief kids felt just getting on Zoom together while they were stuck at home.
"We tried to do hybrid, all ages programming, niche programming and we really ran the gamut on how to innovate programming in the middle of a pandemic," he said.
But as the months wore on, he sensed their Zoom fatigue and knew it was time to shake things up.
Something of a gamer himself, Rendelman realized Minecraft — a game he enjoys with his friends and knows well — might be just the thing he and his colleagues needed to re-engage young people.
"This was where the magic started for me," he said. "I can come up with Jewish content to weave into their Minecraft world — I get to put on my Jewish educator hat."
The game has a number of useful features: multiple players, online logins and the capability for kids to develop pro-gaming ideas they see on YouTube. There's also a Minecraft realm — a 10-person club where people can log into CBI's unique Minecraft world that's always online.
Rendelman hosts Minecraft Mondays for his youth group every week. They save all their work "in their little Minecraft world, and their friends can log on at a different time and come to it and we can all sort of do things together," he said.
"I can really monitor the activities that are going on with administrative tools," he said, explaining a safety feature parents will like. "But for the kids' side of it — it really is just for them. They're just super excited to log on and play."
Getting their Minecraft world up and running only took a weekend. "We built a tiny little synagogue and tried to approximate all of the different things that you need: a little Torah, an ark and an actual space that if enough people logged online we could have a minyan or we could hold a Shabbat."
"With Minecraft, you can really make whatever you want and do whatever you want," said Eli Shapiro, one of Rendelman's regular participants. "That's the whole purpose of the game — you can make a synagogue, and you can make a menorah." During Chanukah this year, members lit candles every night on the Minecraft menorah.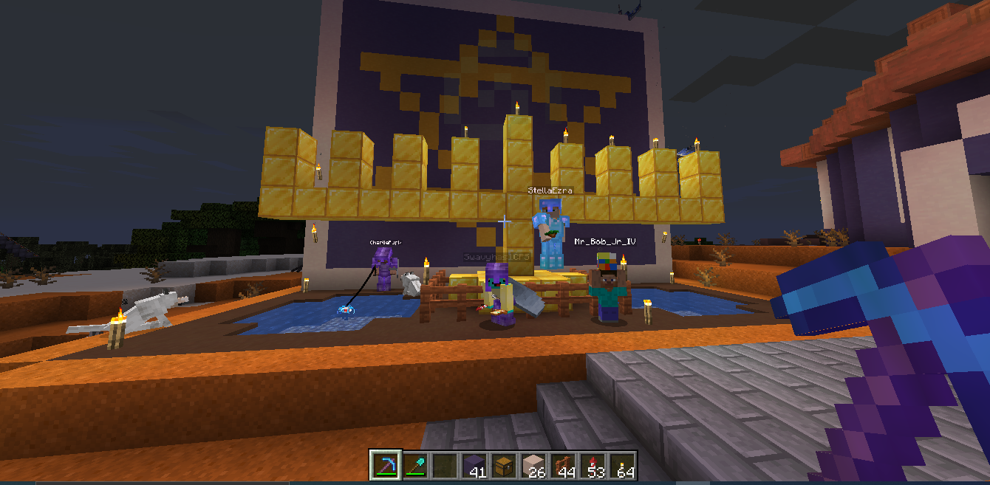 With a nod to the fantasy part of the world they created, Reyna Sypes — another regular — added nine permanent cats to the menorah. She's already thinking about ways to make creative Purim costumes in CBI's realm.
At present there are 15 regular participants, but Minecraft Mondays only began a few weeks ago so expectations for growth are high. Before Chanukah, several kids told Rendelman they were hoping to get the game as a gift. "So it's growing, and it's growing fast," Rendelman said.
The community aspect is what Ethan Leventhal likes about playing. "We have a big town in here, and it's very helpful for new players starting out to get resources and stuff," he said. "I've learned how important it is to have that good community so that other people can join and have fun." He also likes being with his Jewish friends while playing.
Rendelman is recommending Minecraft for all Jewish youth groups, and cost is one of its attractions. "It has a very cheap overhead," he said. For basically the same cost as many in-person events, a youth director can choose to charge participants, make it part of their membership or keep it free. It's possible to sign up for a monthly subscription or a number of months during the year for roughly $8 per month.
Another benefit is that a director can host an unlimited number of students. However, only about 10 or 20 can play at a time together.
"Youth groups haven't thought of this before, and I wonder how much the pandemic and everything that's happened in 2020 has led to things people would have otherwise waited to do," he said. "I would absolutely encourage other synagogues and other organizations to look into doing Minecraft club through Minecraft realms, because it's been very easy for us."
Rendelman hopes eventually to create a virtual version of an entire Jewish life cycle which would even include a virtual service with a rabbi. The possibilities are endless and exciting, but his ultimate goal is always getting kids enthusiastic and drawing them into the community. And he suspects it will outlast the pandemic.
"It's a very simple premise, but it's turned out to be a very interesting opportunity," he said. "It's going to go well beyond COVID."
"It's really a fun thing to do during this stupid COVID time," Shapiro said summing up the benefit of Minecraft Mondays without mincing words. "I can't go to school and hang out with people on Minecraft, so I do that here." JN