Rabbi Aviva Funke misses the sound of other people humming and singing along to her music.
"When we can't sing together, it feels not only isolating, but it feels like something is missing from my soul," said Funke, a community rabbi and principal for the Bureau of Jewish Education's Hebrew High.
Funke regrets the way the pandemic has altered Jewish life, pointing out that people are unable to hold one another while singing "Oseh Shalom" or sit shiva together in person. "The fact that we have not been able to physically be together has rippled through the fabric of our people," she said.
And yet, after dealing with the fallout from COVID-19 for a year, many in the Jewish community have come to terms with new and virtual ways to be together. Some leaders see real value in these methods and plan to keep using them even once COVID restrictions are lifted.
But it's a mixed bag. Many people appreciate that technology has made the pandemic more bearable, but it's still felt like a lost year for some.
Funke pointed out that while virtual programming in synagogues, schools and camps might be here to stay, COVID has been nothing if not a wake-up call for the community. Across the board, there's a sense of longing for the time before, she said. Now's the time "to really assess how valuable our traditions and our customs are now that we haven't been able to have them."
'Friendships blossom over Zoom'
Precautions against the spread of COVID-19 have kept people physically apart and away from religious services and gatherings. A year ago, as people were preparing for Passover, they weren't quite sure how they would be able to pray or celebrate together — and people struggled to cope. "In a way, COVID lowered all of our defenses," said Rabbi Julie Kozlow of Temple B'rith Shalom in Prescott. "We just needed each other."
As Passover approaches once more, people are starting to look forward to the day they are vaccinated and can be safely together again for services and holidays. And yet, numerous area synagogues and religious leaders have found the virtual programming they had to incorporate to survive will likely have long-lasting benefits.
Kozlow said initially the transition to Zoom was "technologically traumatic," but now it's become her "best friend." It allows her to connect with more people and open up new programming for her congregation. She intends to keep using the platform even when it's safe to return to the synagogue.
When Congregation Or Tzion closed its doors a year ago, "we immediately had to come to grips" with how to cope, said Mitch Ross, chair of the synogugue's COVID-19 committee. Or Tzion also pivoted quickly to Zoom and has been using it for interactive weekly services, holiday gatherings, trivia nights and "all kinds of online programs that were never available before," he said. "And people can really participate in ways that they didn't have access to previously."
Frank Jacobson, president of Or Tzion's board of directors, said he is seeing regulars and new faces participating online, even from out of state. "There's a wide connection now that we just didn't have before," he said.
One of the downsides to not having in-person programming is not being able to provide that option for people who want it, Ross said. On the other hand, Ross and Jacobson said more people have become engaged and have been attending services.
Families that might not have been able to commit to three hours on a Saturday morning for services, for example, can now attend with relatively little effort and feel part of things even if they can't stay for everything. Extended family is now also able to attend bar and bat mitzvahs more easily, without needing to travel.
At Temple Solel, engagement specialist Jacquelyn Null also said families with young children tune into virtual programming that they may not have in person, as well as people who had trouble making it out of the house.
Virtual services aren't for everybody, though. Howard Rosen and his wife used to attend Friday evening services in person about once a month at Temple Solel, where they are members. But he doesn't do the virtual services, as he doesn't get the same "feeling of Shabbat" from them, he said. Still, both attend virtual weekly Torah study.
Funke also developed and participates in a number of virtual Jewish offerings, and while technology allows innovation in the kinds of classes she can offer, she is getting a real sense of Zoom fatigue.
"I think many of us have prayed for the day we will just be face to face having real conversations," Funke said. People live on screens all week and they may not want to live on a screen on the weekend, she added.
Temple Solel and Congregation Or Tzion are contemplating hybrid models for the future. "I think it will be a bigger conversation of which programs work better streaming, and which ones are more geared to in-person," Null said.
Rabbi Levi Levertov, director of Smile on Seniors Arizona, also acted quickly last year to use technology for his programming. He knew seniors would need engagement, especially those who are widowed or don't have family nearby. He started offering virtual programs just a week after last year's Purim celebration when it was clear people couldn't gather safely.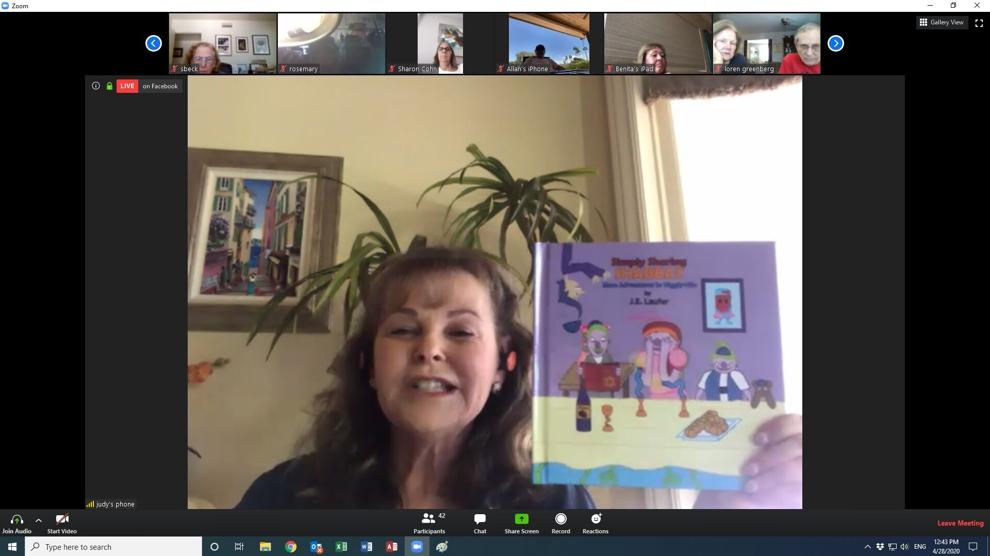 "This provided a very important social outlet," he said. "We have truly seen friendships blossom over Zoom." SoS virtual programming includes trivia nights, comedy acts, educational lectures and more.
"We try to keep a very diverse set of programs," he said. On average, 30 to 40 people tune in to watch.
Even though Kozlow has become a fan of Zoom, she recognizes the loneliness of the last year. "We're not meant to be alone, and we've all been alone way too much," she said. "The day we get to be together, we're not going to take it for granted. We're going to squeeze every ounce of joy that we can when we're in person."
'Just trying to get through to summer'
Last July, when parents and teachers didn't know whether schools would open their doors to in-person learning, Amanda Garcia considered herself lucky. She was able to stay home with her kids, who attend Sand Piper Elementary in the Paradise Valley Unified School District.
She considered keeping her kids at home the safest decision — both for her kids and the teachers.
She watched the rising stress levels of parents on the Sandpiper Facebook group who couldn't stay home. They were looking for answers to tough questions: Who will monitor our kids while we're at work? Will the instruction be good enough? How will we know when it's safe enough to send them back?
Garcia decided to take a break from work to devote her attention to her kids' schooling, an option many others didn't have.
When the school opened late in the fall to in-person learning, Garcia still kept her children home. She wondered what would happen when someone inevitably got sick. She described her children as "germ magnets" and worried about the virus' spread in a school setting.
But by February, even though none of her safety concerns had dissipated, she was ready to put her kids back in school.
"It's been terrible," she said. "Their grades, their social and emotional lives — everything was suffering."
Her daughter, who is in the gifted program, didn't do well online, often sleeping through class. Now she has a lot of catching up to do. Her son in fourth grade is also "definitely behind," and missed out on fractions.
The kids have never gone to summer school, but this year they will. "I'll jump on it," Garcia said.
Still, she doesn't regret keeping them at home while cases were high. Now that teachers are vaccinated she feels better about her kids going back. She sees it as a matter of fairness for the teachers.
And she still worries about the virus' spread in the classroom. On the second day back in school there was a COVID case in her daughter's class.
She hasn't let herself think about next fall. "I'm just trying to get through to summer," she said. "It's been a tough year — for everybody. But I'm hopeful. It just can't get any worse."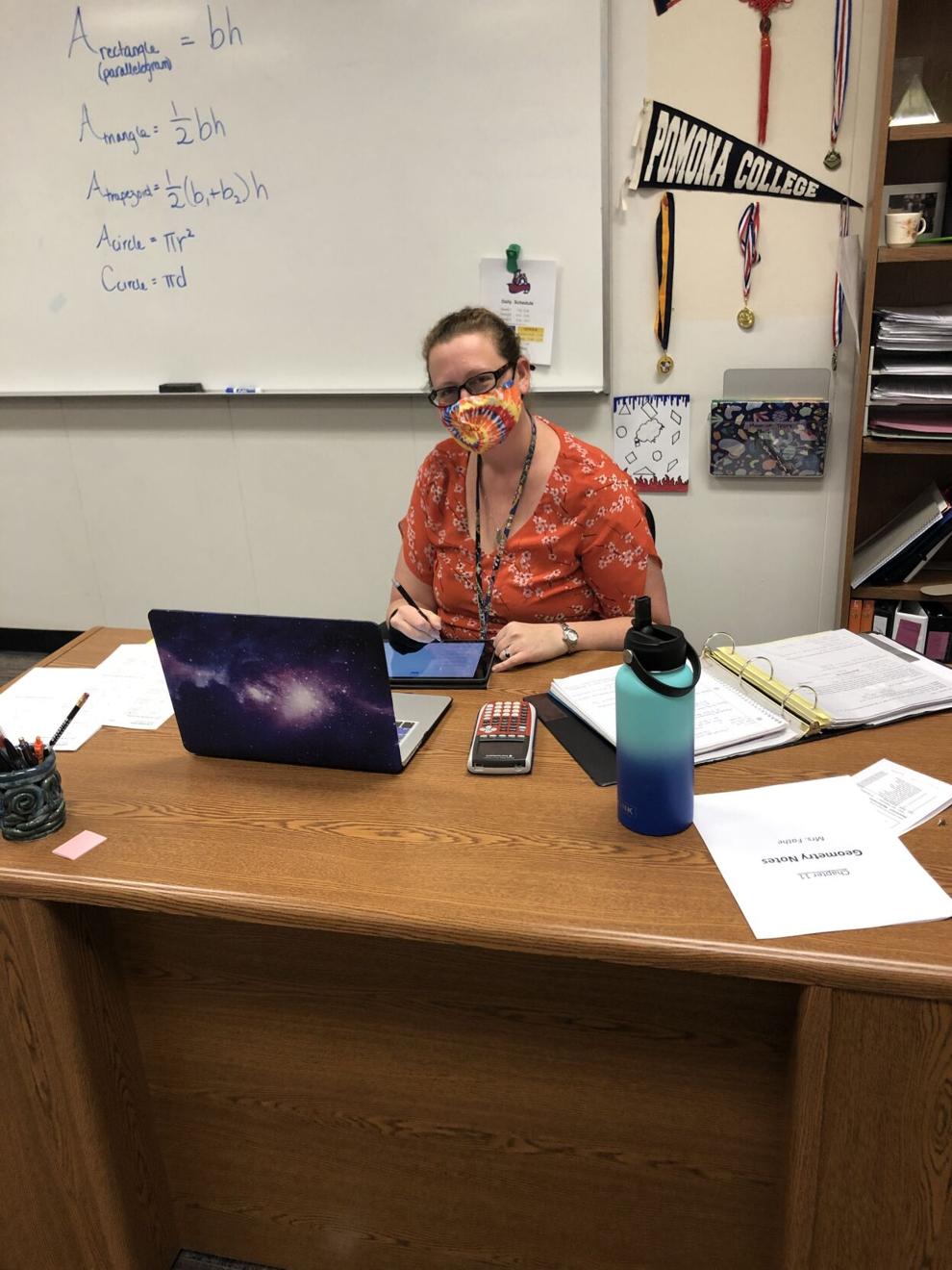 Julia Fathe, a public high school teacher and parent of two young children, understands.
Now that half her students have returned to the classroom, there are constant quarantines as multiple COVID cases get reported. "I had 18 kids in my classroom, then the basketball team had to quarantine and six kids had to go back to remote," She said. "It's going to continue like that. It just requires so much flexibility on everyone's part and it's exhausting."
Looking back over the year, she feels that for most of her older students, the last several months of online learning has gone pretty well — especially for the self-starters. But some students are struggling because they don't know how to ask for help online, she admitted. Those kids "are falling through the cracks."
That is one reason she's glad to be back in person. It's also good "to see people's faces — or eyeballs" in order to build a better rapport. "It feels like I'm just getting to know my kids now," she said. Her students feel the strangeness too. Ordinarily by February, they would be chattier while working together, and they would require a bit of scolding. "But now you could hear a pin drop, they're so quiet," Fathe said.
For the rest of the year, she'll teach students in class and online, which is a "double-edged sword," she said. As happy as she is to see students in person, it is difficult to teach both ways and takes an extraordinary amount of preparation. Next year, she said, her school district won't require teachers to do in-person and online instruction simultaneously. She's hoping things will feel more normal by August.
She is more pessimistic when it comes to younger students. She suspected the missed socialization would be harder for elementary students, and she was very happy that her five-year-old was able to start kindergarten at Pardes Jewish Day School in person last fall.
"My concerns as a teacher are completely and utterly different from my concerns as a parent," Fathe said. "Kindergarten is a completely different animal. I'm a high school math teacher. I can't help a kindergartner. I just can't." She suspects that if she had tried to keep her daughter home it would have led to a lost year for her academically and emotionally. "Some friends have told me it's been lost, but my kid was in person and has had a great year," she said.
Pardes has been open to both in-person and online learning since last September. As of now, the plan is to return to all in-person instruction in the fall. Masking and social distancing will continue to play a role, and according to Peter Gordon, head of school, "predicated on how the world is going, we will respond to what's in the best interest of our students and families."
The Pardes community has been committed to living by safety guidelines and procedures, said Gordon, and it's been able to maintain its high education standards.
"The essence of Pardes is that we're not stagnant," he said. "All of our things have moved forward just as it would have without COVID."
Anna Lock, Pardes' academic principal, highlighted the "tremendous commitment" of Pardes' teachers who made students' learning possible "regardless of where they were," she said. Despite COVID's obstacles, they stayed focused on their academic and professional development goals.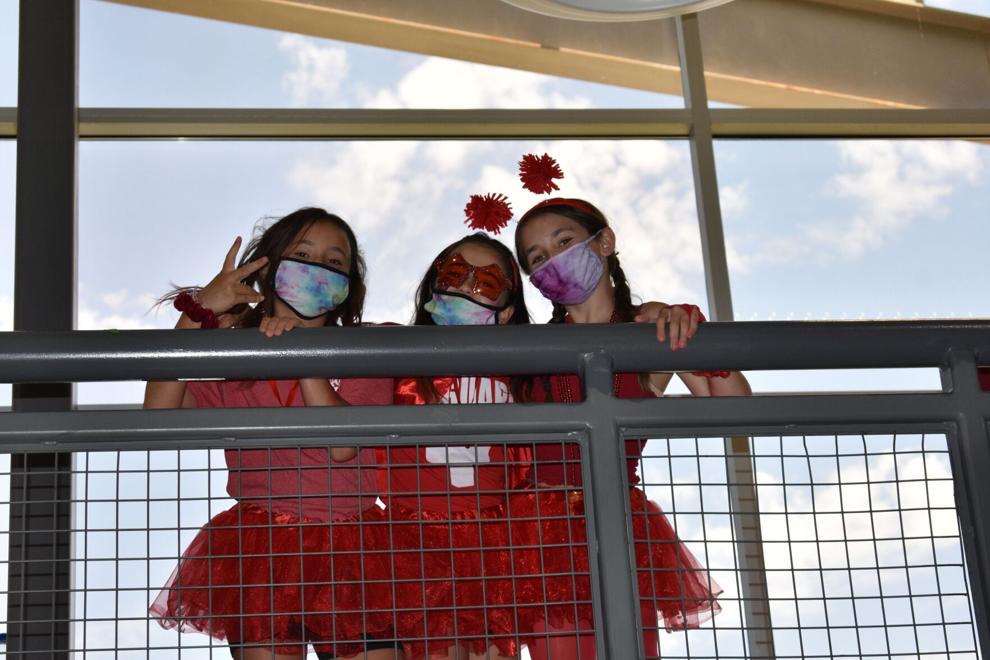 'We've learned a lot'
Jewish summer camps were also upended by COVID and the need to keep campers and staff safe. Some camps didn't open at all in 2020. Shemesh Camp at Martin Pear Jewish Community Center did, albeit in a more circumspect way.
"Turn a bummer into a fun summer" was the official motto of Shemesh last summer. Kim Subrin, chief officer of camping and family services of MPJCC, said that phrase really summed up the feeling among the staff. After making big modifications, Shemesh opened in order "to offer our campers a little bit of normal again," she said.
Looking back now, she feels that last summer was all about fearing the unknown. "There's no fear anymore," she said. "We know now and we plan for it. We know how to work with COVID. Because we didn't know everything last summer, we were extreme. Now we know how to keep the building and campers safe and let them move through the building."
Shemesh was one of the first camps in the country to open. "We didn't have anybody else to lean on," Subrin said.
When they started requiring all campers older than kindergartners to wear masks, Subrin wasn't sure how it would go. But it worked. The kids had been watching their mask-wearing counselors since camp began, and — as with adults — mask-wearing became their new normal.
"I was beyond pleasantly surprised how adaptable all these kids were to wearing the masks," Subrin said.
She soon learned that remaining calm and being open with her staff was vital to running a camp during COVID. Hiding anything is anathema to success. In the midst of the counselors testing positive and the campers getting used to masks, it was critical to remember how much trust the community put in Shemesh, she said.
A year later, she is taking all that she learned and preparing to have a summer minus the "bummer."
While last summer they were primarily focused on safety precautions, now they'll be focused on content with a professional staff who have learned how to work amid COVID conditions, she said. The specialists she's hired are teachers who are used to dealing with COVID while offering in-person instruction.
"We learned we don't need all of the frills like field trips," she said. "Campers and staff love the old school opportunities of playing, socializing and getting to know one another."
Shemesh campers will play and socialize in two-week sessions this summer instead of the single week of earlier models. The extra time allows kids to build stronger relationships with one another and connect more with their counselors, Subrin suggested.
"COVID made us think outside the box and be more creative," she said. "And that's something that won't go away." JN