There's no good time during Phoenix's hot summer to train for a cycling event.
Dr. David Tessler, a gastroenterologist at Central Arizona Medical Associates in Mesa, avoided the heat by taking his road bike out first thing in the morning, often at 5 a.m. It's hard to get motivated to get out of bed at that hour, he said. But doing it for a cause made the early morning rides worthwhile.
On Sunday, Oct. 24, Tessler will be in New Mexico participating in the Day of the Tread bicycle ride, part of the Crohn's & Colitis Foundation's Team Challenge. Funds raised through Team Challenge will support the foundation's mission to find a cure and to improve the quality of life for children and adults impacted by inflammatory bowel disease, an umbrella term to describe Crohn's disease and ulcerative colitis.
"Inflammatory bowel disease is one of those things that is constantly evolving. We don't know the exact cause, so we don't really have a cure. And that makes it difficult to treat," he said.
Crohn's disease and ulcerative colitis are relatively uncommon. In 2015, an estimated 1.3%, or 3 million, U.S. adults reported being diagnosed with IBD, according to the Centers for Disease Control and Prevention.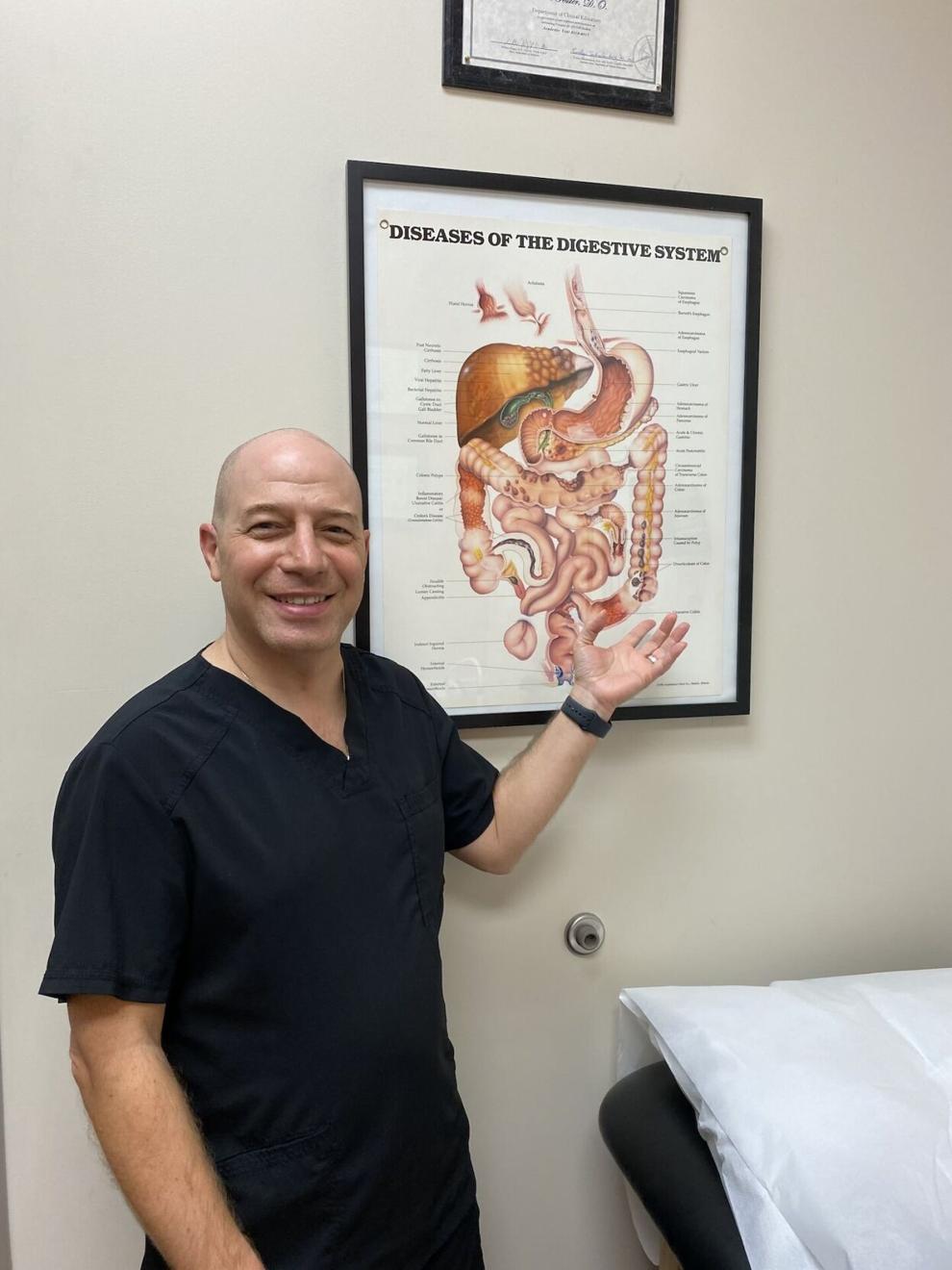 "Treating IBD is one of the most complicated things that we do in gastroenterology, which also makes it one of the most rewarding things that we do," he said.
Ulcerative colitis is a disease of the colon. Symptoms usually include pain, diarrhea and bleeding, Tessler explained. Crohn's disease presents in varied places along the digestive tract. "It can be in the middle of the small intestine, where you will not see it with a colonoscopy; It can be right at the exit; it can skip around," he said. Some people have pain, bleeding and diarrhea, while others may have constipation or just pain. "Crohn's disease is more difficult to treat because it's so varied," Tessler said.
Treating patients with IBD can include pills, IV infusion, shots, or surgery, he said. It takes some problem solving to figure out the best treatment for each patient.
"The reason why various people have inflammation is not the same at the cellular level, so you sometimes have to find what drives their inflammation. There's no test right now that tells you that, so sometimes it's trial and error to find what medication is effective for various patients," he said.
Tessler has been involved with the Crohn's & Colitis Foundation for about a decade, and is co-chair of the Arizona chapter's medical advisory committee.
He's known about the foundation's Team Challenge for several years, but this is his first time participating. Usually High Holidays become an obstacle to training, but this year the timing finally worked out.
"It's difficult to train around the holidays," he said. Often, he and his family go back to Michigan, where he grew up, to spend High Holidays with family. "If I go back for a week, that's two weekends in the whole week that I don't ride and that really sets you back," he said.
Last year, the foundation's Southwest chapter honored Tessler during a virtual "Night of Champions" event. He planned to participate in the Team Challenge bike ride, but it was canceled because of the pandemic.
"Instead of just saying, 'Well, I missed my chance,' this is the year I'm going to do it," he said. "I've had great support in raising a lot of money and hopefully, anything I can raise will make a difference."
So far he has raised more than $5,100. He plans to bike 50 miles, though others on his team of nearly 30 will be doing 100 miles.
"I didn't envision that they would all be patients," he said. He expected many of his teammates to be parents, siblings or friends of people with ulcerative colitis or Crohn's. "It's very motivating to hear that all these people who have real, legitimate problems are the ones who are riding. I'm even more glad that I'm doing it to help support them, and, of course, my patients in my practice."
Mary Rein, executive director of the Crohn's & Colitis Foundation's Arizona chapter, said she appreciates that Tessler is representing their chapter and the Crohn's and colitis community in the Day of the Tread.
"He's having such a tremendous impact, not just through fundraising, but through all the awareness that he is creating through his participation," she said. "He is very much a champion and an ambassador for patients with inflammatory bowel disease and is very compassionate." JN