Joy Kerman spent 2020 in transition. The time had come for her to make a choice: Would she continue living on her own or move into a senior living community?
She decided on the latter and moved from Tucson into Phoenix's La Siena Jan. 20.
"There were so many people around, and there's a fitness program, and there's activities, and I keep myself busy," said Kerman, 77. At least, that was the hope, but large social programs and activities were stifled because of the COVID-19 pandemic.
Over the course of 10 days beginning at the end of June, La Siena held its first in-person, community-wide event since the pandemic began.
In conjunction with the Tour de France, La Siena held a 10-day fitness challenge. Participants aimed to accumulate as many combined miles as possible to compete with 31 sister communities nationwide. La Siena residents could participate in up to four formal spin-like classes using pedal exercisers; they could also count their steps or miles on the treadmill.
It was just as great as Kerman hoped it would be.
"As soon as everything opened up and I got into this I thought, 'I really made the right decision,'" she said.
Deborah Wahl, the program — or as La Siena prefers, the Zest — director for the community, said it was nice to return to "that kind of lifestyle and routine."
Around 40 of La Siena's more than 150 residents participated, Wahl said.
David Zinder, 85, said he wasn't motivated by the prospect of winning but had a lot of fun. He participated in two of the spin-style classes.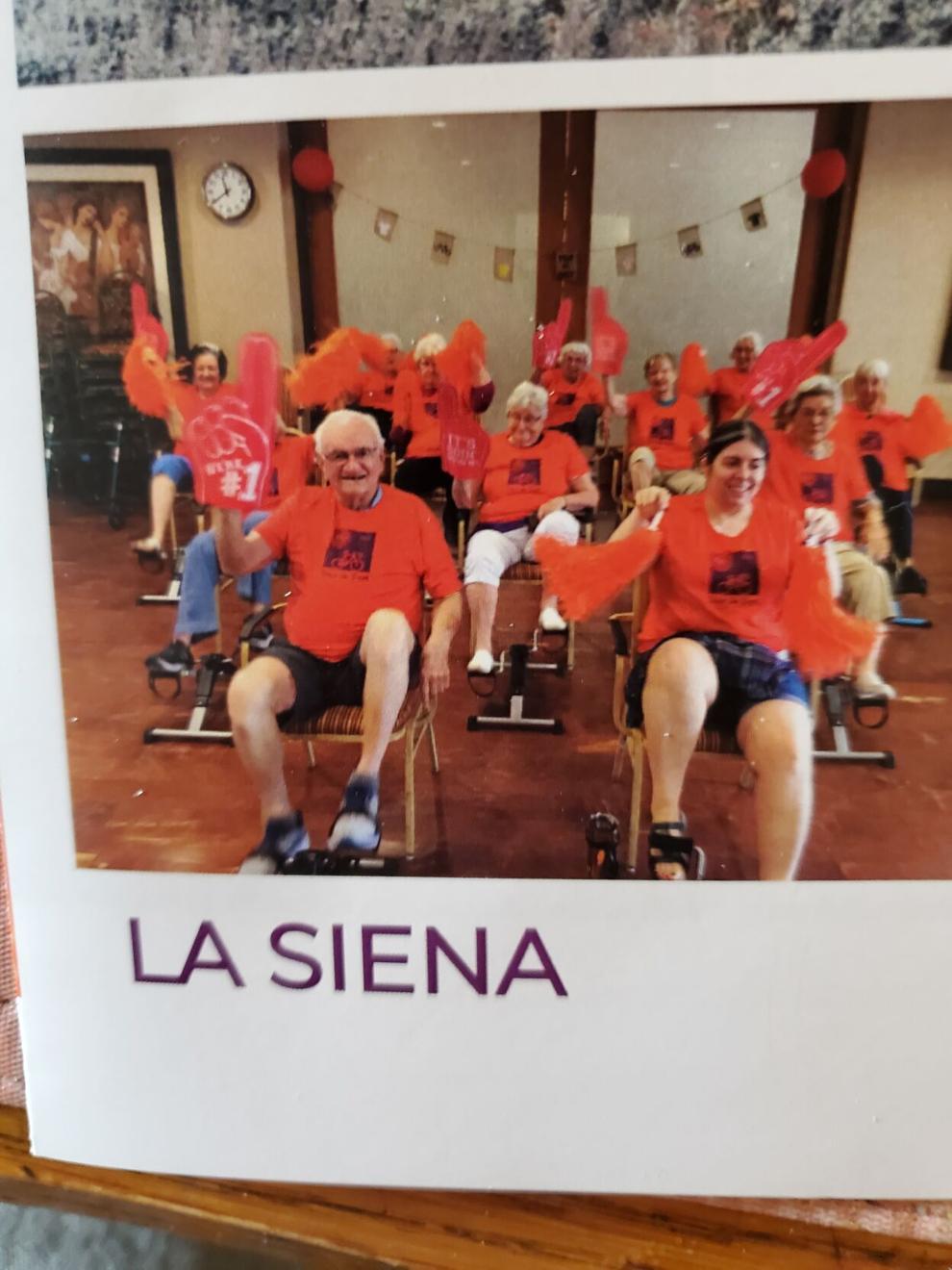 "I've always been a bicyclist," he said. He got his first bicycle when he was 10 years old in Tucson and he's been on and off them since.
"Staying active keeps me going," he said. He gets restless when he sits.
Fran Garner, 86, also wasn't motivated by the competitive aspect but enjoyed going to three of the classes and being social.
"There was a lot of camaraderie amongst the people who were doing it and we all just had a really good time with it," she said.
Pam Shedd, a former cross-country tour leader who has crisscrossed America on her bike over 15 times, led the classes.
"Pam just has so much energy and zest and just makes everything fun," Garner said.
Shedd brought her bike and pedaled with participants in her biking gear and got people excited about the actual Tour de France, in which Arizona native and professional cyclist Brandon McNulty competed for the first time.
"She could give a blow-by-blow every day. 'Oh, that's so-and-so and that's such and such and kept stats up on him, so it added another layer to this whole thing because she had all that knowledge," Wahl said.
Shedd also held a closing finish-line ceremony that included French champagne "because that's only fitting," Wahl said.
La Siena ended up coming in seventh in the competition, which Kerman felt "was pretty darn good."
The pandemic took a toll on the senior living community.
"Our job was really to keep their spirits up," Wahl said, noting visitors were not allowed on campus at one point. She said staffers did one-on-one visits and helped residents to learn how to use Zoom and email.
She and her team hustled to find things to "keep everybody happy," but they made it through.
Zinder felt La Siena handled the pandemic "very well" and felt safe. "We were pretty well locked in."
Residents could leave the campus but would have to be isolated for several days after, and in some cases, for a couple weeks, depending on where they were. Though Wahl said precautions looked different at different times as the pandemic progressed.
Now that the pandemic is in a stage that allows for in-person gatherings, Wahl said she has a full roster of activities planned.
"We don't just throw programs out there and say, 'Oh, well this might work.' We really, every month, try to find things that will engage them in either their minds, their bodies or through what we call a soul activity," she said. JN