Hanna Haimov will be making soup for the High Holidays — a lot of soup.
"Everything will be soft," she said. She is cooking for her 92-year-old neighbor who doesn't have teeth. "Meatball soup, mashed potato, rice soup, different kinds of soups."
Grocery shopping can get expensive, especially when cooking for others. Haimov plans to see what's available at Ezras Cholim of Phoenix. "They always give me what they have," she said.
Haimov is among hundreds of others who will visit the kosher food bank in the days before Rosh Hashanah, and the nonprofit is hoping for donations to help provide for families in need.
"Everyone wants a beautiful table set for Rosh Hashanah and we would love to provide for as many people as we can but we need money to purchase items," said Andrea Schneider, a volunteer.
Yecheskel Friedman, Ezras Cholim's program director, said the food bank never turns anybody away, noting, "Our motto is chesed, chesed, chesed, which translates to kindness, kindness, kindness."
"There's always an increase of families around holidays," said Julia Almoslino, the bank's volunteer food coordinator.
The kosher pantry has two volunteers and offers everything from meats to produce to snack food.
Haimov said Ezras Cholim has a "nice selection" of products.
Some 160 families rely on the food pantry for support every week.
Haimov, 56, has been making regular visits to the kosher food bank ever since her neighbor fell about two years ago. She and her grandson were about to get in the car when they saw the fall and took her to the hospital.
"She doesn't have anybody here," Haimov said, and has been making her food regularly since. When the pandemic happened she began buying her groceries, too.
"I don't want her to get sick and I don't want us to get sick," Haimov said.
Ezras Cholim began in 2015 to serve the needs of people facing illness in the Greater Phoenix Jewish community. Two years later, Friedman promised a dear friend that he would continue her dream of running a tomchei Shabbos, a food pantry for Shabbat. "Baila was on her deathbed, laboring with her breathing, and I told her, 'I'll continue what you started, to my last breath,' " Friedman said.
He launched the kosher food pantry in 2018 as part of a national food-pantry network called Feeding America. The 2,600-square-foot facility includes a kitchen, garage space and several refrigerators and freezers.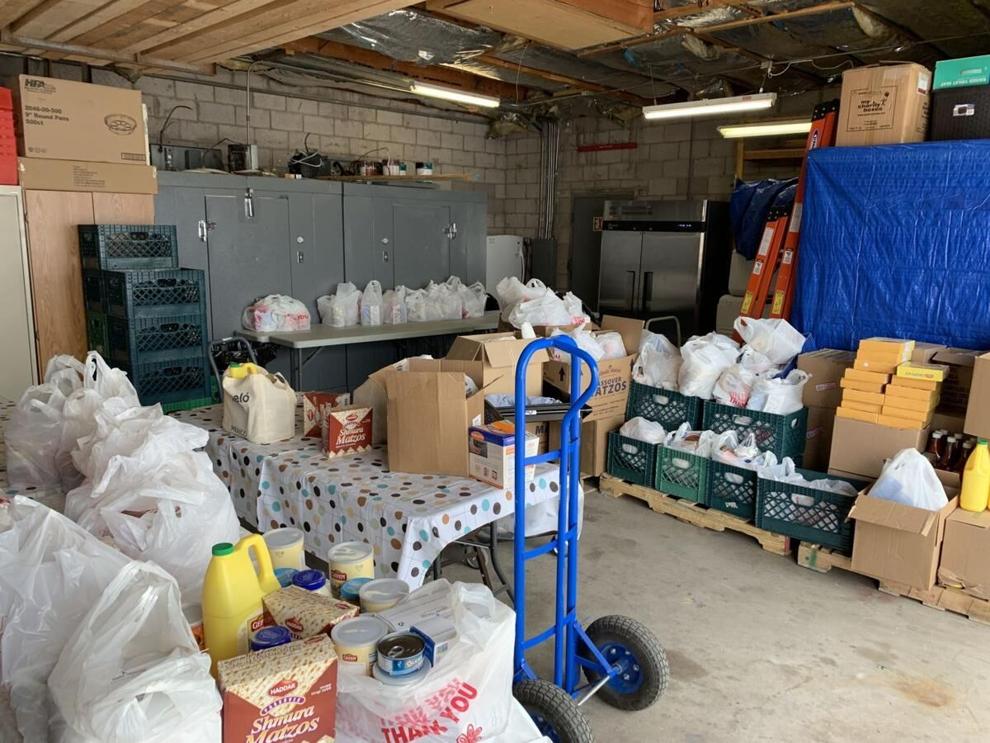 Friedman wants the pantry to serve everybody's needs. "The volunteers will deliver the food if they need to," Friedman said. "And if they don't have any ability to cook, we'll cook it here for them."
The nonprofit also offers hospital visits, advocacy for patients to provide medical support and rehab support. Friedman said that they've also provided food for migrant and visiting families.
Regardless of where anyone comes from, Friedman said they are welcome to use the food pantry.
"Some people in the area are very shy about asking for food here, but we will accommodate everyone who walks in," Friedman said. "It's very important to me that they keep their privacy and we'll always be there for them."
Friedman learned to help those in need as a child in New York City. He said that in his school there were many students from Europe whose families couldn't afford lunch.
"My mother would always ask my brother why I was always hungry after school," Friedman said. "And he told her that I would be giving my lunches to those who couldn't afford them."
Now, at Ezras Cholim, there are plenty of lunches available — and more.
"When people come in, they're here because they're in a part of their life where they need help," Almoslino said. "There are enough people who show their appreciation that are thankful and grateful, and we see how we're helping, and so that's a motivator to want to continue what you're doing." JN
For more information about Ezras Cholim of Phoenix, visit ezrascholim.com. To donate, visit https://gofund.me/526c6aea.