When news spread that antisemitic flyers, accusing Jews of controlling the world through banks, media, big business and pornography, had been posted around Arizona State University's Tempe campus on Nov. 1, the school's Jewish organizations, as well as its Jewish students, reacted quickly.
Rabbi Shmuel Teichtel, leader of Chabad of ASU, heard about the flyers found around campus, including at the Hassayampa Academic Village, a freshman residential area with a dining hall that includes a kosher bistro, when students reached out to inform him of what was going on.
"I was shocked, I was hurt, I was bothered and I was concerned," he said.
Teichtel said that his priority is the students and their feelings.
"Students are feeling unsafe and concerned. I've heard from many parents and alumni about it," he said.
Debbie Yunker Kail, executive director at Hillel at ASU, said that her organization heard about the posters when students reached out to her staff.
"As soon as I saw it, I was in touch with the police chief and the dean of students," she said.
Hillel's mission is to educate students about the Jewish culture and raise awareness of antisemitism, she said.
"Everything Hillel ASU does every day is to combat antisemitism," she said.
The Jewish Cultural Coalition (JCC) and the Council of Religious Advisors (CORA) also released public statements quickly to let students know they are taking the issue seriously.
The JCC's statement pointed to a recent Hillel International and Anti-Defamation League survey that found a third of Jewish college students report they have experienced antisemitism on campus.
"We are disappointed and horrified at the blatant displays of antisemitism on campus," their statement read.
CORA assured students it is "committed to promoting a culture that is not silent when we see any group of people being mistreated; we stand in solidarity with the Jewish community."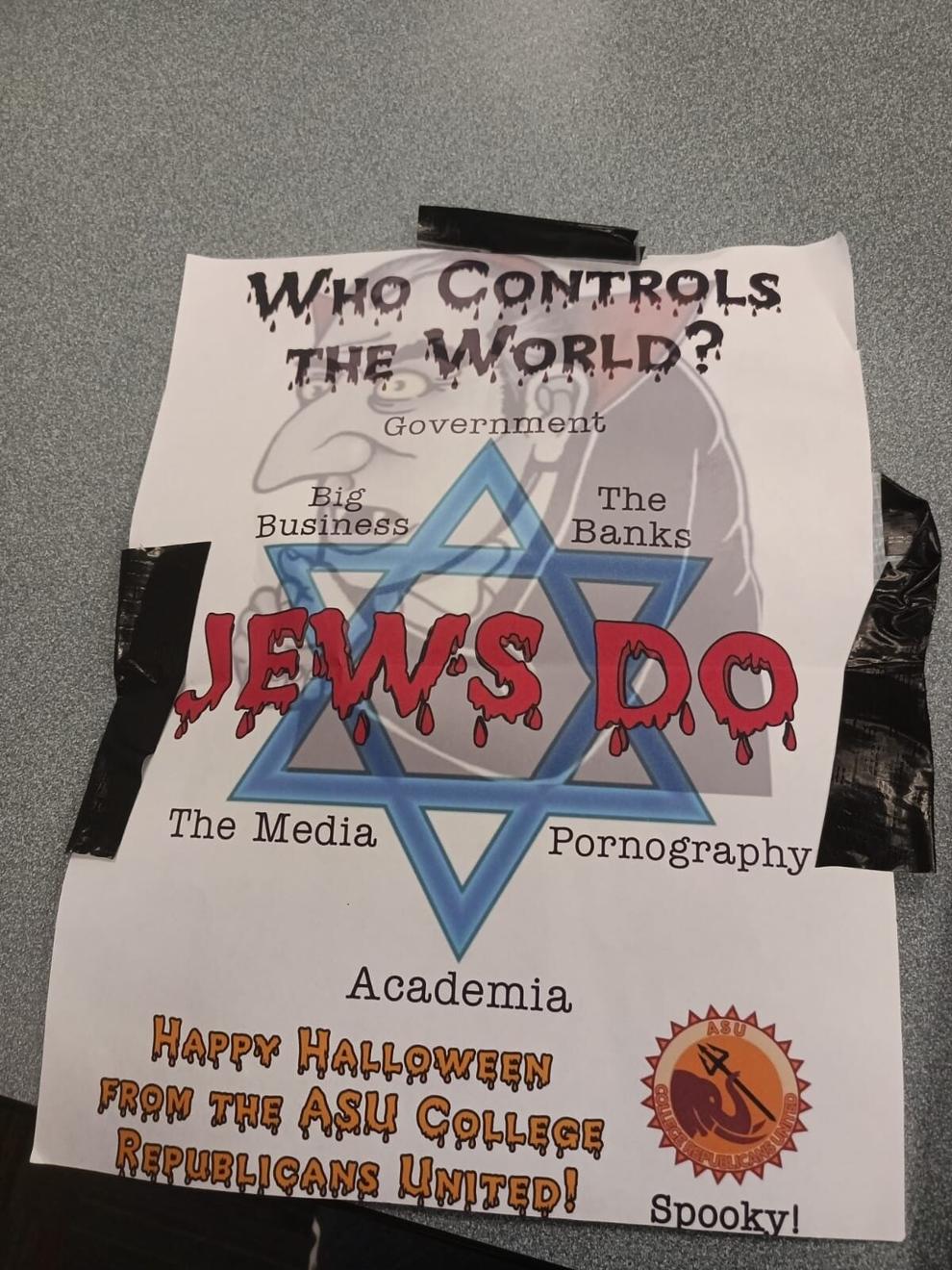 Students have also swung into action.
Emily Singer, a senior and president of Chabad at ASU, saw the flyers on Instagram and was shocked.
"I was livid," she said. "The more pictures I saw, the more detail it had."
She immediately jumped into action and reposted the picture on her Instagram story to spread the word about what was happening. Singer filed an incident report with ASU police and helped draft an email to be sent to the ASU administration.
The email template was shared with Jewish student leaders, who then shared it with the public. There have been over 450 clicks on the link to the email form, which demands that ASU President Michael Crow officially respond.
Singer wants to see the school administration address students' concerns and educate non-Jewish students on both antisemitism and Judaism.
"I think most antisemitism comes from ignorance," she said.
Singer, along with other students, decided to take action and planned a rally on Hayden lawn in Tempe for the afternoon of Nov. 4.
"I really hope that we get a lot of support from non-Jewish students, and I'd love to see more unity from the Jewish community as well," she said.
Teichtel reached out to the dean of students on the Tempe campus, Cassandra Aska, and met with both Aska and Joanne Vogel, vice president of student services, on Tuesday along with four Jewish students, including Singer. They discussed how events like these affect Jewish students and what can be done to prevent more antisemitism in the future.
The ASU administration "wanted to know what they could do," Teichtel said. "They really care."
He added that the best way to combat antisemitism is to bring more light into the world and be aware of what is going on.
"We're here for students," he said.
While Hillel at ASU has worked with students to ensure they are comfortable on campus, Yunker Kail said an address by the school administration would help ease the students' worries.
Many students were deeply upset, she said, and they "need to hear that people who facilitate the environment they live in see and hear their lived experience."
Avery Klatsky, a Jewish student at ASU, noticed one of the flyers on his way to class. The flyer was in the process of being taken down by a police officer.
"I'm glad that someone was able to take it down and remove it before a lot of people got their eyes on it," he said. A picture of the poster had already been sent in a group chat for Hassayampa residents and was posted on Instagram by multiple Jewish students.
Klatsky said that he has been exposed to this kind of antisemitism ever since he was young, but that it "is a shame that people think that way." He hopes more people take the time to educate themselves and change their mindset.
Klatsky hopes that the ASU administration addresses this incident clearly and makes sure students feel safe on campus.
"It would be nice to know that the ASU administration supports the Jewish community and is looking out for us," he said.
One flyer included a signature at the bottom that read, "Happy Halloween from the ASU College Republicans United!" with the group's logo, however, it has denied any involvement in spreading the posters and has tweeted that its members "categorically reject its contents."
The campus group was previously investigated by ASU for antisemitism and racist remarks in 2019.
Adam Wolfe, an ASU police officer, said that as soon as the police received an official report about the flyers, they took action.
"Somebody called in to let us know they were there, and we immediately sent an officer to go take them down," he said.
Wolfe also said that the police department is always in contact with the deans and the president of the university to make sure everyone has full understanding of the situation.
As for who posted the flyers and if they will be charged with a crime, "that's still under investigation," he said.
One year ago, the campus was covered in antisemitic flyers by a group claiming to be neo-Nazis. The year before that, the campus had experienced a similar round of antisemitic flyers.
Klatsky believes that the Jewish community will join together to overcome this moment.
"My ties to Judaism, my belief in Judaism and my love for Judaism goes far beyond any attack anyone could (commit)," Klatsky said. JN
Shira Tanzer is a sophomore at ASU majoring in journalism. Additional reporting by ASU student Madeleine Steppel.