As the number of asylum seekers at Arizona's southern border increases, so too does the number of buses dropping off migrants at International Rescue Committee community shelters in Phoenix.
Every day this year, between 75 and 150 asylum seekers have arrived in the Phoenix area, according to Stanford Prescott, community engagement coordinator for IRC in Arizona.
These arrivals have already gone through some initial processing with federal immigration officials and have been granted the opportunity to have their case heard before a judge. But they are on their own while they wait.
Often, they don't even know where they are when they get off the bus, Prescott said, and must find a way to travel to friends or family while they await a court hearing.
Inside community shelters, volunteers of the IRC and its partners offer warm meals, medical attention and assistance while asylum seekers await the next part of their journey.
There is no federal funding for their support, but there are a handful of Jewish organizations working to fill the gap for those in the state. Arizona Jews for Justice is one.
"I think the cool thing about Jews is that we're boldly there," said Eddie Chavez Calderon, campaign director at AJJ. "We're not afraid to be on the ground."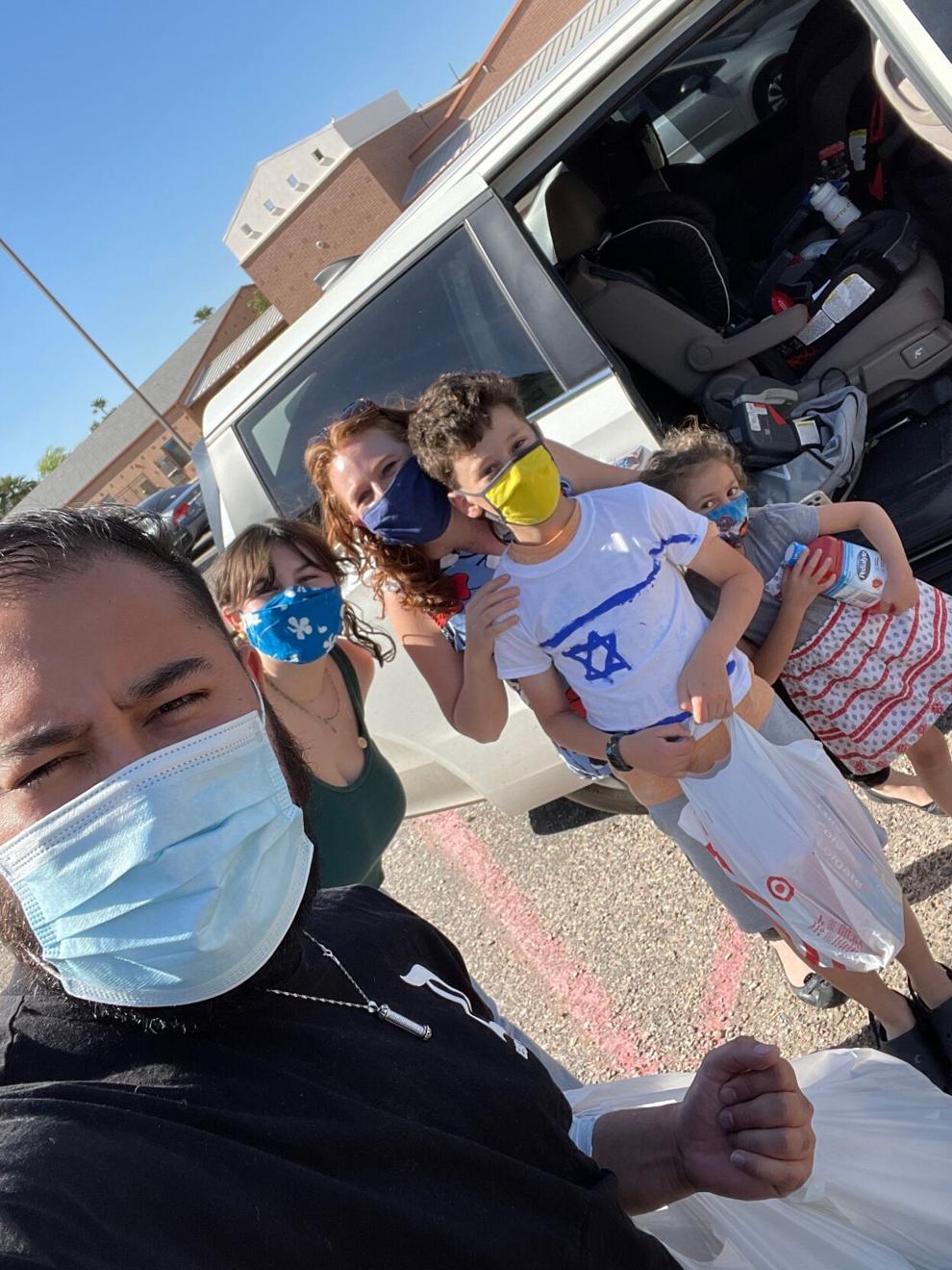 He stressed the importance of seeing it as "a humanitarian issue. We have to move and shift the dynamic away from thinking that this is a political issue," he said. When people turn into statistics and numbers they are dehumanized. "As Jews we should really know what it feels like, and know what it hurts like, to be dehumanized."
AJJ has focused on immigration efforts since its founding in 2013. Chavez Calderon was hired in 2018, just before a surge in asylum seekers brought renewed interest in the border. The group advocates for the humane treatment of migrants and has led protests outside of Immigration and Customs Enforcement's headquarters in Phoenix to demand humanitarian medical care.
They also collect and deliver donations and supplies for migrants and for this work they actively engage the broader Jewish community for assistance.
Congregation Beth Israel Associate Rabbi Sara Mason-Barkin, inspired by AJJ's work, broached the topic of immigration with CBI members during Passover.
"I have long wanted to bring the question and conversation around immigration to our congregation, because these are questions and conversations that I personally want to have," she said. "When Passover came around, it seemed like the right time because this is when — as a people, as a tradition — we talk about our own Exodus, our own immigration."
CBI hosted Chavez Calderon for a webinar on the topic March 31, during which he shared his personal story of coming to the U.S. from Mexico and answered questions.
"What came out of the discussion with him was that there is a real desire to do something," she said. "There are ways to help, there are concrete things to do. And there are people in our community who can help us do the helping."
Mason-Barkin began a collection drive of items for asylum seekers in February without much success, she said.
"But after hearing from Eddie, a number of people came in with monetary donations, so I was able to go to Target to pick up more of the essential items that were needed," she said. She dropped off the supplies to AJJ April 16, and she hopes to do more.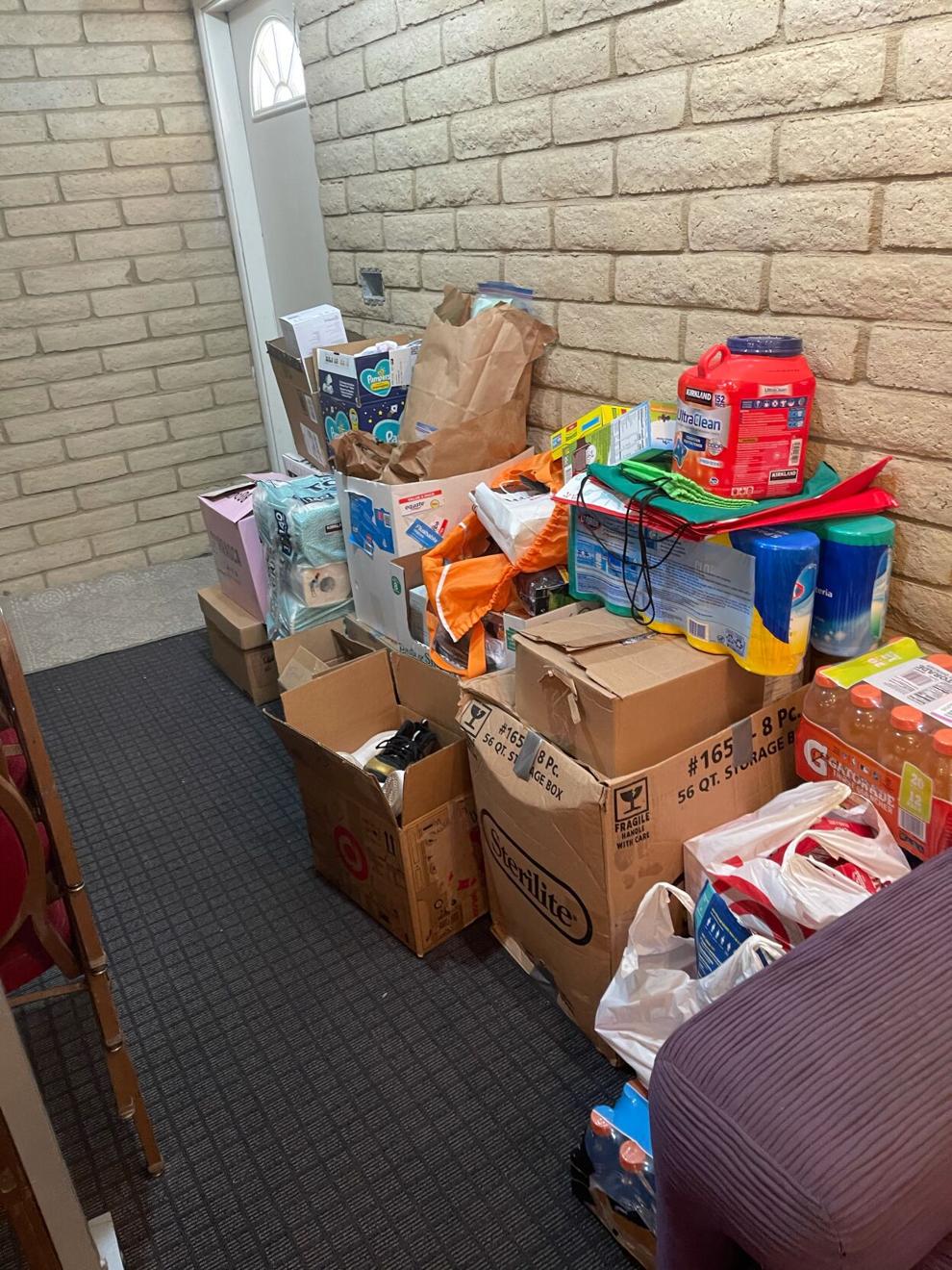 "Right now what we can do is trust the people who know what to do and support them," she said, adding that CBI is not taking a political position.
Temple Solel and Temple Chai also both highlight immigration as a focus for social action on their websites.
Jewish-affiliated organizations including the Sisterhood of Salaam Shalom and the Jewish Community Relations Council of Greater Phoenix, too, provide humanitarian assistance to asylum seekers.
SOSS's Tucson chapter may soon be able to participate in a national effort to provide 5,500 meals to asylum seekers. The national group secured a grant from Islamic Relief USA and Beth Turetsky, co-chair of the SOSS immigrant communities action group, said the national organization is partnering with Casa Alitas Welcome Center in Tucson to create "shelf-stable, nutritious and culturally appropriate meals." SOSS chapters around the country, including in Tucson, may have the opportunity to prepare the welcome meals and then mail them to the welcome center.
JCRC has been involved with providing humanitarian assistance to asylum seekers since 2019. The organization helped connect the Maricopa County Medical Society to a network of other groups providing support for asylum seekers, and helped the IRC's Phoenix Welcome Center strengthen its security.
JCRC also recently sponsored $250 worth of meals at the center to feed about 75 asylum seekers.
"For us, it was a wonderful lens to view the Passover Exodus story, and we were proud to be able to offer tangible support for asylum-seekers," said Paul Rockower, JCRC's executive director.
JCRC extended that invitation to area synagogues as well.
"On the ground stuff — donations, volunteering — is removed from the politics of it. It's just helping people, who have a legal status to be here, and who are in need," Rockower said. "The direct tikkun olam is something that's apolitical and a way of being engaged in an issue without having the politics be the focus."
Temple Kol Ami, Temple Emanuel, Temple Solel, The New Shul, Desert Foothills and Temple Chai all sponsored meals.
Kol Ami Rabbi Jeremy Schneider said he "jumped" at the opportunity.
"For me, immigration is a moral issue," he said, via email. "Since its founding, the United States has offered refuge and protection to the world's most vulnerable. Time and time again those refugees were Jews, and as a rabbi, I take seriously the biblical mandate to 'welcome the stranger.'"
He said the synagogue does not take political positions, but rather gives members opportunities to be informed and make their own choices.
Or Adam Congregation for Humanistic Judaism has been collecting donated items on behalf of AJJ.
"I used to collect so many items that I was going to Jews for Justice weekly," said Susan Schesnol, membership chair. But the pandemic has significantly slowed donation drives.
"I am hoping after the pandemic we can return to our generosity," she said, adding it is important to welcome the stranger.
Temple Beth Shalom of the West Valley identified immigration as the right fit for its social action committee. When its leadership became aware of young migrant children without basic clothing, they instituted a clothing and fundraising drive to be distributed at the border.
"We follow the commandment as recited in the Torah that we must take care of the widow and the orphan," said Marvin Berris, TBSWV's president.
Congregation Kehillah Rabbi Bonnie Sharfman said her synagogue makes donations of clothing, supplies and funds as requested by organizations working on the border, but did not indicate which ones.
Chavez Calderon said it's heartwarming that so many Jewish organizations and community members are moved to action. But, he said, there's more work to be done.
A community filled with professionals can offer resources that may sometimes be taken for granted, like pro bono medical help, translating and legal consultations.
Because of the COVID pandemic, "I think that a lot of folks think that it's unsafe to take action," Chavez Calderon said. But a lot of expertise can be offered remotely, and even if it's just making hygiene kits, AJJ will pick them up from doorsteps, he said. JN