Hundreds of asylum seekers arrive daily at the International Rescue Committee (IRC) Welcome Center in Phoenix wearing only hoodies and sweatshirts to stay warm.
They are on their way from Phoenix to colder climates to be resettled with family, friends and other sponsors while they await asylum hearings.
They need heavy coats and winter gear and that's where the Jewish communities of Sedona, Verde Valley and Flagstaff have stepped in.
Learning of the need, the Jewish Community Relations Council of Greater Phoenix turned to neighbors to the north for coats and other winter clothing available for donation.
"Thankfully, they took up the charge and were able to work together with their communities to be able to run with this and donate large capacities of winter coats for the asylum seekers," said Paul Rockower, executive director of JCRC, which has worked with the IRC Welcome Center before. "We don't have winter coats here, which is why we reached out to places where they get more wintry weather."
Gloria Brown, chair of the social action committee of the Jewish Community of Sedona and the Verde Valley (JCSVV), organized a winter coat collection along with the Sedona Community Food Bank and Old Town Mission in Cottonwood.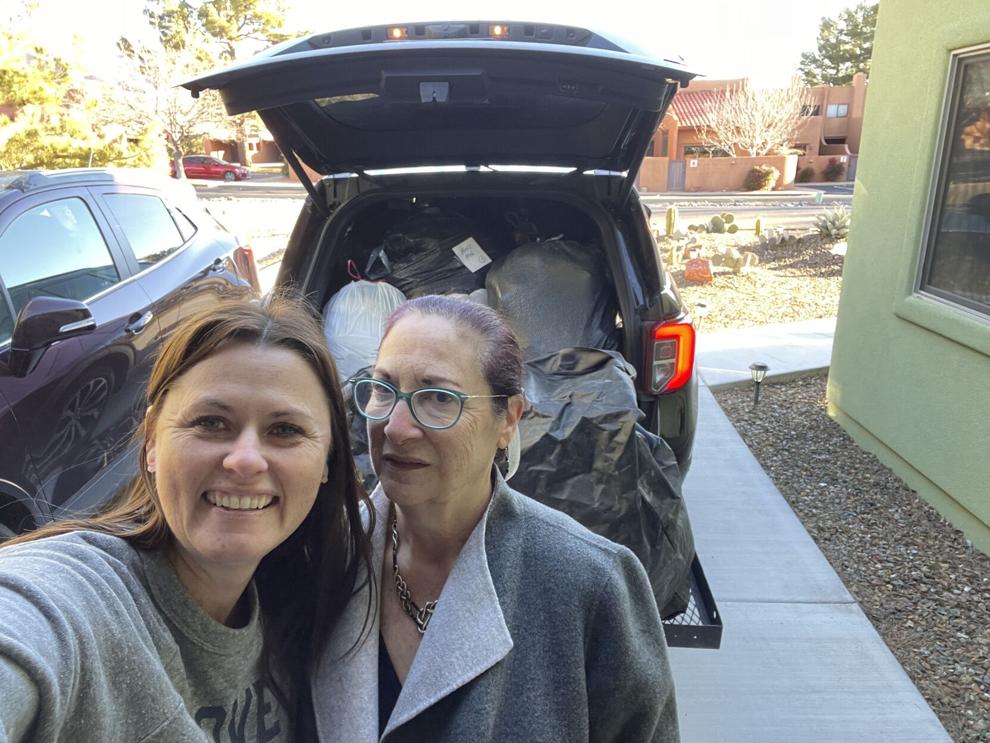 Brown said that about 140 winter coats and lighter weight jackets and an abundance of sweaters, scarves, socks, hats and gloves were collected by all the local organizations.
In Flagstaff, Congregation Lev Shalom hauled in over 100 coats, an impressive drive considering the synagogue has only 40 members. "We did a good job," said Thea Karlin, temple coordinator. "We had one member who held on to jackets that were her children's and their children have children who have jackets. They were beautiful, in wonderful condition."
In Sedona, huge bags of clothing piled up in Brown's garage before they were picked up and driven to Phoenix by Christy Bishop of Gathering Humanity.
"We want to express gratitude to all who donated items to us directly and to the coat drive of the Sedona Community Food Bank," said Brown, whose synagogue has over 200 members. Last year, more than 300 winter coats were collected by JCSVV for causes closer to home. Brown worried that the community would be tapped out this year, but there was still more to give, she said.
Ted Kohan, past chair of the JCSVV social action committee, helped Brown with the drive. "We have a good partnership with many of the organizations in the area. So, it's just another step in the right direction of helping people not only locally here in the Verde Valley but throughout Arizona and hopefully throughout the country."
Speaking on behalf of the Flagstaff Jewish community, Karlin said, "We were so thrilled to reach out to help other people have a warmer start. We love being there for people, no matter what their backgrounds are. We're staying warm in each other's hearts by working together."
The IRC Welcome Center serves up to 250 people a day, offering them showers and a change of clothing, meals, health care, legal aid and a place to sleep. It's a welcoming waystation for migrants from scores of countries seeking asylum after they have been released from the U.S. Border Patrol or U.S. Immigration and Customs Enforcement.
"They pretty much have the clothes on their backs," Brown said. "They came with whatever they wore. They don't leave these places with big luggage to carry."
Brown said the completion of the hastily arranged drive coincided in January with the Torah portion Mishpatim, for which she gave a drash (interpretation) over Zoom for her hometown synagogue in New Jersey. "It was completed in the week of Mishpatim where we honor and say we must take care of the strangers that we meet. It's all in there."
Anna Keating works with the Welcome Center as a representative of Interfaith Asylum Refugee Volunteers. The organization was started by Barbara Lewkowitz of Beth El Congregation in 2018. "This (Jewish community) drive was pretty impressive," Keating said, "how they got as many coats and outerwear as they did. These people are going to arrive to their destination and face many difficulties, but at least, through everyone's donation, being cold isn't going to be one of them."
"I'm very proud of our social action team, which answered the call for warm winter clothes," said Rabbi Alicia Magal of JCSVV. "I think we all have to look out for each other and we have to extend our compassion beyond our community borders, beyond our intimate relationships because it's easy to help a neighbor and it's easy to help someone that you know personally. But when you go beyond that and you help people you don't even know; I think that that is an added layer of human compassion." JN
Ellen Braunstein is a freelance writer based in Chicago.