Jewish students at Arizona State University held a "Jewish and Proud" rally on the Tempe campus last Thursday, Nov. 4, in response to several antisemitic flyers found around the school a few days earlier on Nov. 1.
"I'm so inspired by and grateful for the turnout at Thursday's rally," said Madeline Salvatierra, a Jewish senior who helped organize the event. "I am especially grateful for all of the non-Jewish students and community members who came to show support for the Jewish community, including the Latter Day Saints Student Association and religious leaders from ASU's Council of Religious Advisors.
"Having strong support from non-Jewish groups," she said, is an important step in combating antisemitism.
Salvatierra organized the rally with her friend, Emily Singer, also a senior and president of Chabad at ASU.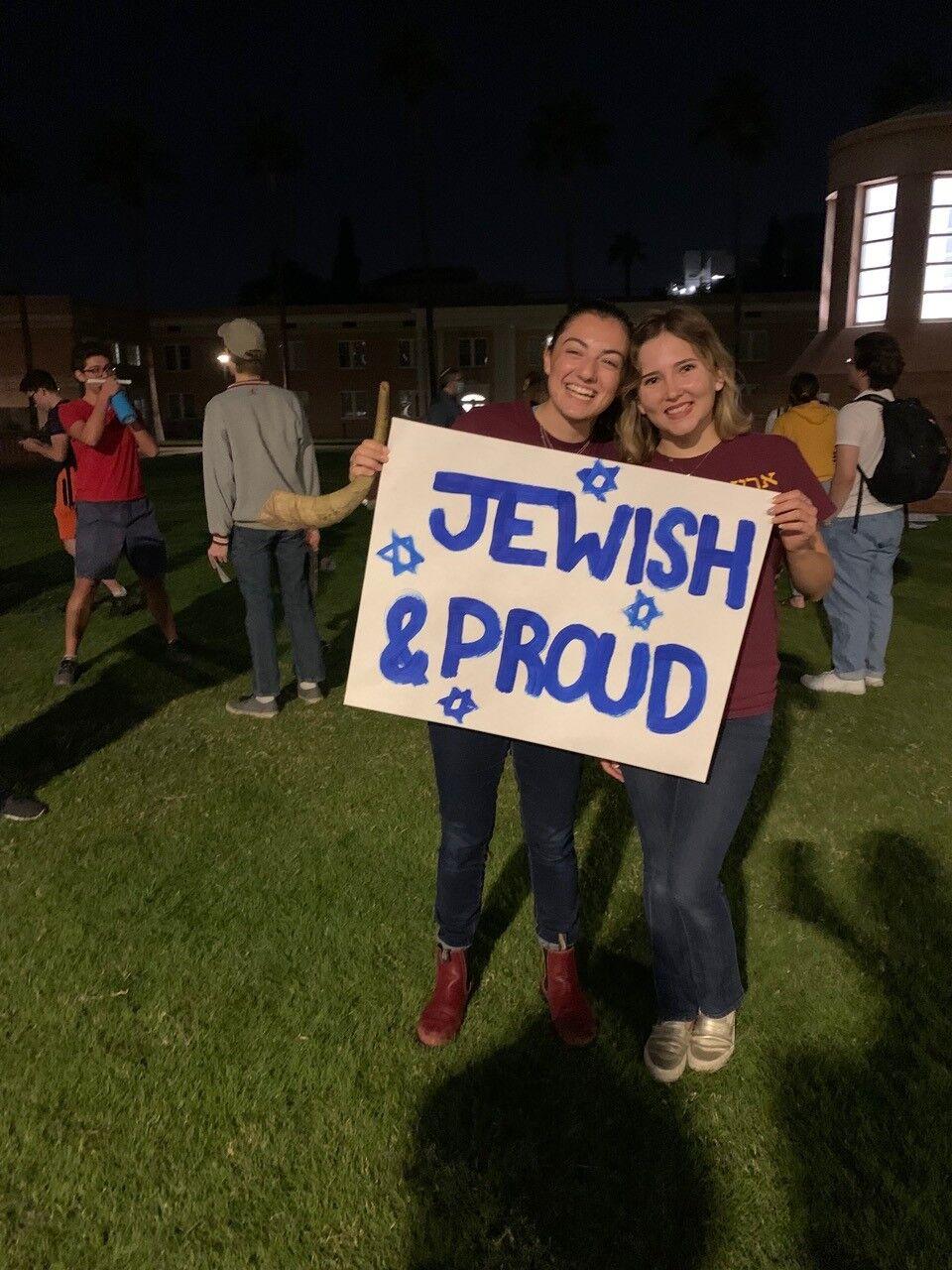 Rabbi Shmuel Tiechtel, director of Chabad at ASU, was impressed with the students' initiative.
"It was inspiring to see our two students, in less than 48 hours, put together an event which showed the unity of the Jewish community and its allies on campus," adding that the presence of non-Jewish groups was an "honor" that "reminded the students they are not alone. [Chabad] is always here for them 24/7, whatever they need."
Risa Brumer, director of Olami Arizona, agreed.
"It was such a special evening," she said. Brumer's organization works to provide community and learning opportunities for Jewish students at ASU and the University of Arizona.
"[Salvatierra and Singer] worked hard to include everyone by having speakers from different organizations," Brumer said. The students' decision to have different people read out "meaningful quotes," she added, "kept everyone inspired and engaged."
Organizers estimate that somewhere between 100 and 125 people attended the rally.
Several people spoke at the event, including Aaron Lieberman, a Democratic candidate to be Arizona's first Jewish governor.
"When Rabbi (Tiechtel) told me what was happening, I just could not believe what I was hearing," Lieberman said. "It is hateful and wrong whenever any one group attacks another group, and for any Jewish person who has experienced antisemitism, it hits our hearts heavy. It is so sad and so disappointing, and [hate] has no place on this campus, any other campus or any place in the world."
Additionally, Brandon Gross, the director of student connection and community at the ASU Dean of Students' Office, reminded students that they should reach out to the Dean's office if they have been impacted by the flyers.
"Hate has no place on the ASU campus," Gross said. "We are here to listen, we are here to support, we are here to provide resources. Please utilize the resources that are available for all of our students. We stand with you. We are allies, and we understand the impact."
ASU Chief of Police Michael Thompson spoke as well.
"I am here for you, as well as every ASU police officer," he said. "We condemn any behavior that we've seen that you are concerned about."
The investigation into who made the flyers is ongoing.
Two of the flyers found on Nov. 1 by Jewish students included language centered on the antisemitic trope that Jews control the world. They were signed "Happy Halloween from College Republicans United."
The group has since denied any involvement with the incident, as well as "categorically reject[ing] its contents" in multiple Tweets. CRU also tweeted it is "offering a $1,000 bounty for anyone who can prove who created and distributed the antisemitic flyers."
According to the State Press, this event marks the third time in three years that there has been an antisemitic incident on campus. Posters with swastikas were found in 2019, and flyers signed by a neo-Nazi group glorifying Hitler were found in 2020.
Despite this history, Jewish leaders on campus want to make sure that Jewish students — and their allies — know that they have support.
"We have a wonderful, united Jewish community," Tiechtel said. "Hashem is always protecting us. And we [campus leaders] are always, always here for you." JN
Madeleine Steppel is a sophomore studying journalism and religious studies at Arizona State University.