Hundreds of Jews across Greater Phoenix celebrated Chanukah this year by attending a public menorah lighting and/or celebration.
Ora Kurland, who has organized a Chanukah celebration with Karen Acker in Carefree for the past five years, said the celebration is a chance for local Jews to come together and realize they are part of something bigger.
"The motto of the Jewish social group is, 'I thought I was the only Jewish person in Cave Creek,'" Kurland joked.
The group offered programming for each night of Chanukah at the Sanderson Lincoln Pavilion in Carefree, which included guest speakers, music, food and raffles. A few hundred people, from young professionals to seniors, enjoyed the celebrations.
Chanukah ran from Nov. 28 to Dec.5, and public celebrations across the state went off without a hitch. Event organizers were pleased with both the turnout of the Jewish community and the support from non-Jews.
Chabad of Arizona Rabbi Dov Levertov organized the Chanukah on the Lawn event at the Biltmore Fashion Park in Phoenix, among other celebrations. The celebrations included food, entertainment, speakers, and activities for children.
"Chanukah is the only Jewish holiday that we take to the streets," he said. "It's really the message of bringing light into the world and how one small drop of light can illuminate a much greater area full of darkness."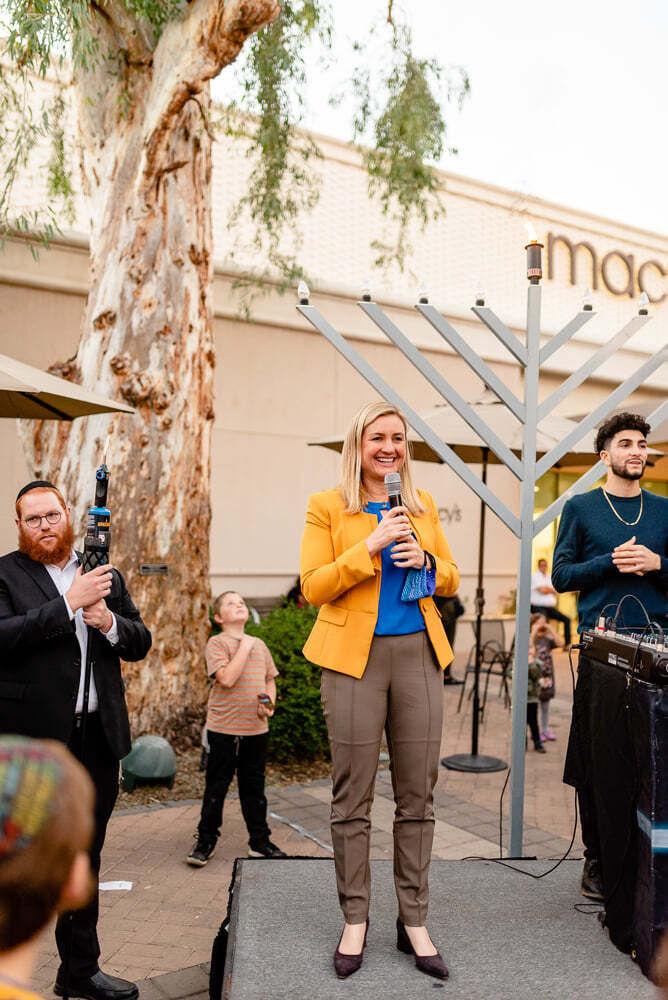 The first night drew more than 500 people to Phoenix, and throughout Greater Phoenix, more than 2,000 people attended a Chabad menorah lighting Nov. 28.
Chabad of the East Valley Rabbi Mendy Deitsch hosted several menorah lighting events, including a "Huge Chanukah extravaganza" at the Pollack Chabad Center in Chandler. He said more than 400 people came.
Chabad Jewish Center of Gilbert Rabbi Shimi Ash hosted lightings at SanTan Village in Gilbert, in Queen Creek and in San Tan Valley.
"Jews are very happy to engage with their Judaism in a public way," he said.
Around 300 people came to the SanTan Village event, he said. Menorah lightings publicize the miracles of Chanukah and draw the biggest crowds of the year.
Chabad Lubavitch of Fountain Hills Rabbi Mendy Lipskier hosted the11th annual public menorah lighting and Chanukah celebration on Nov. 28, which also featured live music and food.
"People relate differently to any given Jewish holiday or practice, but one Jewish holiday that virtually every Jew relates to and has a warm feeling for is the holiday of Chanukah," he said. "We try to make the menorah and holiday celebration as accessible as possible."
About 200 people came, which is "a slight uptick" over previous years. He's not sure whether that's because of a growing Jewish community, or pent-up desire to be part of community celebrations due to the pandemic.
Celebrating Chanukah publicly is not only important for the miraculous nature of the holiday, but also to instill pride, especially for young Jews, and to remind the Jewish people they are tasked with "being a light unto the nations," he said.
"Lighting the menorah in public and celebrating in public is an amazing opportunity that we shouldn't squander," he said.
The holiday came after months of news reports of rising antisemitism and surveys showing an increasing number of Jews feel threatened enough to hide their identity.
The FBI recorded the largest number of hate crimes last year since 2008, and the Jewish community was once again a top target of religiously motivated crimes.
Of the 1,174 religiously motivated hate crimes reported nationally to the FBI in 2020, anti-Jewish hate crimes accounted for 57%. The majority of incidents targeted individuals directly, 53% involved vandalism or property destruction, 33% involved intimidation and 10% entailed either simple or aggravated assault.
The FBI recorded 19 anti-Jewish hate crimes in Arizona.
A recent survey by the Pew Research Center found more than 9 in 10 Jews say there is at least "some" antisemitism in the United States, including 45% who say there is "a lot." Slightly more than half of Jews surveyed (53%) nationally say that they feel less safe today than they did five years ago as a Jewish person in the U.S.
Kurland and Acker said there has never been any antisemtic incident during the public Chanukah events they've organized, but they hire security just in case.
This year's annual celebrations marked the eighth year for Levertov, 24th for Deitsch, 11th for Lipskier and 10th in Gilbert for Ash. They also hire security just in case, though noted none have ever had any antisemitic indident occur.
"We've only seen support," Ash said. "There's also non-Jews who come to these because they're open for the public and people tell me all the time, 'We're here to support,'" he said. He, along with other event organizers, work with and invite town leaders and "they're all very encouraging, and very much supportive of us having these events and working with us."
Deitsh said it's important to focus on the pride "every Jew has in celebrating their religion in an open, free, amazing country."
He noted the support he felt from the state level, with traffic signs on the first night of Chanukah reading: "Slow down or you'll spin like a dreidel."
"It is especially warm and uplifting that despite what others claim is happening around the world, we are seeing positive messages and local Jewish pride being openly displayed," Deitch said.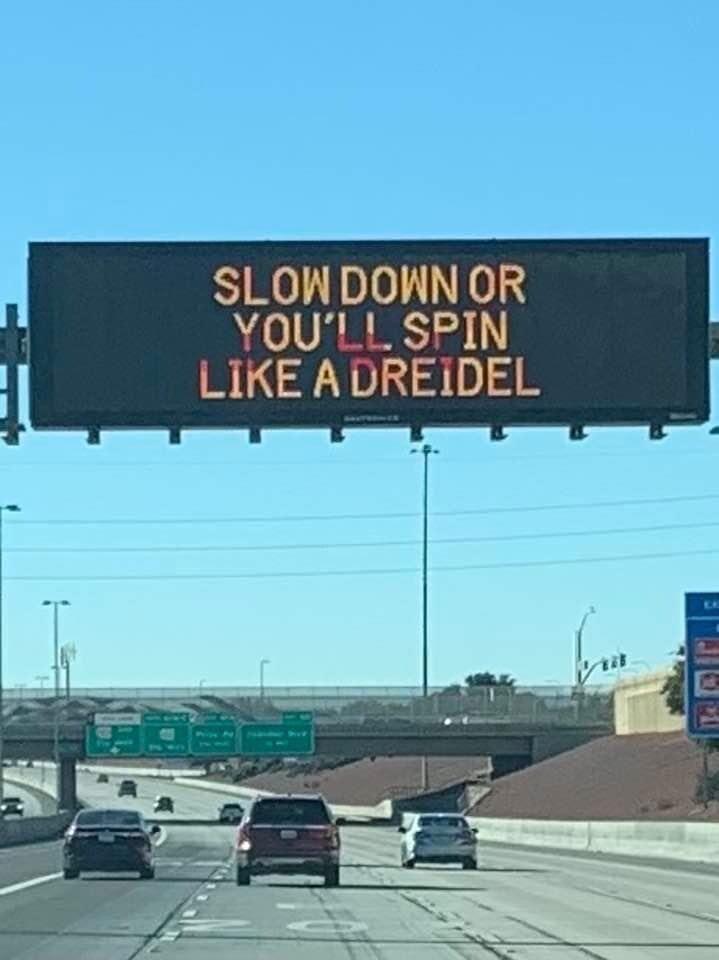 Doug Parcey, a spokesman for the Arizona Department of Transportation, said this is at least the second year that the agency has featured a Chanukah-related traffic safety message.
"We strive to create unconventional traffic safety messages that resonate and kickstart conversations about safe driving, both in-person and on social media, and result in drivers making better decisions behind the wheel," Parcey said.
Lipskier said he is grateful to live in an inclusive town.
"We really needed this at this time. The Jewish community was so excited to be able to come out and celebrate together. It truly brought much needed light and hope into our hearts," he said. JN