Often synonymous with Jewish life on campus, Hillel has been a gathering point for Jewish students across hundreds of campuses in the United States for decades. The past year tested the organization like never before, as it confronted challenges posed by the COVID-19 pandemic along with a rise in anti-Semitism.
CEO of Hillel International, Adam Lehman said the pandemic has forced Hillel to rethink its programming and the services it offers both to adapt to the new reality of remote learning and to provide for the well-being, both physically and mentally, of the young adults it serves.
"We have really used the challenges of the pandemic, which were many, to reinvent our work and to rethink what it means to be there for students," Lehman said.
Hillels in Arizona have worked to meet the challenges of the past year.
Debbie Yunker Kail, executive director of Hillel at Arizona State University, said the organization had to pivot its mission during the pandemic to focus on social services.
"We still tried to have the underlying Jewish education," she said, but the primary focus has been ensuring students' basic needs are met with a support system that she dubbed "a community of care."
"All of a sudden, students were just at home and isolated for an indefinite amount of time," she said. "Making sure students knew we were here for them, just like blanket support, was the most important priority. From that we would identify what other needs they had, like Jewish needs, community connection needs or food."
Last Passover, some students wanted kosher Passover food but didn't know how to get it. Yunker Kail and her team connected students with resources and navigated logistics to make deliveries.
Michelle Blumenberg, executive director of the University of Arizona Hillel Foundation, said the pandemic didn't change the organization's mission, but did make it harder to execute. Meeting new students, for example, has been a challenge. There's no casual bumping into students, or catching a bystander's attention while holding a public event. Virtual introductions require extra effort for students because it's all written communication.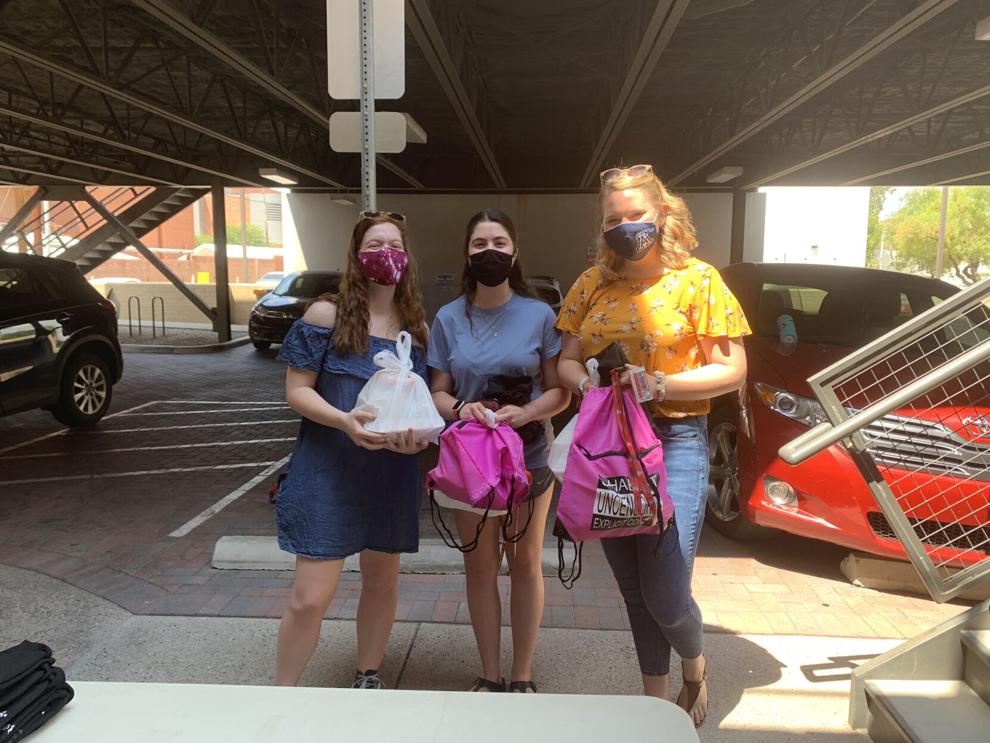 "If you send a text, or you send an email, or you send a Facebook message, or you send a smoke signal, they have to respond," she said, while spontaneous in-person encounters are just easier.
Northern Arizona University's Hillel also faced challenges. The group held interactive Zoom meetings every other week last fall, and this spring the NAU group is taking a "quiet approach," said Laura Taylor, adviser for the group. "We are hopeful that we can ramp things up again — and gather in person — during the coming academic year."
Hillel at ASU's in-person Shabbat dinners, seders, holiday meals and events abruptly ended.
"The realization of what COVID was came about during ASU's spring break last year. A lot of students left for spring break and just never came back, or came back just to get their stuff," Yunker Kail said. "At first I put the building on lockdown. No one was allowed in at all, except for me."
Yunker Kail and Blumenberg said the transition to remote operations was immediate, and Yunker Kail noted Hillel International provided a lot of support to local directors.
"They very quickly had a whole arm for helping navigate the PPP and support around managing this," she said, referring to the federal Paycheck Protection Program, which offered forgivable loans to businesses and nonprofits.
Both Hillels put together an option for students to pick up prepared meals in place of group dinners, but the hiatus of in-person gatherings contributed to an enormous amount of isolation for students.
A lot of students feel lonely, isolated, confused, frustrated and a sense of loss, said Yunker Kail. "Most of these students didn't sign up to be online students. They wanted an in-person college experience."
ASU Hillel student president Gabby Glubochansky applied for her position a week before the world turned upside down. "The biggest change is that we've become a lot more intentional in our work," she said. "We had to find an alternative way to build a community in a virtual setting."
In her view, students have generally been grateful for the support and the community interactions Hillel has been able to provide, especially those who moved back home with their parents and don't have many outlets to socialize.
Yunker Kail has continued providing social interactions and community gatherings online and checking in with students regularly. Blumenberg also said she is doing her best to provide community and one-on-one interactions for students, as well as checking in. Students reach out to her and her team as well.
But the pandemic's transformation of campus life hasn't been the only challenge. Several universities saw an uptick in faculty and students engaging in anti-Zionist behavior and activity and outright anti-Semitic impulses over the past year.
"It really is sad and unfortunate that anti-Semitism has actually increased during this period, rather than decreased, but that is the reality we're facing," said Lehman.
Yunker Kail said there has been a "dramatic rise" in anti-Semitism on ASU's campus. Last August, posters featuring "Hitler was right," "unity of our blood" and other anti-Semitic comments were found on ASU's campus for the second time in less than a year.
Glubochansky also noted there was a Zoom bombing, where people joined a Zoom event for Jewish students and used it to deride Jews and make anti-Semitic slurs.
Hillel International measured 178 anti-Semitic incidents on the North American campuses it serves — an all-time high — even though some campuses were closed due to the pandemic.
"The administration is in the best position to rein in rogue faculty members who sometimes have taken completely inappropriate positions outside the bounds of their roles when it comes to delegitimizing and demonizing Israel," he said.
Blumenberg has been working with the Arizona Center for Judaic studies and the associate vice provost of diversity and inclusion to add training on recognizing and confronting anti-Semitism for faculty, staff and students, and Hillel at ASU hosted an event focused on anti-Semitism on campus last month.
With vaccinations increasing and COVID-19 cases continuing their nationwide decline, many see the end of the pandemic in sight and hope for a return to normal campus life next fall.
Yet in a year with challenges ranging from concerns over physical and mental health to upticks in anti-Semitism, Hillel's leadership said that while they expect things eventually to return to normal, there have been a number of lessons they believe they will carry forward post-pandemic.
Lehman said that in the past, many times Hillel would only see students a handful of times each semester, but now it's seeing students return for online programming dozens of times.
"When the pandemic first hit, we engaged more students than Hillel had ever before — more than 140,000 students globally and more than 50,000 students in really deep and immersive ways," he said.
"Hillel is often the primary organization available for them on campus, and because of that, we're working hard to come up with programs and opportunities that are meaningful for them."
One of the biggest takeaways from the pandemic will be the continued focus on smaller group programming and mental-health outlets for students.
"A continued growth in interest in cohort programs shows that community is critical to their own health, well-being and happiness," he said. "We will be offering that more and more — opportunities for students to engage in smaller groups, whatever their interests are, and from a place of Jewish community and Jewish wisdom." JN