Shira Shecter knew she would only go to a college with a Hillel on campus. It was her biggest dealbreaker. She regularly attends her synagogue outside of Seattle and wouldn't risk losing her connection to Jewish community — no matter where she ended up.
"I didn't want to lose that bit of myself because I really enjoy being Jewish," she said. "I didn't want to go to college where I couldn't do Jewish things."
Shecter is a freshman this fall at Arizona State University, where she joined Hillel because it gave her "an immediate connection and a community to fall back on — just in case," she said.
Starting college is already a challenge for many students, especially those moving hundreds of miles from home. Add to that the lingering COVID-19 pandemic and increased antisemitism and it's easy to understand why a young Jew could feel the need for something familiar.
Rabbi Suzy Stone, Hillel at ASU's senior Jewish educator and campus rabbi, has noted an uptick in students reporting a sense of isolation and loneliness since COVID. She said students are having more difficulty breaking out of their bubbles and making friends, which can lead to depression.
"At Hillel, we help build community first and we try to receive students authentically, as their whole person," she said.
Even before the pandemic, as many as 20% of American children between the ages of 3 and 17 were experiencing mental, emotional, developmental and behavioral disorders, and some 17% of high schoolers reported seriously considering suicide, according to the U.S. Department of Health and Human Services.
Then COVID-19 arrived, exacerbating the problem with lockdowns, school shutdowns, peer isolation and, for some, the loss of a loved one, precipitating what U.S. Surgeon General Vivek Murthy described as a "youth mental health crisis."
Stone is familiar with the research.
"I am concerned about the general state of mental health of Gen Z," she told Jewish News. This generation lived through 2008's Great Recession and "have lived with a lot of stress at home around economic issues," she said.
They also grew up in a different culture, one of mass shootings and pervasive social media with all its attendant negative effects.
"Now they've also lived through a global pandemic," she said. "They're in a unique situation, coming of age at a time of so much uncertainty."
Debbie Yunker Kail, Hillel at ASU's executive director, noted that ASU's students line up well with the national data showing an increase in mental health challenges among college students.
"Hillel is ensuring all our interactions with students are intended to show that we care about the whole person," she said.
Yunker Kail said that while nothing is definite, she's looking to partner with other like-minded groups to improve the situation for students, and Hillel is not alone among Jewish organizations addressing the issue.
The Jewish Federations of North America, the umbrella organization for 146 independent Jewish federations, has spearheaded a wellness initiative called BeWell to equip people with tools, resources and training to support the mental health and overall well being of teens and young adults.
While there are ample national statistics on teen mental health, little is known about how the mental health of Jewish teens compares to the U.S. average. BeWell is planning a research project later this year to see how teen mental health issues manifest themselves in the Jewish community.
When that data is available, it might help Hillel and others in the work they're already doing.
Currently, Hillel has a variety of ways to support students. One of the most popular is offering free food and meals.
Shecter appreciates that bit of comfort. Mondays mean the Shmear Society, where she grabs a couple of bagels, one she eats immediately and one she saves for later — and sometimes one for breakfast the next morning.
"If I can, I take extra because I'm on a meal plan but it's not unlimited," she said.
About half of her friends on campus are Hillel members. Still, as much as she enjoys her time at Hillel, she regrets not being able to attend many of the Monday, Wednesday and Friday late afternoon events because they conflict with her color guard practice.
Whenever a Hillel pop-up event happens that doesn't conflict with her busy schedule, she tries to be there.
"Just being able to talk to people and de-stress is really helpful for me," she said. "I can do the homework on my own. I just need time to not have to sit in my room staring at all of my assignments."
Her parents, Kindra and Marc Shecter, appreciate Hillel's effort.
"Hillel was definitely one of the top factors for me because I was worried about her mental health," Kindra said, adding that she looked to Hillel to provide a safe place in a university big enough to be overwhelming. "I was worried about her getting homesick or feeling anxious or depressed."
Yunker Kail said another of Hillel's goals is to make it as easy as possible to connect students to their own Jewish tradition, something the Shecters appreciate.
"Shira being able to do some of the same traditions that she had done her whole life and talking to people who also light candles on Friday night would make her feel less homesick. It would just feel like a little part of home," Kindra said.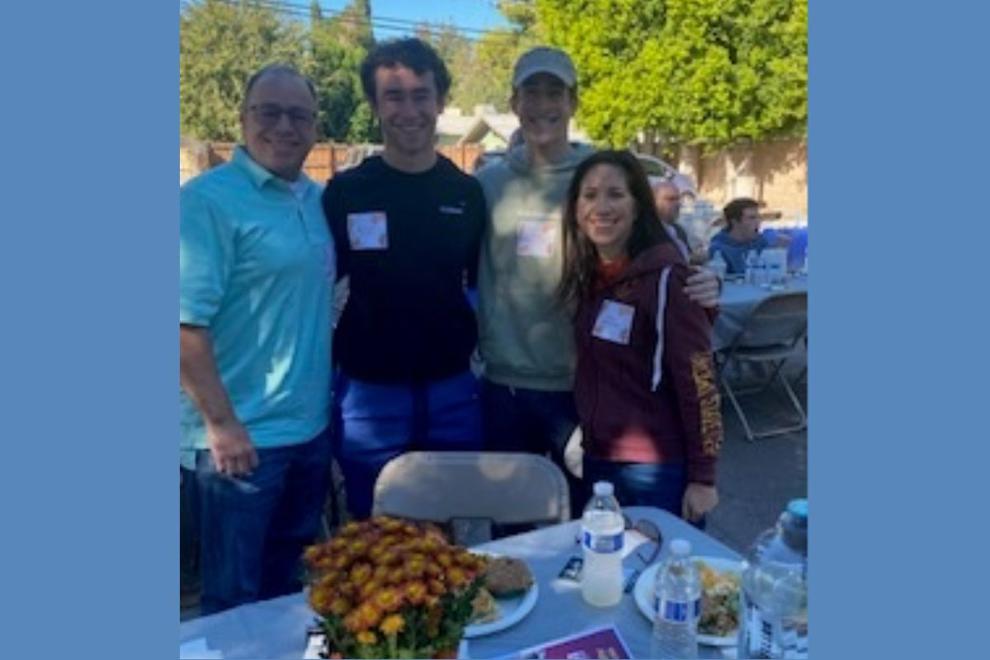 Max and Sam Bregman from Chandler are closer to home than Shira but they, too, find comfort at Hillel.
Max, a junior, was still in high school when COVID hit and he spent his first year at ASU at home, taking classes remotely.
He is an extrovert, however, so it wasn't long before he struck on a bit of a workaround. He called his friends at University of Arizona and asked to talk to their roommates so he could talk to new people.
Hillel helped too. He participated in Zoom calls and joined Hillel's student board.
"Hillel is good at including people. I've even had non-Jewish friends come and feel welcomed," he said.
Now, with no restrictions, events are more crowded and better in his view. On Zoom, only around 30 people or so would show up but 100 come in person.
"Online, you can talk to people but now, in the same room, everyone is throwing ideas around," he said.
His brother Sam, a freshman, wasn't that interested in being part of the Jewish community on campus. He had a bar mitzvah and went to Sunday school at Temple Emanuel of Tempe but he expected other things to take up his time once he got to college.
Seeing his brother DJ for Hillel events last year, however, changed his mind. He's also watched some of his friends struggle to find a friend group and adjust to a post-COVID life.
Hillel has a "family feeling. You don't experience that in other places on campus," he said.
Their mom, Elisha Bregman, is very glad both of her sons are involved in Hillel. "They've found their niche," she said.
Steve Bregman, their father, is aware of the research on mental health and young people.
"It's a stressful time for young adults going to college and learning to be independent and ASU and Hillel have been wonderful in helping with stress management. If the students are willing to take advantage of what they offer, that's great."
Since joining Hillel, Sam's interest in Judaism was reignited, too.
"Now, I'm excited to learn more about my faith and my ancestors and it's really cool that Hillel gives us the opportunity to immerse ourselves in that space," he said.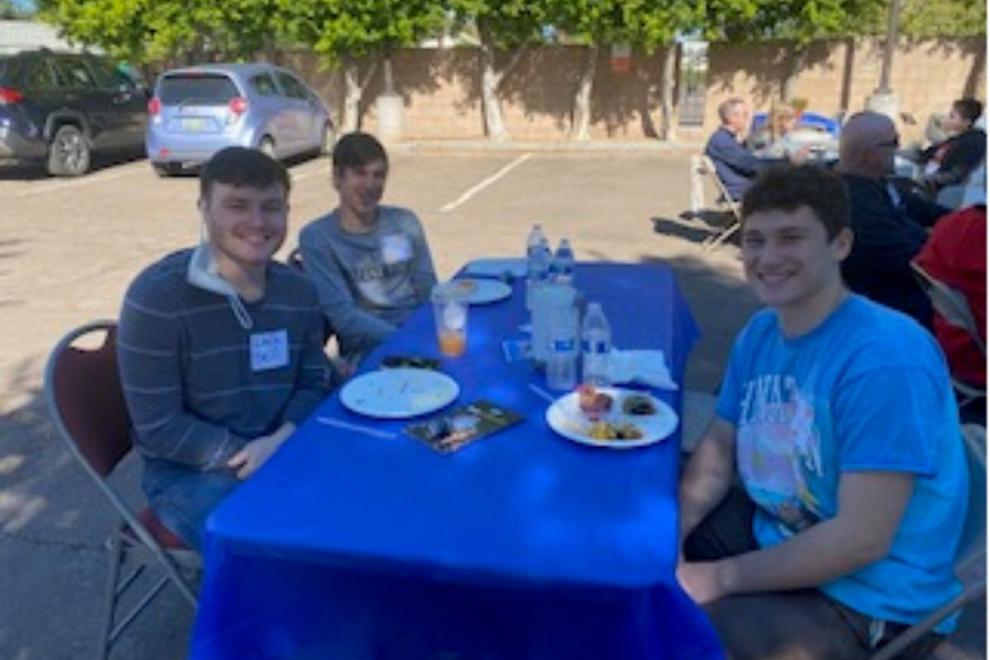 Abe Mogelson, a freshman, is from Minnesota thus; "ASU is foreign territory, but it's an adventure," he said.
"Hillel gives me something to look forward to, and it's a close-knit community with people I can relate to," he said. In high school, he was more interested in sports but said he's "getting back to my religious roots" since joining Hillel.
He agreed that Hillel's staff is supportive.
"Rabbi Stone does a good job letting us know she's here to help and she's a good mentor. I have had friends who have turned to her. If I had a friend who needed help, I'd call her," he said.
Zachary Bell, a senior and Hillel's student president, said Stone makes a point of talking one-on-one with students to understand what they're dealing with and is a great resource for students.
He joined Hillel when COVID hit. He picked up the care packages Hillel delivered to students on campus and did the Zoom calls "when things were a little bit lonely and I was looking for that sense of community that I wasn't really able to get because I wasn't able to be on campus with all my friends," he said.
Last year, as people came back to class in person, he heard his classmates talk about their anxiety, trying to "adjust to the college thing."
He appreciates that Stone, and Hillel as a whole, emphasize self-care and getting students together "just to take a break from all the pressures of day-to-day life."
Aaron Greenfield, a senior who is part of Hillel's Jewish Life team, said Hillel's Zoom services helped him when the pandemic hit. In his view, Hillel does a good job of reaching out and checking in on people.
"Even if it's just to see how they're doing and if they need any sort of help or resources," he said.
Ariella Golden, a sophomore who studies social work and psychology, said, "the mental health reporting is near and dear to my heart."
Hillel's staff has been helpful to her and she feels confident that if a student were struggling with anxiety or isolation,she would direct them to staff at Hillel.
"It's comforting just knowing there are staff members for you to talk to about specific things that you might be struggling with," she said. JN
For more information, visit hillelasu.org.
Jewish Federation of Greater Phoenix is a component of the Center for Jewish Philanthropy of Greater Phoenix.
This article incorporated material from Jewish Telegraphic Agency.