For the longest time, LeahHadas Targovnik Jacobs felt she was a Jewish misfit. Her neighbors in Phoenix are Orthodox and she considered them "the real Jews."
But the 14-year-old started going to Hebrew High this year and learned that is not the case.
"Once I got to Hebrew High, I realized I'm like everybody else," she said. Before, she didn't think she knew much about her culture or faith. "But once I got to Hebrew High, I thought, 'Oh my gosh. I know just as much as these other kids. We're learning together. I'm not alone.'"
She recently gained a "deeper understanding of what we're doing as Jews, and what the High Holidays mean to us."
Jacobs is one of about 55 students enrolled in the Bureau of Jewish Education of Greater Phoenix's Hebrew High, which offers weekly Jewish learning and experiences for Jewish teens, along with a monthly community mitzvah project. Last month, it capitalized on the learning opportunity afforded it since the regular Tuesday meetings coincided with this year's High Holidays.
"We had some pretty unique programs," said Rabbi Aviva Funke, principal of Hebrew High.
For Rosh Hashanah, the students enjoyed several activities that involved dipping: dipping holiday candles in colorful waxes and dipping apples in honey-based caramel. "We showcased that the sweetness can be something not only that we taste and experience, but also something that we create for others," Funke said. Students also made greeting cards for the Jewish Family and Children's Service senior community.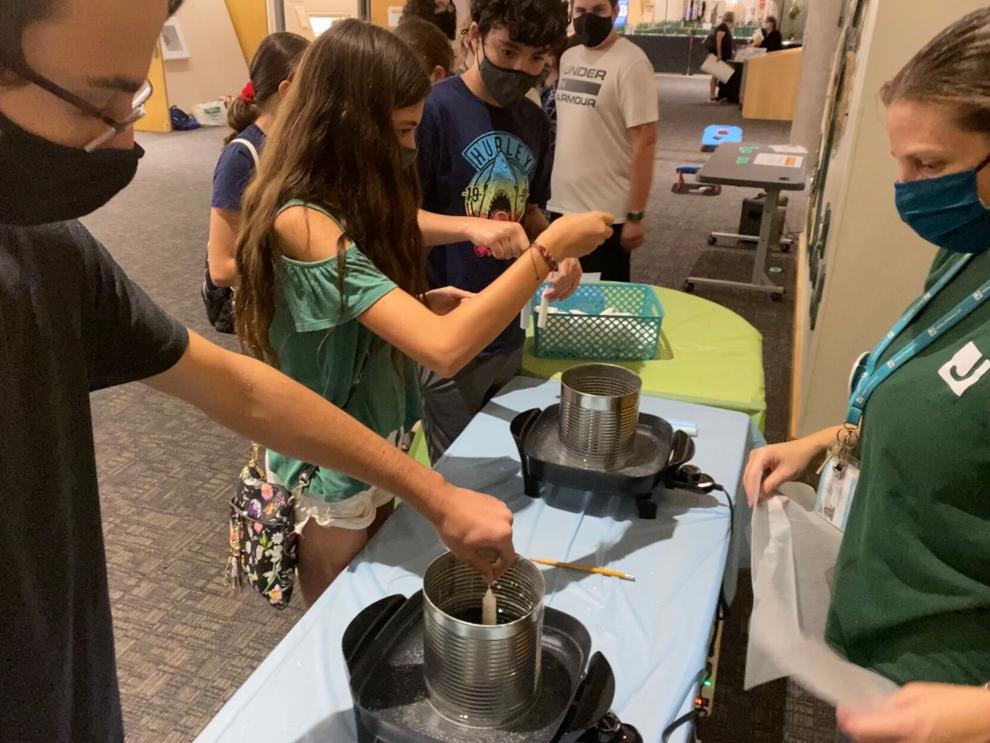 "I think it was a great reminder that passion and creativity can actually create kindness in the world," she said.
Funke created a "sweet cafe" for students to enjoy sweet treats, but also reflect. The goodies were paired with questions: What would the song be of your last year? How have you experienced God in your life?
It was a fun, lighthearted way to learn about Rosh Hashanah and to experience its meaning, Funke said. For Yom Kippur, she had counter programming that offered a reality check.
"I did an event called #sorry," she said. "I wanted to bring up the conversation of messing up."
In a community beit midrash, students discussed whether it would be better if people could live perfectly without making mistakes.
"It was incredible to see such engaging conversations with students who never even really get a chance to talk to each other — whether that's because they're different grades, they had never met before, different genders or social circles," she said.
The ideas the students came up with about how people respond to mistakes in different cultures and communities was "eye opening," Funke said. They brought up cancel culture. "Are we able to see each other as somebody who is different from the mistakes we've made in the past? Can we actually make teshuva not just for ourselves, but can our community accept us for the changes that we're making?"
Some students began to reflect on how their mistakes have impacted other people's lives, and what they can learn from that.
Jacobs appreciated realizing how much she impacts others.
"I affect other people, even when I don't know it. And that's what she taught me."
Michael Zilversmit, 14, said he learned more about himself and has a better appreciation of Judaism. "I learned how the Jewish religion applies to daily life and how we should always have hope for good things," he said. 
Julia Lange, 16, has been going to Hebrew High since the fall of 2018, when she was a freshman. She found Hebrew High's High Holiday programming to be helpful preparation.
"I took away that it's important to pause and reflect about life during the High Holidays and not be too hard on myself," she said.
Her personal goal this year is to accept that "it's OK to make mistakes." JN