On Tuesday, Jan. 18, while adults gathered in the Ina Levine Jewish Community Campus' social hall to talk about possible ways to unite the Jewish community, across the hall, Jewish teenagers came together as one.
The adults hosted a panel; the teens played a game.
That night was the second half of the Bureau of Jewish Education of Greater Phoenix's Hebrew High's miniseries focused on Rabbi Hillel's famous questions from the Mishna, "If I am not for myself, who will be for me? But if I am only for myself, what am I? If not now, when?"
The focus of the first night was individuals and the second night was about community and what it means to be for other people, explained Rabbi Aviva Funke, Hebrew High principal.
To do that, students and teachers played FreshBiz, a game that resembles Monopoly but only on the surface. Unlike that classic board game that pits all players against one another, the key to Fresh Biz is to get everyone to cross the finish line together.
Four people sit at a table in front of a board game and use action cards. Just like in Monopoly, players buy businesses, purchase stock and generate income. That's where the similarity stops.
To win, players have to work together.
At first, "everyone brings the Monopoly mindset and wants to destroy the others and take their money," explained Funke. Soon players realize that sabotaging others weakens them.
"Only by working together and strategizing as a team can you really win," she said.
Yosef Funke, the rabbi's husband, discovered the game while the couple lived in Israel. He described playing the game as a "paradigm-shifting experience." The creators asked him to distribute it in the United States, where he uses it as a training modality in his work as a collaboration coach for businesses and nonprofit organizations.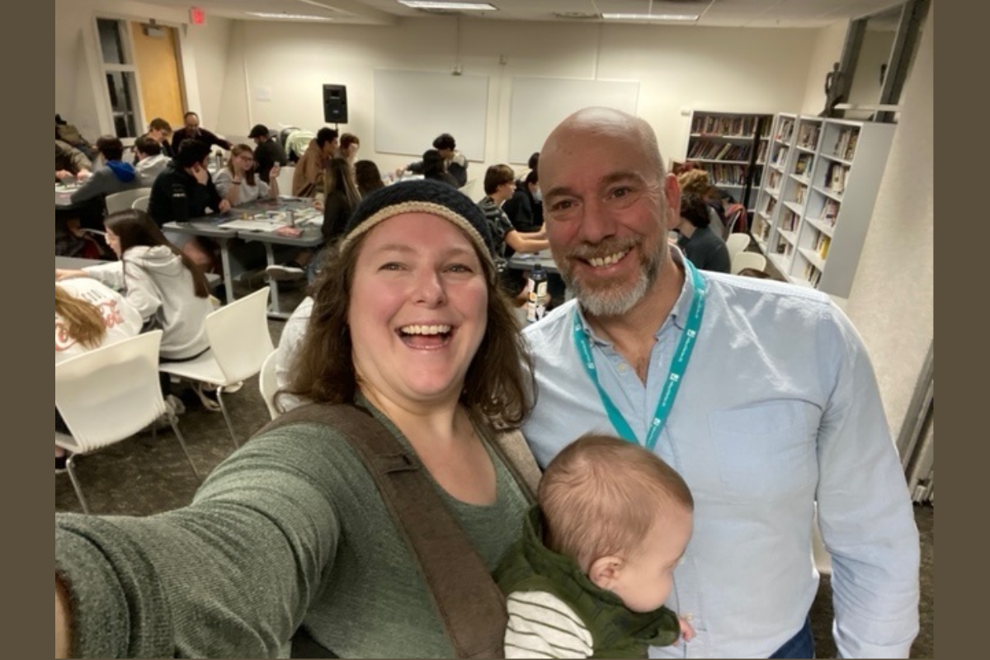 People come to the game with a "last-man-standing mentality" and experience instead a direct model of collaboration. This is game-based learning that requires hundreds of micro decisions: to speak up or to withhold, to share and ask questions, to make connections or play against others, he explained.
The Hebrew High students were one of his toughest crowds yet because teenagers spend much of their time in "a competitive and fear-based environment," he said.
"They're surrounded by the feeling 'If I don't get good grades, I don't get into college, then I don't get a good job,'" he said.
Therefore, it took students who wanted to one-up each other longer to consider helping their fellow players instead. But once they recognized the benefits of the latter strategy, they picked it up fast.
"It was an 'aha!' moment for them and became more fun," Funke said. He's now passionate about introducing the game to younger audiences.
Cayla Laiserin, a junior at Pinnacle High School in Phoenix, enjoyed the game after stumbling through its initial learning curve. In part, that came from needing to learn what stocks are and how to make a business investment.
After learning the basics, she tried competing with the other players, but "slowly you realize maybe it would be better if we all worked together," she said. That was a new experience, but when her table picked up on it, they stopped listening to the game's instructions and worked together, even using the money to help each other.
"Once you get it, you get it, and by the end, we were doing anything and everything to make sure everyone in our group won," she said.
She tried explaining the game to her friends at school, but they were confused, she said.
"They looked at me like, 'What's she talking about?' We had so much fun playing it that night and at the end, everyone was super excited and we all high-fived each other," she said.
Hebrew High teacher Jeremiah Kaplan came to the game with an advantage given that he facilitates collaboration-style games as a research and training specialist for Arizona State University's School of Social Work. His table was full of teachers, who all began playing to win but soon discovered that "to pull through in a short amount of time" they should work together.
While they played, he and the other teachers enjoyed listening to the kids around them start working together and thanking each other when someone helped out.
"At first,they were playing for themselves, but by the end, they were all trying to get everybody across the finish line. As the night went on, you heard a lot more of 'we've almost got it!' and the language changed from 'I' to 'we,'" he said.
Rabbi Funke loved watching the students collaborate by bringing their various talents to the table and sharing their resources.
"If you hoard your pieces, the game stops," she said. "When you share these things, the world becomes way more alive."
Teens, who are very self-conscious, struggle with what other people might think of them, which keeps them focused on themselves, she said.
"We need to encourage the younger generation to work better together and bring their gifts to the table. The game shows that this is a metaphor for life. Are you showing up fully? Are you supporting those around you? If you don't have the courage to share gifts, then you continue to hoard," she said.
After the first night of the miniseries, she knew these messages, combined with the lessons of the game, were getting through to the teenagers, who told her they felt more aware of other people and could see value in supporting one another.
"Jewish teens need each other now more than ever," she said.
"Can we be one community?" was the question being asked across the hallway that January evening.
Funke's answer was unequivocal: "Our teens can. I know that they can. They celebrate one another's diversity while lifting up their uniqueness." JN
For more information, visit bjephoenix.org/hh-overview.