As darkness fell on Monday, Sept. 21, the lawn beside the Arizona State Capitol lit up with the glow of dozens of candles held by friends and families, mothers and fathers, students and state representatives, all mourning the death of Supreme Court Justice Ruth Bader Ginsburg just three days before. 
"She was a person who stood for hope, who stood for the dreams, who stood for a better tomorrow, for this generation and many to follow," Eddie Chavez Calderon, campaign organizer for Arizona Jews for Justice, told the gathered crowd. "May Ruth Bader Ginsburg's memory be a significant blessing to every one of our hearts."
In the days that followed Ginsburg's death, the Greater Phoenix Jewish community also took stock of her legacy and the impact she had on the law, on American culture and on other Jewish women and lawyers.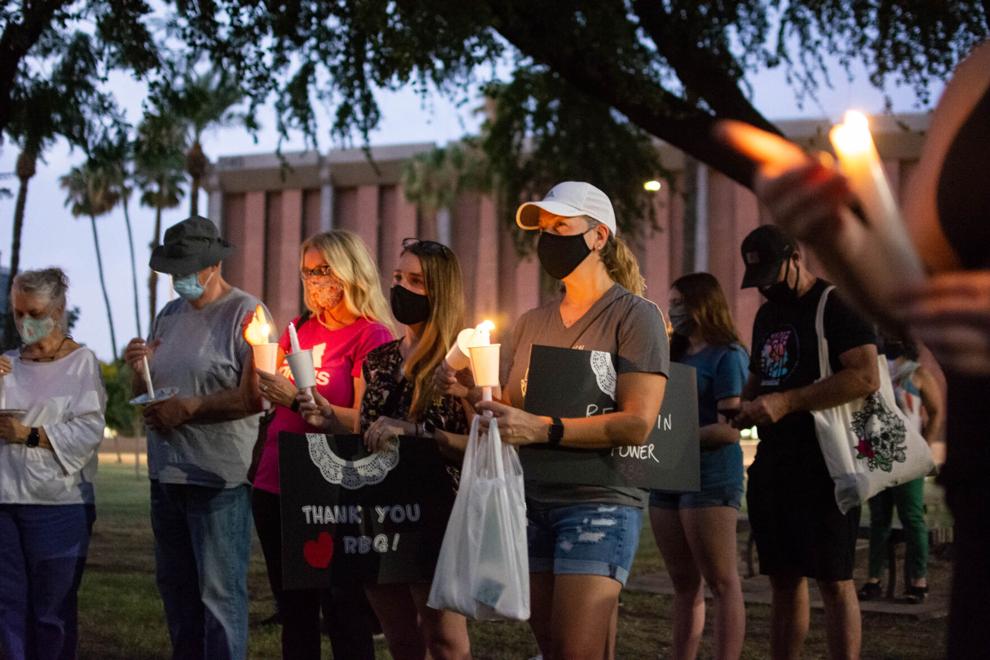 Erin Scharff, assistant professor of law at the Sandra Day O'Connor College of Law at Arizona State University, learned about Ginsburg's death as she was preparing for Rosh Hashanah services on Zoom.
"My immediate reaction was like, 'May this be another thing in 5780, so it's not what is starting the new year,'" said Scharff.
 When Courtney Beller found out, she was sitting at her kitchen counter working, and she started to cry.
"As a law student, she was one of my heroes," said Beller, vice chair of the business litigation practice group at Fennemore Craig. "I think for me, she just really stood for everything that is good about our judicial system."
As the news spread, Allison Kierman's phone lit up with hundreds of texts from colleagues, friends and former classmates.
"This year is heartbreaking on so many levels," said Kierman, managing partner of Kierman Law. "When I saw the news come out during Rosh Hashanah, it was just heartbreaking to think that there was one more thing this year that we have to feel emotional about and that we have now to overcome."
For members of the Arizona Jewish Lawyers Association, news of Ginsburg's death meant something different to each person who heard it.
"She has positively changed our lives as Jews, as women, as attorneys, as working mothers and as Americans forever," said Erica Erman, a healthcare attorney at Dickinson Wright and co-chair of the AJLA.
Leah Tinney, a health law attorney at Quarles and Brady, recognizes in Ginsburg's legacy a desire to fight oppression that was fueled by the pain and sorrow of the Holocaust. As the granddaughter of a Holocaust survivor herself, Tinney said she is inspired by her family's memory to fight against oppression just as Ginsburg did.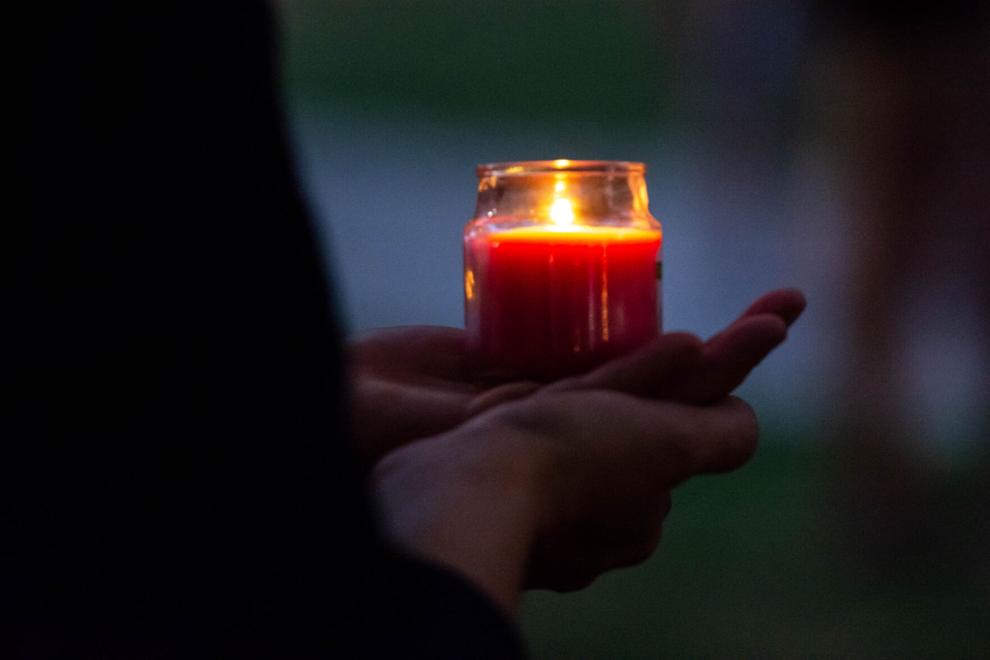 "Justice Ginsburg's worldview was profoundly affected by the tragedy that our people suffered in the name of nationalism and xenophobia," Tinney said. "To me, Justice Ginsburg's legacy is in how we honor those we've lost. The fight against prejudice and discrimination is the ultimate act of Never Forgetting."
Over the course of her career, Ginsburg famously fought for equal protection under the law for men and women. To Alexis Sharpe, an environmental law attorney at Quarles and Brady, her legacy extends beyond the law to the impact it has on everyday people, from women who have access to a military education to widowers who receive the same benefits as widows and to Sharpe herself, "a Jewish lawyer, mom and wife." 
"Her legacy is everywhere," Sharpe said. 
Sharpe was 3 years old when Ginsburg was appointed to the Supreme Court, and she was hardly aware at the time of how profoundly her world was just changed.
"I did not know then the positive and enduring impact she would make on me, and generations of Jewish girls just like me," Sharpe said. 
The legal impact of Ginsburg's work was far-reaching. For Beller, it was her focus on the practical consequences and the modern-day context of the law that resonated most. Kierman saw her
strategy of using smaller cases to build the argument for equal protection under the law for men and women as an impressive example of legal acumen. According to Erman, the impact of her work can be seen throughout the law, from maternity leave rights to the scrutiny test she helped establish for laws that treat men and women differently. Erman herself will go on maternity leave in a few months, and she credits Ginsburg's work with allowing her to be a mother and a working lawyer.
Scharff noted that many of Ginsburg's cases defended men from unequal treatment as well, and that she opened doors for not only Scharff's daughter, but also her sons. While she teaches tax law, and Ginsburg rarely comes up in her classes, she recognized the impact the justice had on the opportunity for all of her students to be in her classroom.
"For all of my students, my female students as well as my male students and my nonbinary students, the idea that the legal profession is one that allows one to make change in the world is a legacy that I think she has given all of us," Scharff said.
When Erman clerked for now-Chief Justice Robert Brutinel on the Arizona Supreme Court in 2016-2017, she was keenly aware that it was trailblazers like Ginsburg that made her clerkship possible.
"I cannot overstate the importance of knowing that Justice Ginsburg was on the SCOTUS bench," Erman said. "I remember thinking to myself many times while working in chambers how amazing it was that I, a Jewish young woman, was able to serve as a judicial law clerk."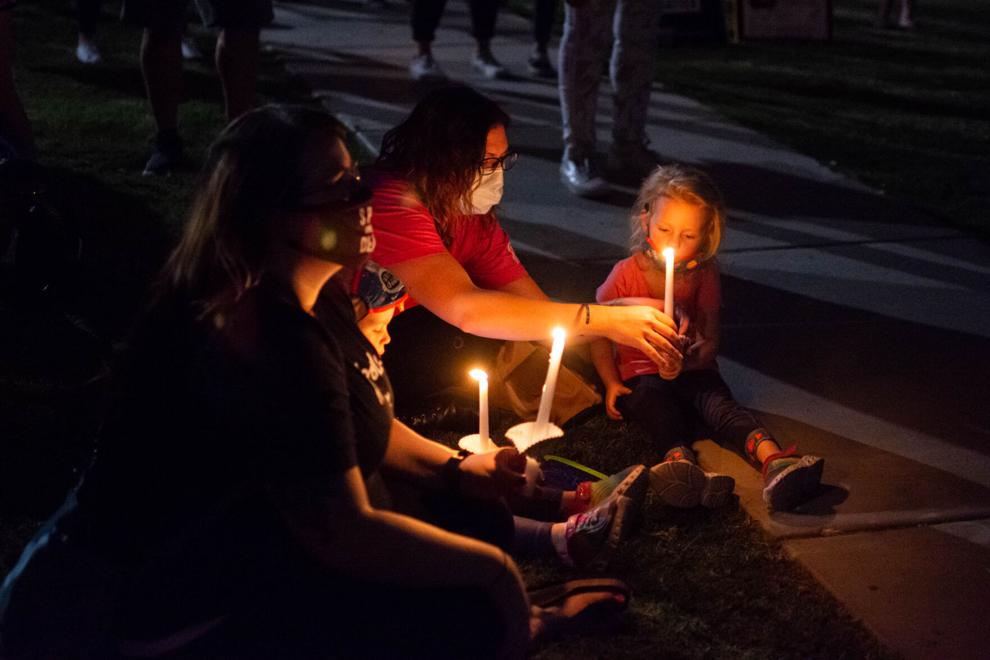 While the path that Ginsburg blazed allowed many other women to follow in her footsteps, these lawyers agree that there is still more to be done. 
Beller never thought twice about whether she could go to law school or get a job as an attorney, and she recognized Ginsburg's role in making that possible. Yet Kierman said that while she could go to law school and work at a law firm, she was always in the minority. 
"Had I not had been a minority at the time, it could have been a totally different experience," Kierman said. "I might not have had to start my own law firm to find the success I was looking for."
Yet even with work left to do, Ginsburg's legacy remains a personal inspiration, a reason to fight on and pursue justice. Iconic symbols such as her lace collar and the words "tzedek, tzedek tirdof," which Ginsburg is often said to have embodied, remind Leah Tinney to continue her own fight. 
"Justice Ginsburg stands as a symbol to hold fast in the name of what is right," Tinney said. "When I think of her, all of 5-foot-1, penning fiery dissents in the name of access to care, voting rights and equal pay, I am empowered to put on my own lace collar (in the form of a bright red pair of glasses), dig deep and continue the fight."
And RBG's pop culture status is inspiring in its own right, Kierman said. It gives her hope for the future and for the U.S. itself.
"The fact that she was a frail-looking, 70-year-old Jewish woman, lawyer and judge who became a pop culture icon says a lot about our country," Kierman said. "It's the sign of the kind of country where I want to live, and a place where I'm happy to raise my son and my daughter, who hopefully themselves one day will stand for the same justice and rights."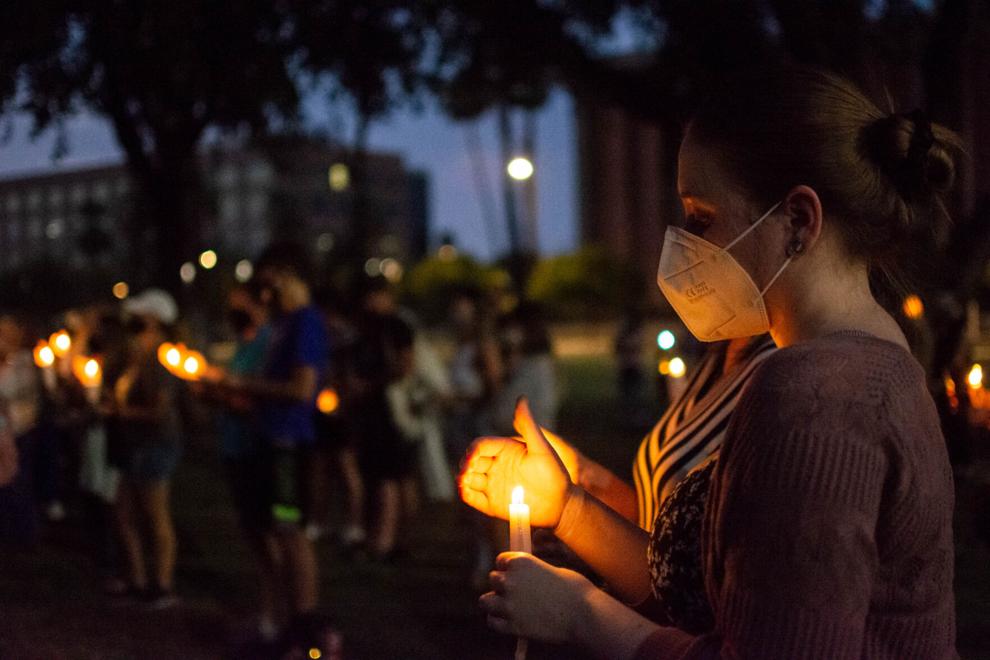 On Sept. 21, as the vigil in the Rose Garden came to a close, a volunteer stepped forward to sing Mi Shebeirach, a prayer for healing. Maggie Waller, a fellow for social action and Jewish values with Arizona Jews for Justice, took the microphone, and the crowd applauded as the words rang out across the grass.
"Mi shebeirach imoteinu, M'kor habrachah l'avoteinu," Waller sang. "Bless those in need of healing with r'fuah sh'leimah, the renewal of body, the renewal of spirit, and let us say amen." JN