Gov. Doug Ducey on Tuesday, April 12, signed House Bill 2707, the "moment of silence" bill, into law, ensuring Arizona students in public and charter schools the opportunity to take a moment of silence at the beginning of each school day. This one to two minutes can be used for contemplation in a manner determined by the student and their parents. It specifically prohibits teachers from making suggestions to students about what to think about or do during this time.
"As we're working to get Arizona kids refocused in the classroom, we should also work to get them refocused emotionally," said Ducey in a statement. "That's exactly what H.B. 2707 does, ensuring all schools set aside time every day for students to engage in a moment of silence. This gives our kids the opportunity to take time to remember, reflect, meditate, pray, prepare for the day ahead or anything they — and their parents — choose."
The signing of the bill corresponded with the 120th birthday of the Lubavitcher Rebbe — Rabbi Menachem M. Schneerson — the inspiration behind the H.B. 2707. In 1981, after the attempted assassination of President Ronald Reagan, the Rebbe called for a moment of silence to be practiced every morning in public schools.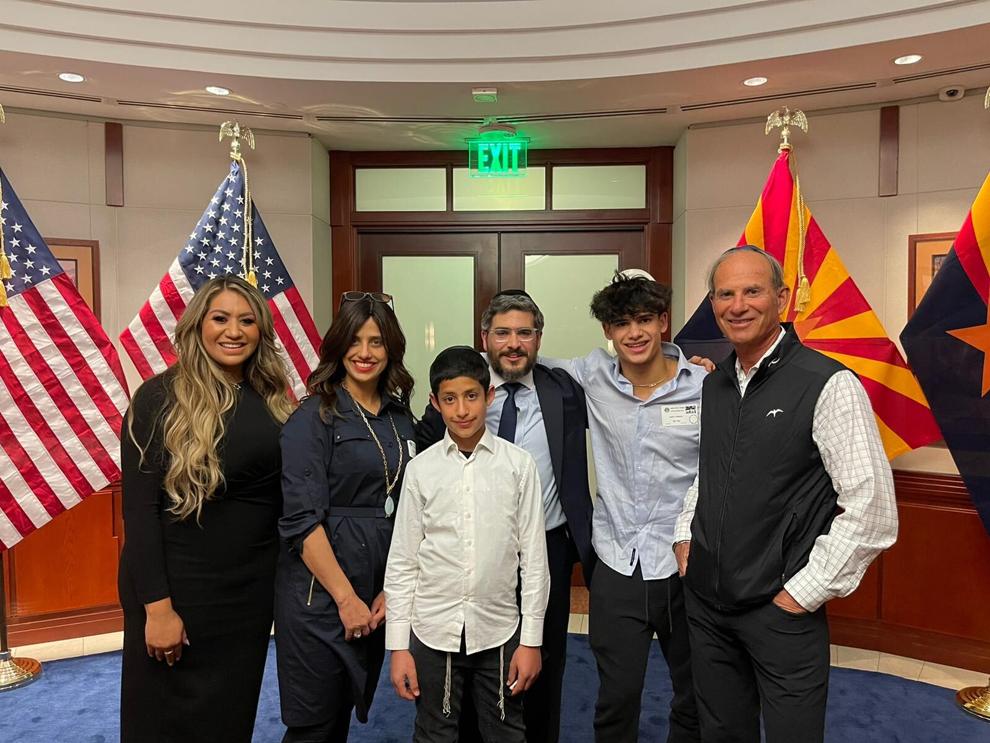 In 2021, during a pre-Passover visit with Ducey, Rabbi Pinchas Allouche of Congregation Beth Tefillah in Scottsdale mentioned that it was a dream of his to have a moment of silence inspired by the Lubavitcher Rebbe in Arizona. The governor was very supportive of the idea, so Allouche met with attorney, former legislator and friend Adam Kwasman to begin drafting up what would be in the bill.
"This piece of legislation is actually Adam's [Kwasman] wording," said Allouche. "We also researched what journey the same bill had in Florida, which is the only state thus far, besides Arizona, to have passed this bill." When they needed to identify a legislator who would sponsor the bill, Kwasman thought it was a good idea to turn to Arizona House Rep. Alma Hernandez (LD-3).
Unknown to Allouche, Rabbi Zalman Levertov, regional director of Chabad of Arizona, had brought up the idea of a moment of silence to Hernandez during Chabad's public menorah lighting in December 2021.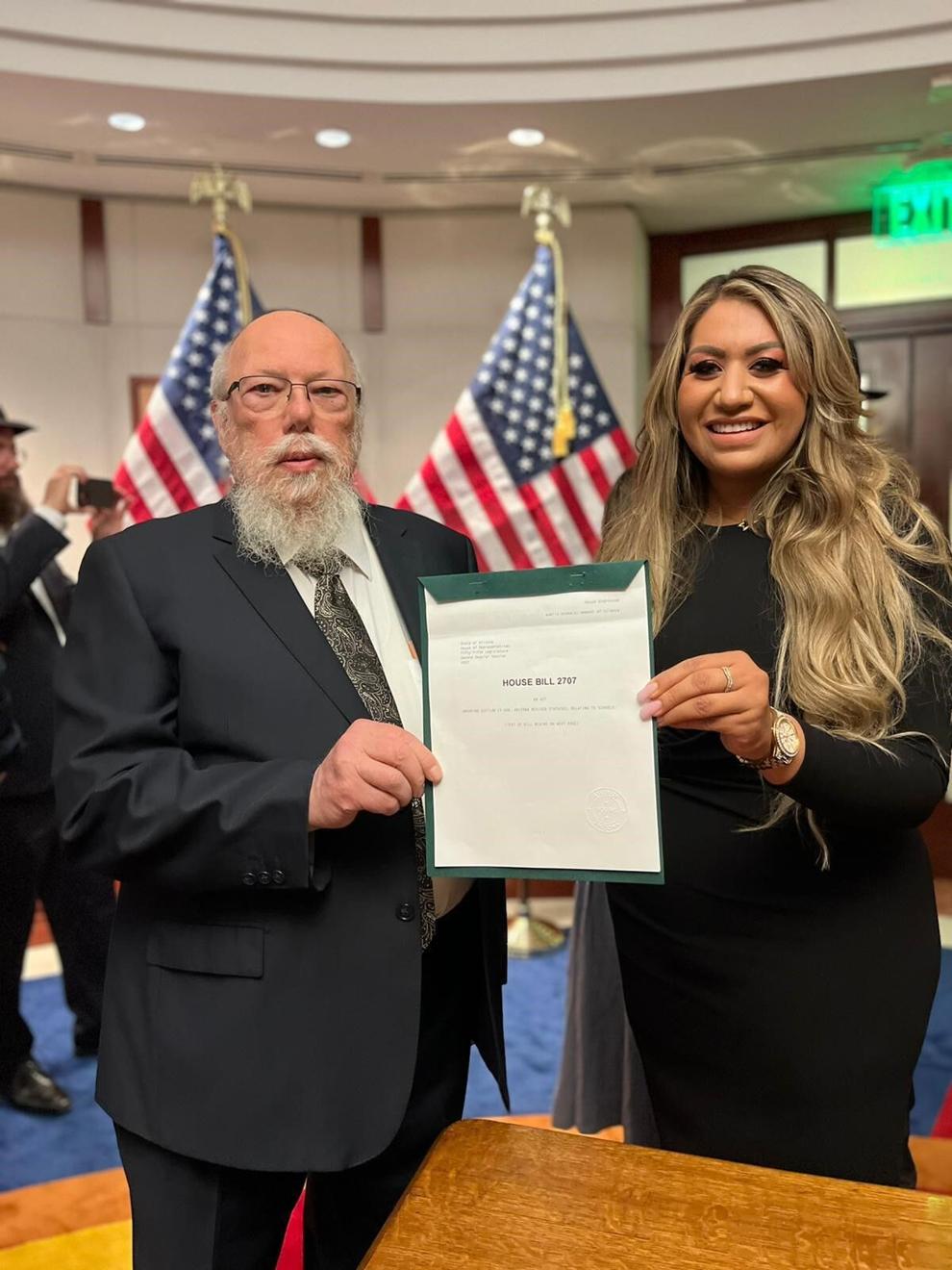 "The Rebbe initiated it [the moment of silence] some years ago, but it didn't materialize. And now, with COVID, where many children are struggling, we felt that the time was right," said Levertov. "When I saw Alma Hernandez at our Chanukah program, I said to her, 'I have a job for you,' and I gave her the information and she said she was going to work on it."
Allouche reached out to Hernandez at the beginning of the legislative session.
"Rabbi Allouche reached out to me after I had already talked to Rabbi Levertov," said Hernandez. "They both came to me separately and I got everyone together and said, 'Well, we can't run separate bills. So why don't we all work together to get this done?'"
They had a goal to get the bill passed in time for the Rebbe's 120th birthday. When Allouche realized that bill-signing ceremonies are usually done at the end of the session, which is April 23, he reached out to the governor to see if they could make an exception and get the bill signed on the Rebbe's actual birth date instead of waiting.
"The governor and his wonderful team agreed to make that exception," said Allouche. "He was very supportive of doing it for the Rebbe."
Hernandez, who is Jewish but not a part of the Chabad movement, appreciates the theory behind the bill to have a moment of reflection to start the day. "To help children recenter and refocus and that's the way I see it as well. I'm excited and honestly, very honored that they would allow me to run this piece of legislation for them," she said. "As a Democrat and a minority, it's really hard to get many bills across the finish line and having bipartisan support to get this done was really significant to me."
Besides being happy with the outcome, she was thankful that the room could accommodate all that showed up to see the bill signed into law.
"It was really neat to see that many rabbis standing in the gallery when I introduced them. I thought that was pretty cool. I don't think we've had that many rabbis in one place in Arizona," said Hernandez.
As the governor signed the bill, he remarked, "This new exercise will let our kids escape from all their distractions — if only for a minute or two — so they can think, feel, reflect and breathe. I'm confident this will have a significant impact on the mental and emotional health of our kids."
Levertov agrees with the governor. He said that he looked at research where children were interviewed that came to school and were ready to take on the day with a negative attitude. "Through the moment of silence it transformed their day — in a positive way. Their attitude and outlook, as well as their performance, was much better," said Levertov. "We feel that the same thing would happen here if parents can direct the children to take that moment of silence. We feel that it could help a lot of children." JN