Alli Goozh had no way of knowing the strange way 2020 would play out when she took a chance and left a corporate career in pharmaceutical and medical device sales in October 2019 to launch a life coaching business.
She saw making such a significant life change as a first step toward realizing another years-long dream: opening her own barre studio — though she didn't know how quickly that would happen. Instead, she focused on teaching empowerment workshops for her new business while she taught barre classes on the side and waited for a time when adding a studio would make financial sense.
Early in the course of her career transition, the coronavirus pandemic struck. But Goozh found a silver lining. The owner of a local barre studio who also worked in health care no longer had the time or resources to operate her studio.
In one fell swoop, Goozh finally had her barre studio and simultaneously saved a business. Rebarre North in Scottsdale allowed Goozh to merge her two new businesses into one overall wellness center — one that had to be exclusively virtual for several months.
"People just keep encouraging me to reach out and let people know I exist," Goozh said. Still, since starting her new business, it's been "a mixed bag."
But her willingness to adapt to new circumstances is helping her slowly build a following, and she's seeing some success.
In November, Goozh led a body positive workshop for Martin Pear Jewish Community Center's Embody Love Workshop event. "Now, more than ever, we all need some positive vibes," said Nicole Garber, MPJCC's adult program director. "Alli Goozh is a breath of fresh air and provides a safe space to learn and grow."
Goozh was also featured as a trendsetter last fall in Arizona Foothills Magazine online.
"It's like building a whole new business and attracting a whole different pool of potential clients because anyone with any internet anywhere can connect," she said.
For her clients who are road warriors, being virtual has been especially helpful. One client told Goozh that while she was traveling across the country in her RV, she took time out to log in to Goozh's barre class, while another told her of doing the same from a remote cabin.
At present, the state allows in-person classes as well. The class capacity is limited to 25% which means no more than five people. "I was worried the clients would see that as a detriment, but they're actually enjoying that they're getting a lot more one-on-one attention and personalized focus," she said.
Wearing a mask while exercising isn't ideal, but only one client decided not to return. The others said it's not as bad as they thought. Goozh also made changes to accommodate people, like lowering the temperature because masks can make people feel uncomfortably warm.
"I have a video on Instagram about what kind of mask to wear and how to wear it," she said. She also encourages her students to take breaks.
"Thankfully, barre — even though you can work up a sweat and get your heart rate up — it's not like intense interval training," she said.
With one dream finally realized, Goozh looks forward to what next year will bring.
It was another kind of life change that gave Lauren Saks the impetus to be flexible in her fitness business. She delivered her first baby the week things began to shut down in Greater Phoenix, and by the time she was ready to return to work after maternity leave, the world was different.
Pre-pandemic, Saks was the group fitness and studio team lead for a big box gym in Greater Phoenix. But people were initially not required to wear masks in the gym, and even those who did wear masks often didn't wear them correctly.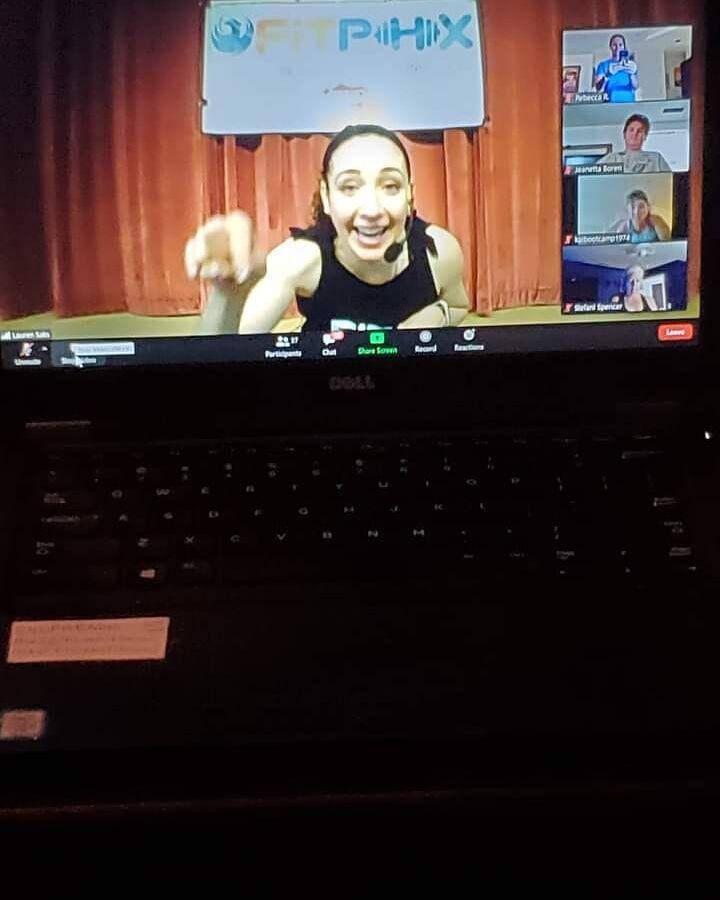 Saks' job was managing all of the group fitness programs. The idea of a bunch of people working out in a closed room, breathing very heavily with no masks on made her more than a little nervous, given she had a new baby with a developing immune system and her parents are in the high-risk demographic.
"I couldn't risk bringing something home to my baby that he could pass on to my parents," she said. "I couldn't fathom it."
Saks resigned and turned to the internet instead. She spent time researching what would be most effective and engaging for an audience. She scrolled through Facebook watching several fitness classes picking and choosing what would work for her and her followers. Soon she was offering live classes on her website. She also has an on-demand section of her website for their convenience.
"I did a lot of research, and I know more about audio visual than I ever thought I would know," she said. Before she uploads videos she ensures they meet her criteria of good sound and visual quality, the ability to see an instructor's entire body throughout and, most importantly, great personality.
"The very first class I did from the second I turned on the camera — I loved it," she said. She describes herself as "a high-energy instructor," which she says is critical to online fitness.
"Sometimes I feel like a cartoon when I'm teaching virtually, because you have to have about 30% more energy than you would in a normal class — you have to get that energy through a teeny tiny little screen," Saks said. "You have to be over the top in your visual cues, your verbal cues and your energy level."
One of the most rewarding pieces of virtual fitness for her is the sheer gratitude her students have for the opportunity. She makes it a social time as well, logging in early to chat with people before starting the workout. She calls students by name and encourages them to keep their cameras on so she can help them with form and technique.
But she's aware from earlier experiences teaching women-only classes that often people value modesty — especially a number of her Jewish women students. The virtual world of fitness gave her more of an opportunity to accommodate those preferences.
Even when in-person exercise classes become safe again, Saks said she will continue teaching virtually as well.
"I surprisingly love teaching virtual fitness," she said. "I actually resisted it for quite some time. I would say, 'I'm not teaching virtually, I love teaching the people. I'm not doing it.' But I will definitely continue teaching in person and virtually once this is over." JN
For more information, go to rebarrenorthscottsdale.com and me.onpodio.com/laurensaks