With vaccines opening up to more people across the state, there is a sense that the end of the pandemic might finally be in sight. While health care professionals promote vaccines as the quickest way to achieve that end, they warn against declaring victory too soon.
Once Dr. Mitchell Ross, an interventional cardiologist and the managing partner of Arizona Cardiology Group, feels he can travel freely and attend live sporting and theater events, he'll feel like life is back to normal. But there is still much work to be done before that can happen, he said.
"There is still significant resistance to simple mitigation strategies, including masking in public places and reluctance to accept vaccination," Ross said.
Masking enforcement in the state was complicated last week when Arizona Gov. Doug Ducey prohibited government mask mandates, saying, "I'm confident Arizona's businesses and citizens will continue to practice the fundamentals and act responsibly as we gradually get back to normal."
According to the Centers for Disease Control and local health officials, people need to continue to wear masks, remain socially distant and get vaccinated to combat the threat of emerging new variants and a surge in cases due to relaxed vigilance.
Before he lifted restrictions on masks, Ducey said he's focused on getting "vaccines into the community as quickly, widely and equitably as possible." On March 24, Arizona opened vaccination eligibility to all residents aged 16 and older.
The decision to expand vaccine appointment eligibility to all residents was fueled in part by the high amount of appointment cancellations, said Dr. Cara Christ, director of the Arizona Department of Health Services, in a press conference Monday, March 22. As of that morning, 58,000 appointments released the prior Friday were left unfilled. The State Farm Stadium site in Glendale was getting almost 3,000 cancellations a day as people were finding appointments elsewhere, Christ said.
"Vaccinate, vaccinate, vaccinate," said Monica McCullough, Madrona Hospice & Palliative Care's nursing director. She agreed that vaccinating is the way to get past COVID, and she worries that some people don't recognize how critical vaccinations are.
Debbie McCune Davis, executive director of The Arizona Partnership for Immunization, a nonprofit which advocates for a well-vaccinated population, estimates that seven to 10% of Arizona's population is completely resistant to getting the COVID-19 vaccine.
"It's a relatively small number," McCune Davis said, "but the way it poses a threat is that they misinform others about the vaccine and they build fear and anxiety."
The group has the most potential negative impact on the 20-30% of the population that is hesitant and taking a wait-and-see approach, she said.
Ross too, is concerned about vaccine hesitancy. "I do think we need more public education and messaging to help alleviate fears and encourage vaccination," he said.
Heather Ross, special adviser to Phoenix Mayor Kate Gallego, hopes people who don't consider themselves to be "early adopters, will feel the time is right for them now," after watching millions of others get the vaccine around the world and experience "amazing results" of minimal side effects while getting protection for themselves and their loved ones. She also said the likelihood is that the vaccine will be similar to the flu vaccine in that people will need to have a booster each year. How that will complicate things remains to be seen.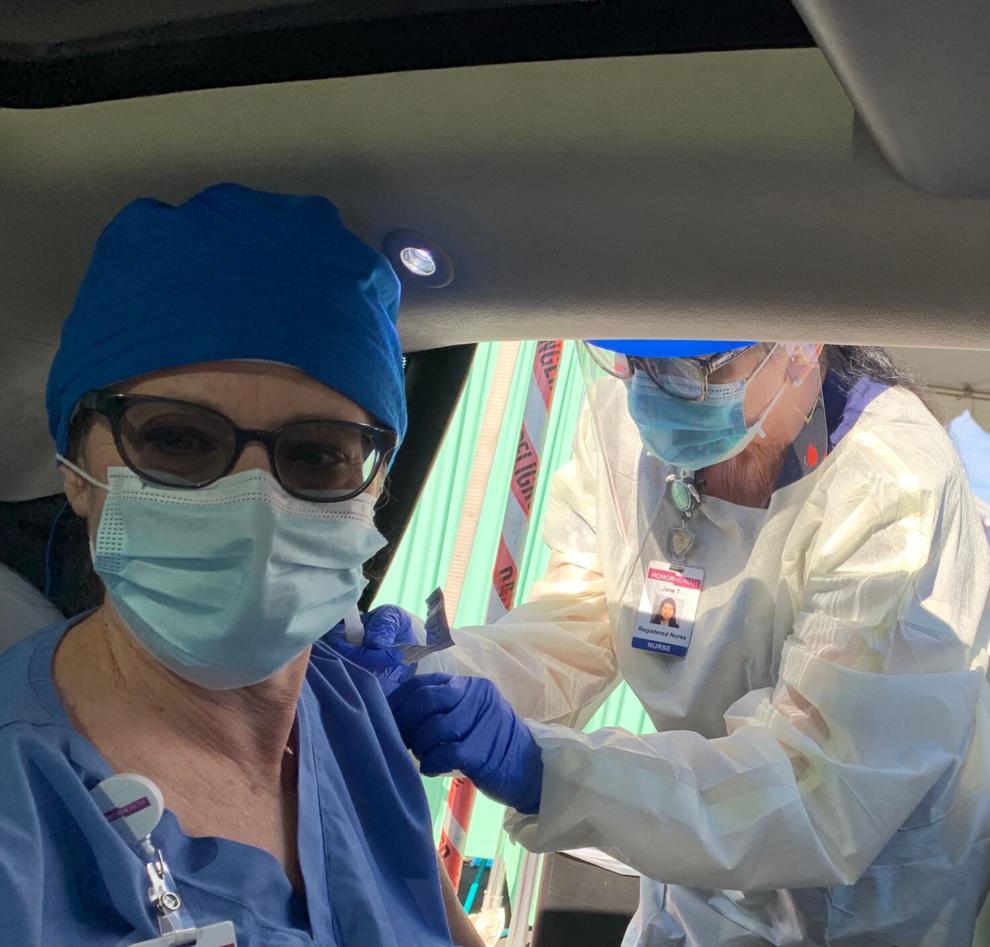 Lana Susskind-Wilder, a neuropsychologist, said she isn't quite sure what metric she will use to feel safe again. "Perhaps once we reach levels of herd immunity that experts like Dr. Anthony Fauci are hoping for," she said.
Dr. Alexzandra Hollingworth, a trauma surgeon who's board certified in general surgery and surgery critical care as well as the chair of surgery and anesthesia at Midwestern University in Glendale, agreed that herd immunity is the goal, but enough people have to get vaccinated to make that happen.
"We may have herd immunity by the summer, according to Dr. Christ, but other countries may not. And people are going to be traveling back and forth," she said.
Hollingworth, who is also assistant clinical professor and quality improvement officer at Creighton University School of Medicine, said there is a lot of misinformation about the COVID vaccine, and vaccines in general, that may be leading people to be hesitant about getting their shots.
For anybody with doubts, she recommends heading to the CDC website. She is taking her cues directly from the governmental organization, including her own metric for feeling like the pandemic is over.
"I will not let my guard down in the immediate future because I know that these variants are around," she said. "Until I get more information from studies and I get more data and information from the CDC, I won't be able to say that (this pandemic is over)."
In the meantime, life with COVID has improved for hospital workers as the number of hospitalized patients infected with the coronavirus declines.
Over the past few months, Hollingworth, like many others, stepped up to care for critical intensive care unit COVID patients in addition to her trauma patients because of a shortage of pulmonary critical care doctors.
"A few months ago we were dealing with packed ICUs, packed ERs, people coming in left and right, people getting dropped off in the lobby in cardiac arrest (due to COVID) — just unimaginable amounts of people flooding into the hospital," she said. Now, she is back to treating fewer COVID patients and more trauma patients.
Yet, even after the pandemic ends, Susskind-Wilder and Hollingworth foresee long-term impacts on health care workers.
"The biggest challenge to 'getting past' COVID is the trauma it has left in its wake, to those of us who have been in the trenches, so to speak, but also to the many others who have been marked by COVID in other ways — serious illness survivors, family members of the dead, people in long term care facilities who have been so isolated and afraid," Susskind-Wilder said.
Hollingworth said the nonstop crisis and long hours have taken a toll on her personally as well as her colleagues. "We've had to start talking about things that we usually don't talk about," she said. "Usually surgeons don't think about ourselves or our wellness. But after COVID, we definitely have become more aware of the consequences of that intense kind of experience where people are dying constantly, and they're dying without their families."
Despite all that McCullough has seen dealing with hospice patients and their families, she is allowing herself to believe that the worst is over. And she is anxious to travel to her husband and her home in Canada without a 14-day quarantine.
"People are looking for hope — I feel the increased vaccines that are available, the positive messages that can be shared about our numbers and our desire to get over this is what will bring us to the finish line, " she said. JN