A few years back, the president of the Union for Reform Judaism, Rabbi Rick Jacobs, was invited to debate one of the candidates for Chief Rabbi of Israel in the Knesset.
In sparring with Jacobs, the Israeli rabbi claimed the Reform movement invented tikkun olam, which Jacobs suggested, speaks to a larger division in the Jewish world and a widening gulf between denominations.
"Is social justice really in the aorta of Jewish life? Or is it this something progressive Jews have added on and made it into a religion in and of itself?" Jacobs posed these questions during a Valley Beit Midrash presentation on Monday, July 12.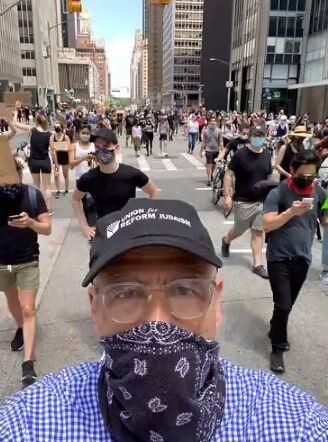 A recent Pew study found more than half of American Jews generally believe working for justice and equality in society is essential to their Jewish identity. But the phrase "social justice" has become politicized, according to Jewish community leaders.
There is a broad perception that "social justice is always liberal," said Jacobs. The perception comes at a time when the nation is polarized, and Jewish Americans are trending in that direction as well.
Temple B'rith Shalom Rabbi Julie Kozlow remembers the first time she felt "this new energy" from the pulpit.
The nation's focus was on the treatment of undocumented minors in U.S. custody. Images of migrant children caged at the border were featured in print and television news. She gave a sermon focusing on the ethical ramifications of what was happening.
"It was the first time ever in my life that I got a complaint about a sermon because it was being called political," she said. "I was deeply offended. It was pure and simple Jewish ethics that inspired me to write that sermon. It had nothing to do with politics at all."
Jewish Community of Sedona and the Verde Valley Rabbi Alicia Magal has also noticed a shift.
"Social justice is what we as Jews are passionate about because of our prophetic tradition," she said. "But we now have this kind of tension where many humanitarian issues have become polemicized, politicized and partisan."
Or Adam Congregation for Humanistic Judaism Rabbi Jeffrey Schesnol said social justice has become something that "somehow excludes the conservatives which it needn't do at all."
While 71% of Jews are Democrats or lean Democrat, 75% of Orthodox Jews are Republican or lean Republican, Pew found.
Rabbi Dr. Shmuly Yanklowitz, president and dean at Valley Beit Midrash, said the far right has painted social justice as something that is inherently political. But, he argues, it's not.
"Social justice is a phrase that just implies that the vulnerable need more protection, and that we have unjust systems," Yanklowitz said. "It's very open to interpretation as to what social justice can or must entail. But to oppose social justice, I think, is to oppose Judaism."
Yanklowitz, who identifies as Modern Orthodox, said he feels the Orthodox movement has slid too far to the right in a way that is harmful to the American Jewish community. He pointed to the event on the first day of Tish B'av, on July 17, when hundreds of Orthodox teens took over the egalitarian prayer section at the Western Wall in Israel, targeting the Conservative movement.
At the same time, Jacobs and Yanklowitz said they often hear Jewish people say they feel unwelcome in progressive spaces. Yanklowitz said he rejects extremes on both sides. "We see rising antisemitism on the far left, and we see it on the right. Those extremes are not helpful to the Jewish community," he said.
In order to combat antisemitism, it is incumbent upon Jewish people to possibly "show up in uncomfortable spaces," Jacobs said, and, by doing so, begin coalition-building outside the faith.
"If we don't show up for the racism that is literally killing our neighbors, then frankly, we don't have a chance here," Jacobs said.
Schesnol said history has shown that a world with limited attention to social justice paves the way for antisemitism. "The greater amount of social justice, the more protection it provides the Jewish community," he said. "Jews have a higher stake in the game, in a way, to support social justice causes."
Many area synagogues and congregations are involved with social justice work.
"Social justice is a part of our culture and it is weaved into everything we do here," said Temple Chai Associate Executive Director Kaylie Medansky, who is responsible for social justice programming. The synagogue has "ongoing and frequent hands-on social action programs," clergy regularly discusses social justice and it is woven into the synagogue's religious school curriculum and Early Childhood Center, she said. 
"Repairing the world and working to make the world a better place is a Jewish value, and there is a way to engage in this work that is not partisan, but inclusive of the members of our community," she said.
Temple Emanuel of Tempe has previously helped refugees in need and provided meals to those without homes. Since Rabbi Cookie Lea Olshein's arrival at Emanuel seven weeks ago, she has facilitated relational meetings with congregants, as well as a focus group, to discuss the future of social action and social justice work at the synagogue. 
Olshein believes that "we are called to actualize the teachings of our tradition and make real the idea of Jewish doing, in addition to prayer."
Temple Beth Sholom of the East Valley Rabbi Herschel 'Brodie' Aberson hasn't had much time to implement his vision for social justice, since he started in 2019. But he would like to see social justice be a "driving force behind" resource allocation, learning and other areas of the congregation.
"Social justice doesn't have to be a politically charged term," he said. "If we're all on the same page that a society should be working toward justice for everyone, conceptually, it shouldn't be an issue. I think it's just become part of the political football of labels."
Social justice isn't a particular type of action, he said, like protesting or marching. It's about trying to understand what is happening and how to make it better.
"Social justice and engagement in the larger world and making a healthier, better society is the why--the point-- the end that we're hoping all of this other stuff in Judaism leads to."
At the JCSVV, Gloria Brown, chair of the Social Action Committee, said the committee goes out of its way to approach social justice issues in a nonpartisan way. For example, during the protests against police brutality after the murder of George Floyd, the synagogue held a three-part virtual program about race and social justice exploring Judaism's response to social justice issues, and the experiences of Jews of color.
Magal said the JCSVV also tries to avoid political issues by focusing on community issues, like homelessness and hunger.
Temple Solel Senior Rabbi John A. Linder and Associate Rabbi Debbie Stiel said the congregation has opportunities to engage with social justice work beginning in preschool. Members donate and volunteer with organizations helping society's most vulnerable, and have discussed systemic issues of injustice and inequality. 
He said it is unfortunate if "social justice" carries a label. 
"I don't think any stream of Judaism would look at social justice as unique to any one of us," Linder said. "Any debates center around different points of view.  That's healthy, that's Jewish.  What we are seeing in our community, and across the country, are deepening divides because we don't know how to respectfully hear the other, and look for ways to compromise."
Stiel said the Jewish people have been commanded to take care of the most vulnerable and make sure all are treated equitably. "We can make a far bigger impact when we work together."
At Or Adam, Schesnol said the congregation does things like collect items to donate and volunteer at soup kitchens.
"Social justice is a fundamental part of Judaism," Schesnol said. "It's one of the 613 mitzvot of the Torah that says you shouldn't stand by and allow for injustice to prevail."
Kozlow said whether it is called "justice," "social justice" or something else, it is the value and work that matters.
"Our existence is all about the pursuit of justice," Kozlow said. "We Jews are the lucky ones who have been given the job to carry that message through time. It's not an easy job, but it was given to us."JN