Greeting the new first-grade class at Congregation Beth Israel's Mark L. Haberkorn Religious School last month, Stacy Rosenthal looked around the room at the small faces and thought many seemed familiar. She asked to see the hands of those who had gone to preschool there. All hands shot up in the air — including those of the teacher and his young aide.
Rosenthal, who began her tenure at CBI teaching kindergarten and is now senior director of education and youth engagement, was a little taken aback. But she also felt vindicated.
This fall, CBI is offering free tuition for kids in Haberkorn's kindergarten and first grade. The program is about keeping kids, who have spent up to five years in CBI's Chanen Preschool, and their parents involved with the school and the synagogue.
After seeing declines in enrollment, Robin Roeder, CBI's chief communal and executive officer, proposed the financial break to the board, who readily agreed. Another impetus is to "better introduce families to all things CBI and continue the special relationships that we had developed over the past three to five years," she said, via email.
"I know from my own experience many years ago, as well as hearing from preschool families, that those connections and relationships with other families, especially Jewish ones, is so important as a young family grows."
The fledgling program is an "investment in family connection and continuity," she said.
Gaging its success will be simple for Roeder — it's about how happy the children are. "I heard one little boy say to his parents on the first day that 'this was the best day of my life.' We are off to a great start," she said.
In recent years, fewer than 50% of Chanen's graduates go to its religious kindergarten, Rosenthal said. She observed that often the kids who go to secular school miss some of the touches only religious school offers and their parents will bring them back by the third or fourth grade. But after a few years away, kids forget Jewish concepts.
"We don't want gaps," Rosenthal said. "We want to show parents that the foundation laid in preschool can only get better and be built upon."
Roeder agreed. "In the longer term, we hope that families become part of the CBI family and continue their relationship with us as well as each other. Having families go through their major lifecycle events with CBI starting as babies and through confirmation is so powerful."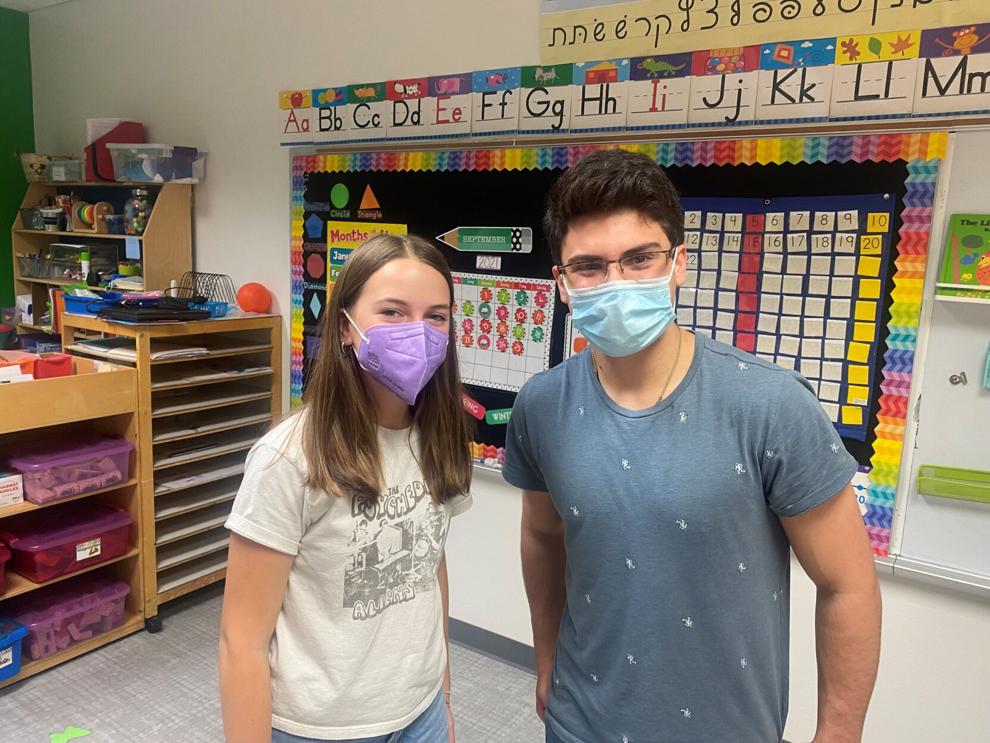 Some current staff members already personify that hoped-for outcome.
Abe Leiferman, the first-grade teacher who raised his hand for Rosenthal, is now a student at Paradise Valley Community College and working at Haberkorn part-time. But he started volunteering as a madrich, teacher's aide, when he was still in high school.
Back then he found it "really cool to be back in the classroom," he said. "I could tell how much I've grown. It's humbling."
He found out about his current job through Jason Bronowitz, Haberkorn's principal, but he wasn't sure he wanted to work with kids. Now that he's teaching, he attributes coming full circle — from student to teacher — to divine intervention.
"God made me get that job and now I've developed a love for kids. I want to spread my love for Judaism, and hopefully, the kids will also be proud to be Jewish."
Melanie Garber, Leiferman's madricha, always knew she wanted to do this and loves the nostalgic feeling she has helping out in the same rooms where she learned so much.
"It's crazy to be in the same building giving these kids similar experiences," the 14-year-old said. "Some of my madrichim have been my counselors at camp, too, and I wanted to be that for more kids and give back to our Jewish community."
Melanie's mother, Jennifer Garber, was happy to hear about the tuition break, even though both her daughters are too old to benefit from it. For families with multiple children, she explained, lifting some of the financial burden will be a boon and allow more kids the benefit of seeing CBI as her family does: "a home away from home."
"The kids stay connected socially and the religious component is there and woven into the fabric of your life," she said.
Those words are music to Rosenthal's ears, who acknowledged that this program is a conscious choice to invest in young families. As a group likely to disengage from organized religion, "we want to show them Jewish life can be vibrant and enriching and we can help them raise Jewishly literate young adults," she said.
Roeder pointed out that this is not to the exclusion of other demographics at CBI, but only "one pillar of a strategy to retain and grow synagogue life."
Marcy Lerner, a second-grade teacher at Haberkorn and floater at Chanen, just graduated from University of Arizona and is another example of the continuity CBI hopes to build. She was in Rosenthal's kindergarten class, went to Haberkorn and is now teaches there as well as helping out at Chanen.
She was working at Camp Stein at the beginning of her gap year when she found out about the job.
"It kinda just happened, but I'm glad it did," she said.
But even though she feels deeply connected to CBI and the Jewish community, she hopes synagogues create programs to seek out people her age, just graduating college and without children "to be connected to Jewish life." Maybe meet-ups or happy hours, "without being a singles thing," she offered. "Just a way to hang out."
The current focus on its youngest members, Rosenthal said, is ultimately about the wider community.
"The hope is that those of us who are part of our preschool community and don't have a Jewish home will become members — when families realize the importance of Jewish education and see our relationship doesn't have to end," she said. JN