Ellen Tuckman is currently gathering items for Cactus ORT's auction on June 6. Among them are a set of luggage, a Waterford decanter, a one-week stay at a Caribbean hotel, restaurant and museum certificates and jewelry. The money raised at the Zoom auction will be sent directly to ORT America, the organization's national office.
ORT's mission is to impact the lives of young people through education and to create opportunities for self-sufficient futures. Its network includes schools, colleges and international programs with more than 300,000 students in more than 30 countries.
The June auction has significance for the Cactus chapter beyond the money it hopes to raise for schools. It will be the first time the chapter has held any event since before the COVID-19 pandemic began. Instead of going online as other organizations did, Cactus members have stayed in touch only through telephone conversations and email.
Tuckman, 78, is no longer Cactus' president, but still does most of the work, she joked. Her official title is vice president of fundraising and meeting facilitator; Michele Gusdorff is publicity chair, Robin Balon is head of programming and Tuckman's husband, David Tuckman, is treasurer. The chapter has 40 members.
Over the years, four other ORT chapters closed due to declining membership. Cactus is the only one still standing in Greater Phoenix, and its youngest member is in her 60s.
But it wasn't always so.
Tuckman heard of ORT through family but she only joined after moving to Phoenix, and even then it was a bit of a lark. A neighbor invited her to a meeting and because she wanted to meet people and get involved in the community, she went. But maybe the most important reason, she said, was "I had a ride to the meeting."
And she was curious. At the first meeting everyone was assigned a role and she became the secretary. "I just came to find out about it and we all got stuck with a job," she said.
But she also liked ORT's mission of setting kids up for success through education — especially since she was a teacher. And while she started off in Scottsdale's chapter, she soon transferred to Cactus in Phoenix when another friend invited her. The members of Cactus were in their 40s like she was, and at that time, Scottsdale's members were still having babies.
There was even a time when she was able to see firsthand the results of the organization's actions. Preparing for a trip to Prague, she asked ORT's national office for the address of its school program there. The ORT teacher was out sick the day she visited, but she still knocked on the door and got a tour and video presentation, not to mention tea and cookies. It was nice to see where the funds she raises go, she said.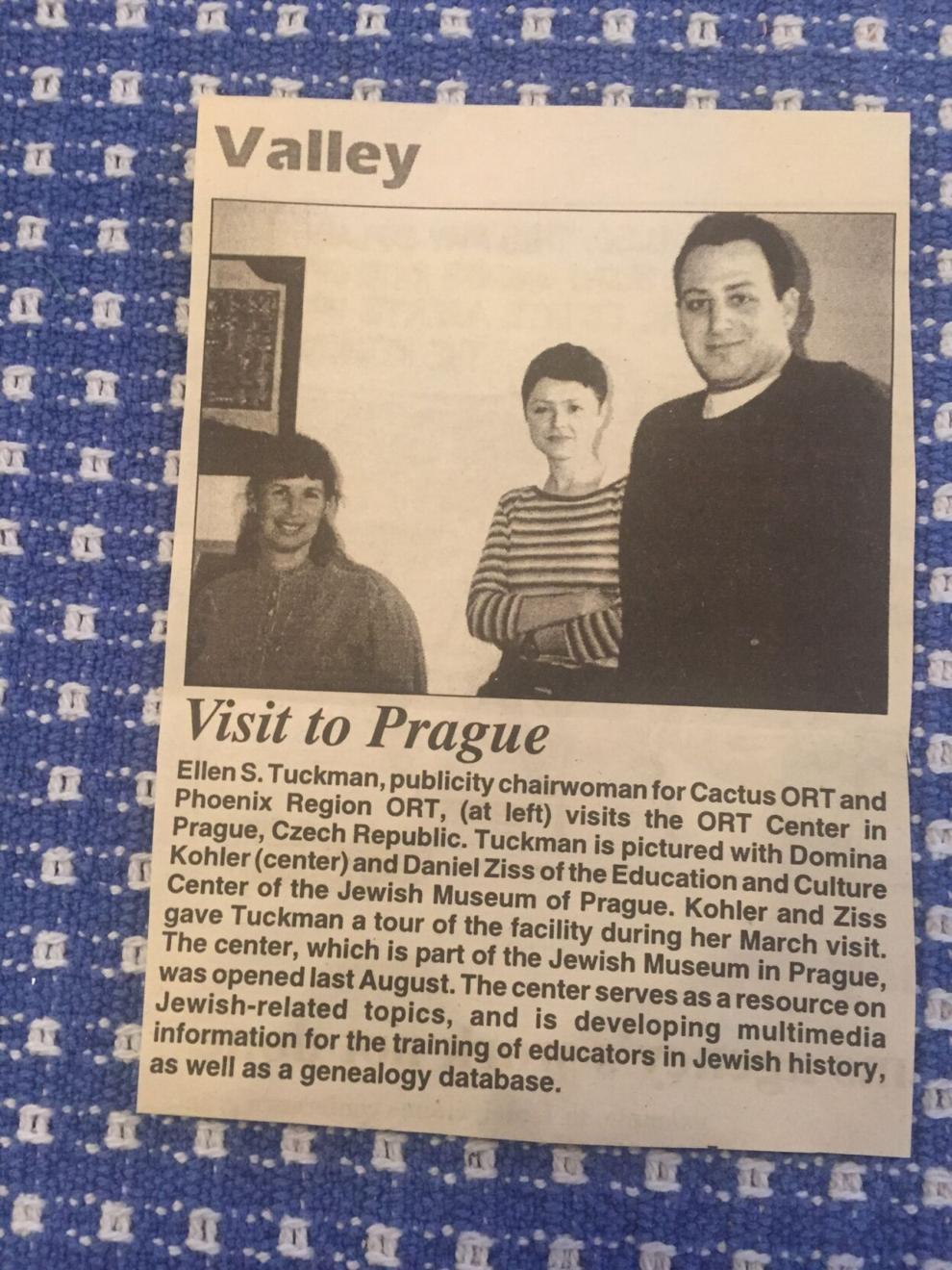 ORT's membership also generally overlaps with that of Hadassah and Brandeis National Committee, Tuckman said. They all share the same difficulty in attracting new and younger members.
Terre Foreman, president of Hadassah Valley of the Sun, also belongs to ORT. "It has a long record of supporting education which I like," Foreman said, via email. "It's also nice to support and be involved with groups of like-minded women."
Foreman suspects this is more true for women of her generation than for younger women. "I was taught that you don't need to be super active in them all but to join and support if you agree with the mission," she said.
Tuckman suggested many younger people are just too busy to join organizations. And she can understand why they might not want to join a group of retired people. She recalled going to a B'nai B'rith meeting as a young woman and finding only older women — she felt like she didn't belong.
It's hard to find potential new members, Tuckman said. She remembered that in years past, there were annual events where every Jewish organization could pass out information to many people at one time. Now it's all word of mouth and the internet. Tuckman's daughter created a Facebook page for the chapter and her son encouraged her to do the auction on Zoom rather than via email, which was her initial idea.
"I'm technologically hampered," she said. "It makes it hard to get exposure."
While her chapter "is hanging on by its teeth," she said, she's still optimistic that it probably has at least another 10 years. Many people like the educational aspect behind the group, and once in-person events can be held safely, she thinks the social aspect will keep the chapter going.
For now, she's not making many demands on members' time. She hopes to raise around $2,000 in June's auction. In a normal year, the annual auction brings in around $4,000. "But considering it's on Zoom, this year, $2,000 would be really good," she said.
She's excited to see everyone for the first time in more than a year, even though it will only be on a computer screen.
"We hope people will participate — the more the merrier," she said. "We're trying to keep together and we welcome anyone of any age to join us." JN
For a complete list of auction items, email Ellen Tuckman at docdavid39@gmail.com.