Lox in a box, along with a bagel, some cream cheese and a few other treats were delivered to about 100 people on Sunday, Sept. 12. And along with the food, the Bureau of Jewish Education of Greater Phoenix served up some knowledge — all par for the course for the women behind the organization.
In celebration of its 50th anniversary, the BJE is offering a lineup of special events and speakers, and Sunday's Lox in a Box was only the first.
"I came up with the idea as my committee contemplated fun activities," said Linda Feldman, BJE's director of family education. "We wanted the event to be fun and educational and something that had not been done in Phoenix to our knowledge."
While lox and bagel deliveries were not a staple of all Jewish communities, Feldman remembered a Jewish organization doing something like it when she lived in Maryland. Myra Shindler, BJE's executive director, had a similar memory from her time in her university's Hillel.
"They would tell parents, 'Oh finals are coming up, let's deliver lox and a bagel to your kid while they're studying for fun.' So, it's been done," Shindler said.
Even if it's not a Phoenix tradition, Feldman said, it's something that times out right. Delivering the boxes days before Yom Kippur provides some ideas for breaking the fast, she said.
Ultimately, people liked the idea "because it's positive and everybody likes to eat," joked Feldman. On a more serious note, with the delta variant of COVID-19 still causing alarm, she didn't think inviting people to gather in person would be wise.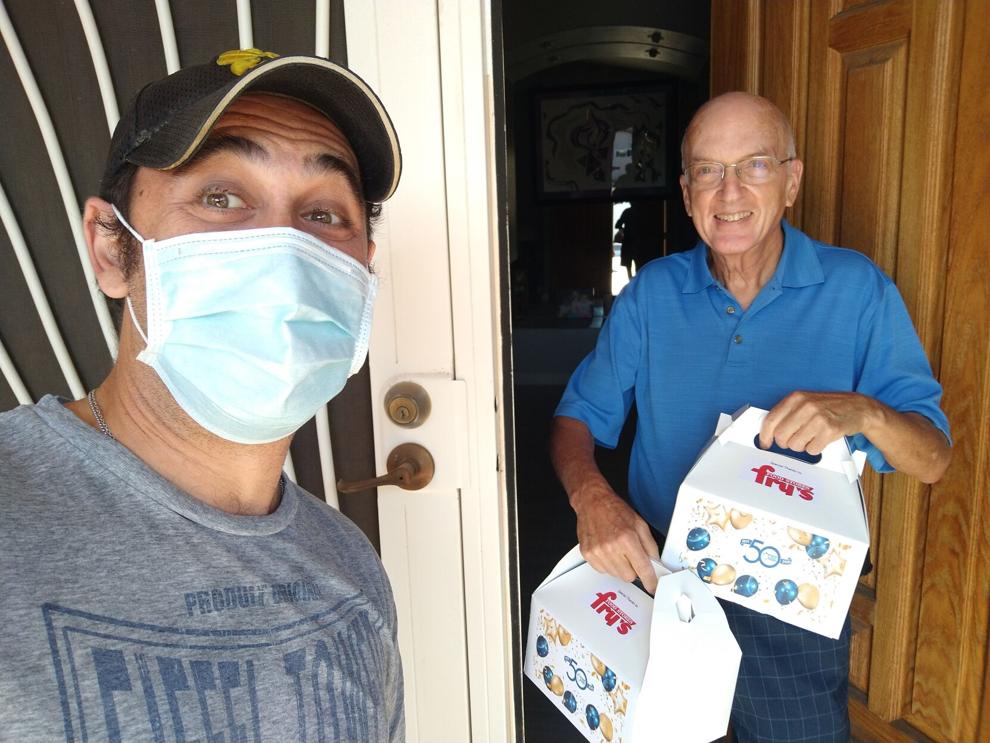 Paul Rockower, executive director of the Jewish Community Relations Council of Greater Phoenix, served as a volunteer, delivering the boxes to people on Sunday morning. He was happy to help out "such a terrific organization as the BJE," he said.
"Getting to support an organization that does so much to educate our community was meaningful, and to do so by delivering lox boxes around town, getting to kibbitz with those who support the efforts of the BJE, was extra special."
While enjoying the contents of their boxes, those who signed up watched a video of how lox are made and also received a short history of their brunch. Chaim Lauer, a Jewish educator and communal professional, author and speaker, explained the history of "the Judaizing of bagels, lox and cream cheese — none of which was originally Jewish," he told Jewish News.
The combination of bagels, lox and cream cheese was a Jewish attempt to retain tradition while eating something that looked like eggs benedict, Lauer said. Lox was a substitution for Canadian Ham, cream cheese for hollandaise sauce and the bagel for an English muffin. The meal is the perfect encapsulation for the challenge of maintaining Jewish identity and expanding it in an American culture, which is mostly welcoming and thus invites secularization, said Lauer.
"How we maintain tradition yet accommodate the larger surrounding society is the challenge that the BJE, every parent and every Jewish institution has."
His talk wasn't solely about lox. He expanded his lesson to include information about fish in Jewish life, Jewish thought, laws, even educational strategies generated by fish and using Jewish fish dishes as the foundation.
"Food and fish and its accoutrements become memory makers for our community," he said.
Ernie Muntner, one of those participating, thought the deep dive on fish was interesting. Listening to Lauer's history of fish brought back memories from when she lived in Long Island, New York and her mother-in-law would visit from Queens, New York with "shopping bags full of smoked fish," she said. His presentation was like déjà vu, she said.
Lauer, who has been involved in Jewish education for over 50 years, has one regret about Sunday's event. While he appreciates the adaptation of virtual events, he finds it more meaningful to teach "face to face with living people, especially with seniors," he said. "Their life experience does so much to add to the discourse."
And he also prefers the bialy when it comes to Jewish education. "No matter how much dough you throw at the bagel it still has a hole in the middle. But to get people coming back you have to create something tasty and inviting. The bialy is easier to sink our teeth into than a bagel."
Still, Lauer, although avoiding wheat at present, ate a bagel and lox along with his viewers. "People shouldn't eat alone," he said. JN